How To Add Herbs To Any Dish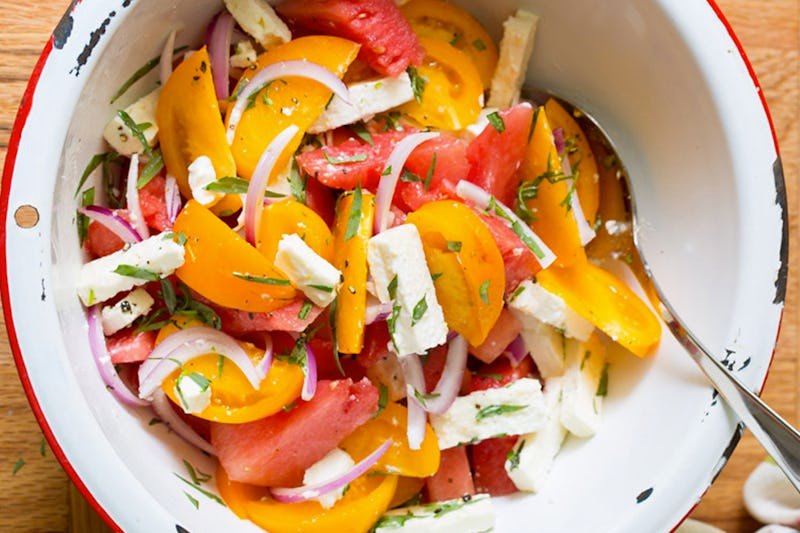 It's easy to fall prey to boring weeknight dinners, cooking up the same pasta and vegetable medley night after night. But you can easily break that weekly cycle of dinnertime monotony simply by learning how to add fresh herbs to any dish you make at home.
If you're like me, you often come home from a long day at work, looking forward to a quick, satisfying, and relatively healthy homemade meal. Whole wheat linguine and frozen broccoli is my trusted go-to. While I know I'm never going to muster up the energy to add a lobster tail to that linguine dish, I do know that I can easily add a few handfuls of freshly torn basil and parsley, and voilà, a bright and lively weeknight dinner.
And I'm not the only one who's excited about fresh herbs these days. Award-winning New York chef, restaurateur, and cookbook author Seamus Mullen loves sprucing up his fruits and vegetables with a variety of seasonal herbs and spices. Mullen tells Bustle, "I cook with herbs all the time. It's a great way to give dishes a deeper, more dynamic sense of flavor." He adds, "Peas go really well with Italian seasoning and lemon. You can even mix fresh herbs in with a little sour cream to dip your veggies in. Herbs and spices are something I feel as though we often overlook. Just a simple addition of herbs and spices can go a long way, making a dish much more interesting and exciting."
So if you're into making home cooked dishes more dynamic, check out these 20 herb-laden recipes below. And if you're not able to find the fresh herb of choice at your local grocery or farmers' market, have no fear — dried herbs also work well, adding deep concentrated flavors to any dish. Just look to brands like McCormick and Chef's Palette Spice Rubs for impressive dried herb selections.
1. Black Bean Chipotle Stuffed Sweet Potatoes With Fresh Cilantro
This black bean, green onion, and cilantro-packed sweet potato is delicious, healthy, and gluten- and grain-free. Get the recipe courtesy of Making Thyme for Health.
2. Lemon-Herb Wild Mushrooms With Israeli Couscous
Fresh tarragon is the ideal complement to any earthy mushroom blend. See how The Gouda Life dresses her shiitakes, oysters, porcinis, and chanterelles here.
3. Watermelon Feta Salad With Golden Tomatoes And Tarragon
This chopped salad embodies the quintessential flavors of summer — juicy watermelon, golden tomatoes, tangy feta, and aromatic tarragon. Get the step-by-step recipe from A Spicy Perspective.
4. Cheesy Mushroom And Herb Quesadillas With Smoky Salsa
Quesadillas are the perfect vessel for weeknight vegetables. Follow this mushroom, onion, garlic, thyme, and chive recipe à la A Farmgirl's Dabbles.
5. Sauteed Green Beans With Basil And Fresh Tomatoes
Freshly torn basil adds a burst of flavor to this crunchy green bean sauté — great as a side dish or healthy main event. Get the recipe from A Pretty Life in the Suburbs.
6. Corn And Barley Salad With Chive-Mint Vinaigrette
Finely chopped chives and mint add a refreshing kick to this quick and easy eight-ingredient recipe à la Big Girls Small Kitchen.
7. Grilled Chicken Breasts With Chive Herb Butter
Herbed butter is one of the easiest ways to dress up weeknight chicken breasts. Make your herbed butter ahead of time by adding fresh chopped chives, parsley, and thyme, and store in the refrigerator for up to one month. Get the recipe from Foodie Crush.
8. Baked Polenta With Tomato And Basil
A fresh basil-infused stovetop tomato sauce is a flavorful topper to this quick and easy creamy polenta. Follow Joy the Baker's recipe here.
9. Carrot And Tomato Tagliatelle
This carrot and tomato tagliatelle recipe can easily be made vegan — just swap the Parmesan cheese for extra chopped chives, basil, and parsley, and voilà, easy vegan dinner. Follow Love & Lemons' recipe here.
10. Quick Shakshuka
This classic one-pot Israeli dish serves as the perfect excuse to use fistfuls of freshly torn Italian parsley. Get the seven-ingredient recipe courtesy of My Name Is Yeh.
11. Lemon Braised Chicken And Beans With Mint Pesto
The Kitchn's one-pot chicken and white bean recipe is as easy as it is fragrant. Fresh thyme and chopped dill fronds infuse the base, while a homemade mint pesto serves as a bright and nutty topper. Get the step-by-step recipe here.
12. Celery Root Mash With Dill Oil
No celery root on hand? No problem. This quick and easy weeknight dinner can be made with potatoes, cauliflower, or sweet potatoes — all great bases for a swirl of refreshing dill oil. Get the recipe from A Cozy Kitchen.
13. Fettuccine With Herbs, Peas, Asparagus, And Bacon
Liven up your weeknight pasta with handfuls of bright Italian parsley and fresh basil. Follow A Farm Girl's Dabbles' fettuccine, veg, and bacon tossed recipe here.
14. Grilled Shawarma Corn With Fresh Dill
Grilled corn on the cob is sweet summer bliss. Add a sprinkling of feta crumbles and fresh dill and you'll surely reach summertime nirvana. Follow Climbing Grier Mountain's simple recipe here.
15. Bagel Sandwich With Fresh Dill
Minced fresh Italian parsley and dill add a layer of herbaceous complexity to these smoked salmon and veg bagel sandwiches — perfect for breakfast, lunch, or dinner. See how A Cozy Kitchen builds her bagels here.
16. Creamy Linguine With Mint, Thyme, And Lemon
Big Girls Small Kitchen combines yogurt, egg, mint, and thyme for a light and healthy version of classic carbonara. Get the 15-minute recipe here.
17. Yogurt And Dill Chicken Salad
This creamy and cool, dill-infused chicken salad makes for a great summertime meal. Get the quick 10-minute recipe courtesy of The Kitchn.
18. Silky Quiche With Gruyère And Fresh Herbs
This silky quiche packed with loads of fresh dill, parsley, and Gruyère can easily be made in advance and enjoyed as a quick and healthy next-day-dinner. Follow A Cozy Kitchen's step-by-step recipe here.
19. Buttered Linguine With Tomato And Basil
A handful of fresh basil brightens up this super simple vegetarian dish. Get the 15-minute recipe courtesy of The Crepes of Wrath.
20. Kalamata Olive And Parsley Potato Salad
The Kitchn dresses up classic potato salad with briny Kalamata olives, zesty lemon juice, and finely chopped flat parsley. Follow the simple recipe here.
Images: A Spicy Perspective; Making Thyme for Health; The Gouda Life; A Farmgirl's Dabbles (2); A Pretty Life in the Suburbs; Big Girls Small Kitchen (2); Foodie Crush; Joy the Baker; Love & Lemons; My Name Is Yeh; The Kitchn (3); A Cozy Kitchen (3); Climbing Grier Mountain; The Crepes of Wrath