Chad Takes Things To A New Level On 'Bachelorette'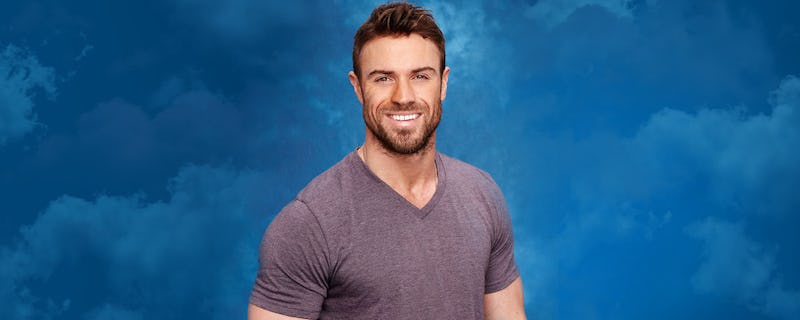 I knew from reading his ABC profile that Bachelorette contestant Chad is most definitely the villain on this season of The Bachelorette. Monday's premiere only solidified his position because he immediately gave off a sleazy vibe when he met JoJo and constantly mouthed off about every other contestant in the mansion. The promo for the rest of this season shows even more of his shady behavior. There are instances where it looks like Chad gets physically violent with fellow contestants. He walked away with a rose tonight and it looks like he may be sticking around for a while, but will Chad's violent behavior get him kicked off The Bachelorette ?
Honestly, he seems like he is around for quite some time, much to my dismay. The promos show him getting into various contestant's faces and getting into a couple of physical altercations with them. He punches a couple of doors, too. At one point Jordan says that he considers Chad, "not safe to be around." I imagine that is grounds for being removed from the show, right? If other people find you terrifying, it's probably time to call it quits.
Unfortunately, another clip has one of the men stating that Chad "has the ability to morph when he's with JoJo," basically saying that he supposedly fools her when he has her alone. There are more instances of the rest of the men claiming that JoJo doesn't know how Chad really is to them, and that has me kind of worried for JoJo. The ones who will charm you while your alone but act like a complete jerk to others are not the kind of guy you want to end up with. Chad seems like he may be a perfect example of this kind of person.
The end of the season promo really makes me think that Chad may be making an involuntary early exit from the show at some point in the near future. He is seen in one clip threatening to find Jordan's home and come after him. Chris Harrison is then seen telling Chad that the men fear for their safety around him and his violence has been noted by he and the producers. The whole thing ends in a swirl of bloodied knuckles and a crying JoJo. I imagine something big will happen and Chad will be a big part of it.
Whether he really gets as violent as the promos suggest remains to be seen, or if it's just editing. But, Chad needs to chill out and realize that being a hothead is not sexy. Try some yoga, drink some tea and try talking things out, Chad.
Images: ABC/Craig Sjodin