Theo Yedlin Will Lead 'Wayward Pines' Season 2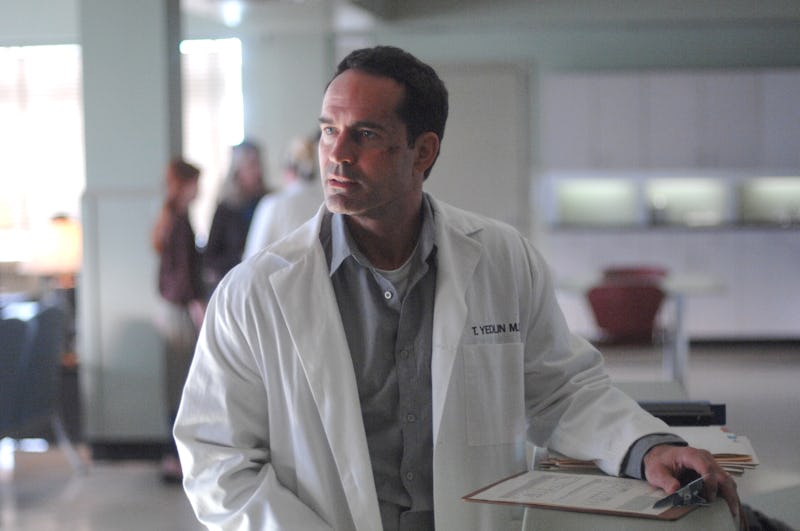 Wayward Pines' first season may have broken a record for biggest reveal ever contained in a single episode of television (at least on this side of St. Elsewhere's snowglobe finale), and it is going to attempt to top those surprises when the second season debuts on May 25. This season, there's going to be a whole new bunch of characters trying to figure out what exactly is going on in Wayward Pines and fight off the Abbies. The protagonist will be Doctor Theo Yedlin, a new addition to Wayward Pines played by Jason Patric, as TVLine reported. That's right — there will be a whole new protagonist, in addition to many other new characters, because of the events at the end of Season 1.
In the Season 1 finale, Ethan (Matt Dillon), who was shocked to find out that he was living in a dystopian society thousands of years in the future, sacrificed himself in hopes of preserving the revolution. Much like Ethan, Dr. Yedlin will have no idea what he's gotten into when he wakes up in Wayward Pines, but this time, the audience will know something the characters don't. However, TV watchers and book readers will be on the same page, too, because Season 1 exhausted the source material, and Dr. Theo Yedlin is a completely original character.
And Yedlin will be a good fit for Wayward Pines, since he's a complicated man. According to a behind the scenes trailer for the season (above), Yedlin was trying to work out some issues in his marriage before arriving right in the middle of the civil war. So like Ethan, Yedlin's family will be the main reason why he wants to survive and figure out a way to safely avoid both the Abbies and stay on the First Generation's good side while the residents of the town try to fight back against their youthful oppressors.
Beyond that, there are a few plot points that haven't been confirmed by the show, but could happen to Yedlin this season based on his role. As a physician, he might get a job working at the hospital where Megan Fisher is continuing to recuperate from the injuries she received at the end of Season 1. And if Yedlin has any children, they may be seduced by the New Generation, driving father and child apart.
Whatever challenges the Wayward Pines writers come up with for Dr. Theo Yedlin, based on how the first season ended for Ethan, things could end very badly for the good (or bad!) doctor. We'll have to watch Wayward Pines Season 2 in order to find out.
Images: Sergei Bachlakov/FOX (2)