'Bloodline' Isn't The Cast's Only Show On Netflix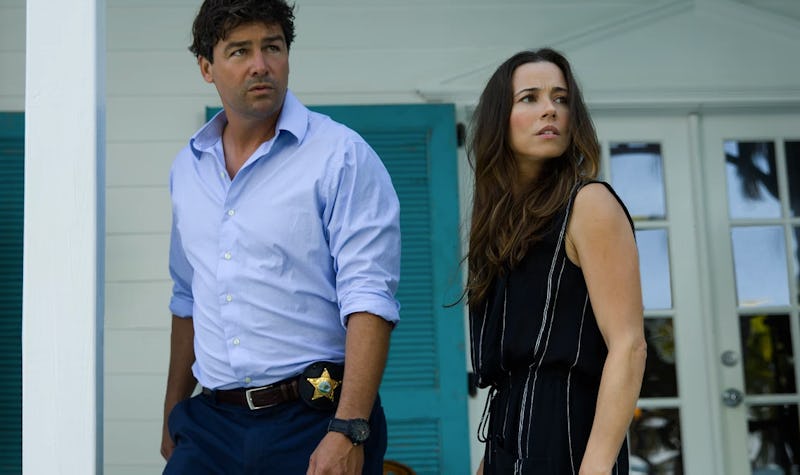 Netflix's family drama, Bloodline, revolving around the Rayburn dynasty — good people, who did a bad thing — returns on Friday, May 27, for a second season. And the trailer for Season 2 proves that somehow, the series is going to be darker than ever. With so much drama ahead as this gripping story about morality continues, I'm already wondering if Bloodline will return for a third season.
While Netflix has not yet announced whether there will be a third season, there is one thing that could make it difficult. According to Keys Info Net, the website of the Florida Keys' local newspapers, Florida's tax incentives for filming on location are in jeopardy. "The program expires in July but the pool of tax credits already has been exhausted," the website reported. This could be bad news for Bloodline, as it would make filming a third season more expensive for Netflix. John Lux, who serves on the executive board of the entertainment production non-profit Film Florida, told Keys Info Net, "There's no doubt that future seasons of 'Bloodline' are in jeopardy."
Of course, even if Bloodline loses its Florida tax incentives, Netflix could still order a third season — these logistics have nothing to do with fan demand or ratings, after all. It's just a factor that the streaming service may need to consider when deciding whether to order a third season. But, I doubt we'll have to wait long for news on that front. Netflix ordered Season 2 of Bloodline less than two weeks after the first season premiered, so we should know its Season 3 fate soon. But while we wait for news and hopefully, a third season, we'll need something else to watch. Luckily, it's easy to get your Bloodline fix, as most of the series' cast can be found in other series on Netflix. Here are the other series you can stream to keep up with the Rayburns.
Linda Cardellini
Freaks & Geeks
OK, so this is a huge jump from Bloodline, but Freaks & Geeks features a fresh-faced Meg Rayburn navigating the out crowds in this gone-to-soon, one-season teen comedy.
Mad Men
Cardellini had a recurring role in Mad Men Season 6 as one of Don's girlfriends, though they were both engaging in extramarital affairs — scandalous.
New Girl
Another comedic jump, Cardellini had a memorable guest arc in New Girl's third season as Jess' very different, rebellious older sister.
Kyle Chandler
Friday Night Lights
Kyle Chandler is Coach Eric Taylor. In fact, when I watch Bloodline I keep waiting for Tami Taylor to show up. Clear eyes, full hearts, can't lose.
Grey's Anatomy
Chandler had a recurring role in Seasons 2 and 3 of Grey's Anatomy as Dylan Young, culminating in the unforgettable two-part episode "It's the End of the World" and "As We Know It."
Chloe Sevigny
Portlandia
The Big Love alum (not on Netflix) played Fred and Carrie's whimsical roommate Alexandra in Portlandia's third season.
Jacinda Barrett
The Following
Barrett appeared in FOX's The Following as Julia.
Hopefully, by the time you finish streaming the Bloodline cast's other work, we'll have word from Netflix on whether they'll return as the Rayburns for a third season.
Images: Saeed Adyani/Netflix; AMC; ABC; FOX; Giphy (4)