A Figure From Danny's Past Joins 'Bloodline'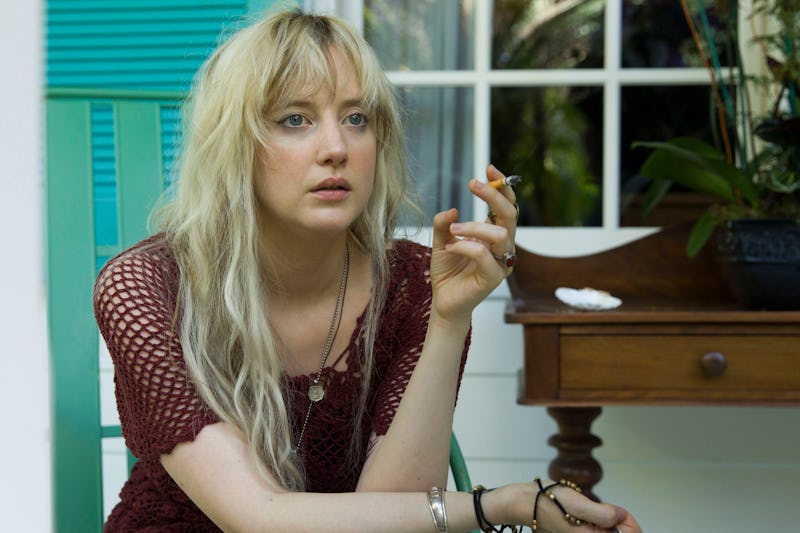 After over a year of waiting for the highly dysfunctional Rayburn family to return to our small screens, it's finally time for Bloodline Season 2 to premiere on Netflix. I've cleared my calendar for Memorial Day weekend because, if it's anything like the show's freshman season, marathoning will be a must. Danny Rayburn may be dead, but it's safe to assume that the black sheep of the family will continue to haunt his siblings from the grave in more ways than one. His secret teenage son, Nolan, showed up at the eleventh hour of Season 1, but another figure from Danny's past will play an important role in Season 2 — so, who is Evangeline on Bloodline?
It turns out that Nolan didn't come to the Florida Keys alone. According to Vanity Fair, he brought along a "dangerous" old friend of Danny's and his mother, Evangeline (played by Andrea Riseborough of Birdman). The outlet describes Evangeline as a "shifty figure" with a "slinky calculatedness" and teases that she's an incredibly interesting character who will keep us guessing. Regardless of what she's up to, the presence of Evangeline and her son is probably going to cause some significant problems for the surviving Rayburn siblings.
Although Riseborough won't give away too many details about Evangeline and what her return means for the Rayburns, she told The Telegraph that Bloodline's producers Glenn Kessler, Todd Kessler, and Daniel Zelman worked closely with her to develop the character. She was initially hesitant to take on the role of a parent, but they injected some elements of her personality into Evangeline. For example, when Riseborough told the Kesslers and Zelman that she's a musician, they worked that into her onscreen persona. But, other than that, she's very different from her character. Riseborough told the outlet that, "she's a child with a child. She's a really young mother who's ill-equipped for parenthood... Evangeline's a musician and she's a drug addict and she's wild and sort of broken."
Despite his death in Season 1, TVLine confirms that Danny will remain a series regular in Season 2 thanks the show's liberal use of flashback sequences. The outlet quoted Glenn Kessler as saying that, "We're going to learn more about Danny's effect on the family and more about his past." Since Evangeline is clearly an important part of his past, it seems likely that she'll play a key role in both the present day scenes and the flashbacks that explore Danny's story.
And, viewers may recall that Danny mailed checks to an undisclosed address repeatedly throughout Season 1. Was he sending money to Evangeline and Nolan? It seems like the most likely possibility, but this is Bloodline and nothing is ever as straightforward as it seems. The only thing we know for sure is that mother and son will definitely shake things up during Season 2.
Image: Saeed Adyani/Netflix