The Question Of 'Roots' Accuracy Is Complicated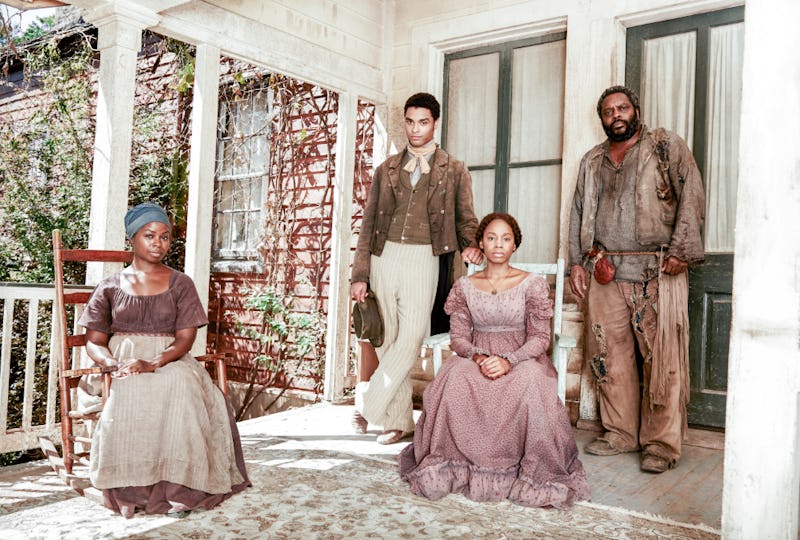 In 1977, the groundbreaking miniseries Roots captivated millions of viewers. Based on the Pulitzer Prize-winning novel of the same name by Alex Haley, it told the story of an African American family from colonialism to reconstruction and literally brought the discussion of the history of race in America into viewers' living rooms. And, now, History is reviving the miniseries nearly 40 years later with a remake airing across three networks, History, A&E, and Lifetime, beginning on Monday, May 30. Considering the dialogue started by the original miniseries and its legacy, new audiences may be curious about the details of the story and want to know, how historically accurate is Roots ?
Since the miniseries is an adaptation, the question of Roots' accuracy falls to its source material, and as explained by the New York Post, Haley's book has been at the center of controversy over its historical claims for years. Though the book was presented as a factual account of Haley's own family history with some "fictional embellishments," experts soon found inconsistencies between some of its claims and historical documents. As the story of Roots goes, Haley was the great, great, great, great-grandson of Kunta Kinte, the book's protagonist and patriarch. Kinte was a slave captured in Gambia and brought to the United States where he refused to accept his new name, "Toby," or having his freedom taken from him.
Click Here to Buy: Roots: The Saga of an American Family, $6, Amazon
However, the lineage of Kinte's family may have been inaccurate in Roots, according to CNN. The network reports that genealogists have found inconsistencies in Haley's family tree, like the fact that records suggest the real Kunta Kinte died five years before the birth of Haley's great, great, great grandmother, Kizzy, though Roots portrays Kizzy as Kinte's daughter. The New York Post also reports that many of the dates in Roots seem to be wrong, and that the BBC found a tape of Haley interviewing the historian of his ancestors' African home, which depicts Gambian officials and Haley correcting the man's story to better fit the author's.
In an interview transcribed by the Alex Haley Roots Foundation, writer Lawrence Grobel asked Haley if he prefers to describe Roots with a different word than "novel," to which Haley replied, "Faction. I saw that word in a book in London. It means a mixture of fact and fiction ... With Roots, I worked my head off to research everything and still a lot of the book is fiction." While the details of Kinte's story may not be verifiable, the slave experience was real and significant. And thanks to Roots, audiences were finally seeing these stories and understanding an important, horrific part of American history.
Mark Wolper, who produced the 2016 remake and whose father produced the original 1977 series, echoed a similar sentiment in an interview with The Huffington Post. Responding to Quentin Tarantino telling Newsweek, "nothing about [Roots] rings true in the storytelling, Wolper said:
"I respect Tarantino as a filmmaker, but his statements are like a backseat driver 30 years later after a lot of change. To say nothing rings true shows a clear lack of understanding of where the country was socially at the time Roots aired. When the series came on TV it was like nothing the country had seen to that point. We have come so far since Roots hit our televisions in 1977, current expanded outlets and social mindsets allow stories on the topic to dig deeper naturally. If Roots came on today, it wouldn't be timely as shot. A show that's over 30 years old with the amount of change this country has seen couldn't be up to date. But as TV evolved it allowed for changes in relaying history in shows that just wasn't allowed in the late '70s. This is particularly true for issues of race, as the country adjusted to new laws."
Just as the original Roots used a brutally honest portrayal of slavery to start a conversation, the 2016 remake will try to tell the story in a way that helps it resonate with modern audiences and reflect the current dialogue surrounding race. And that is a much more important goal than making every little detail historically accurate.
Images: Kareem Black, Casey Crafford/History
Happy shopping! FYI, Bustle may receive a portion of sales from products purchased from this article, which were added independently from Bustle's sales and editorial departments after publication.