Alice Braga On 'Queen Of The South's Inspiration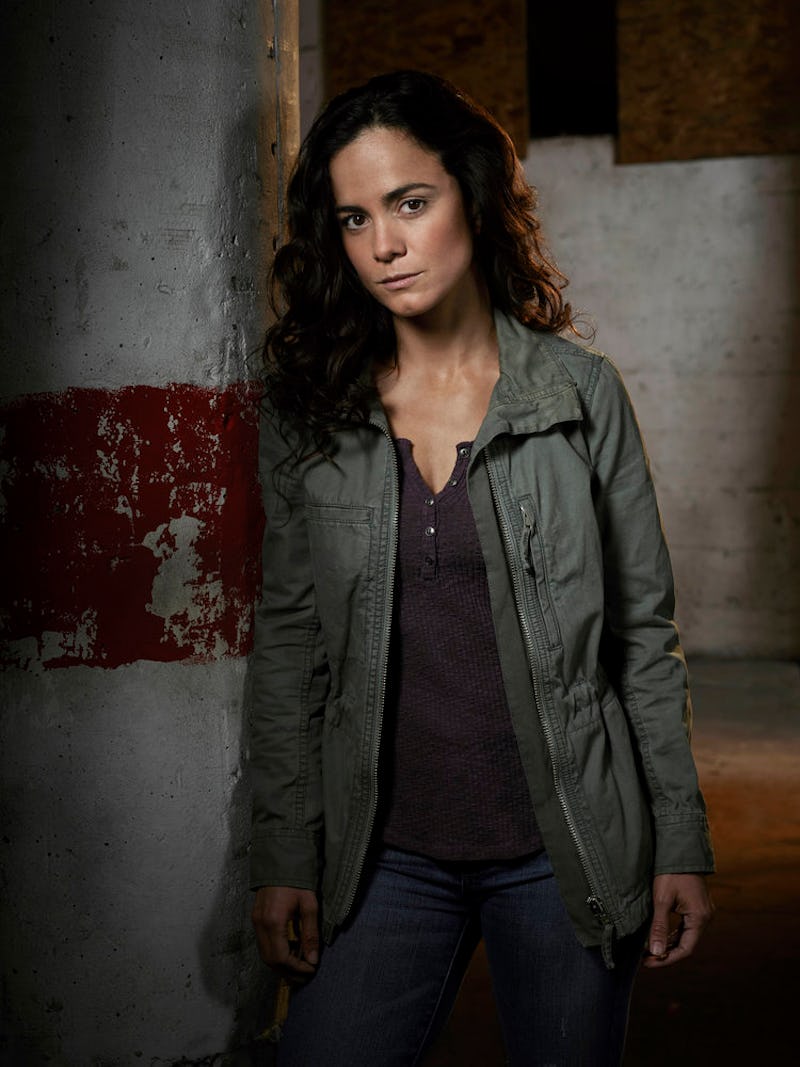 On Thursday, June 23, USA will debut its new series Queen of the South, a drama focusing on a woman named Teresa Mendoza who gets involved with a drug dealer, but then is forced to go on the run soon after he is murdered in Mexico. From that moment on, Teresa finds herself working her way up the drug cartel ladder, eventually landing herself as the leader of the biggest drug empire in the western hemisphere. The series is based on Arturo Pérez-Reverte's best-selling novel, La Reina Del Sur. Since the TV adaptation found inspiration from a book, I'm sure you might be wondering, "Is Queen of the South based on true events?" Luckily, Bustle had a chance to chat with star Alice Braga about whether or not the series and/or her character are or are not purely fiction.
"I think it's inspired by some female, some women who were cartel leaders, but it's a fiction book," Braga says. "The book is very different from the series. I mean, it's inspired by the book, but the journey for the character, they decided to create a different journey." Even though the overall story is fiction, that doesn't mean both the book and the TV series didn't find inspiration from true events and actual cartel leaders.
Braga did quite a bit of research to get into character, and she was already a huge fan of the book. The 33-year-old actor reveals, "I read the book seven years ago and fell in love with the character." Before channeling Teresa Mendoza and filming, she made sure to study the drug empire world as much as she could, and says,
"I watched a bunch of documentaries about the powerful women of the cartel world, like Cocaine Cowboys, and there is a real "La Reina del Pacífico," which is 'The Queen of the Pacific,' which exists in Mexico, so I tried to read about her. [I was] kind of inspired by true events, but trying to base myself on the character from the book, which I think it's a wonderful character. So I tried to at least get the human being she is, like the core of the character, even though the journey is different from the book — trying to honor Teresa Mendoza from the book."
And for fans of Narcos, and those who may be curious, Braga says that her show is very different than the Netflix hit, which tells the story of drug lord Pablo Escobar. "It's really interesting, because one of my really good friends is Wagner Moura, who plays Pablo Escobar," Braga says. "It's a very different show, because Narcos tells the true story of Pablo Escobar." She adds,
"No matter what, [Queen of the South] is based on fiction and Narcos is based on this very powerful character that is Pablo Escobar that all of us know about. So, I think those are the differences, but there are a bunch of things about cocaine, about this world of cartels and all that that could be similar, apart from being a female lead character and a male lead character."
Basically, fans of shows focusing on the ins and outs of drug empires now have two exciting series to watch, meaning you should definitely tune into USA's Queen of the South on Thursday, June 23 at 10 p.m.
Image: Justin Stephens/USA Network