12 Amazing Albums To Listen To Besides 'Lemonade'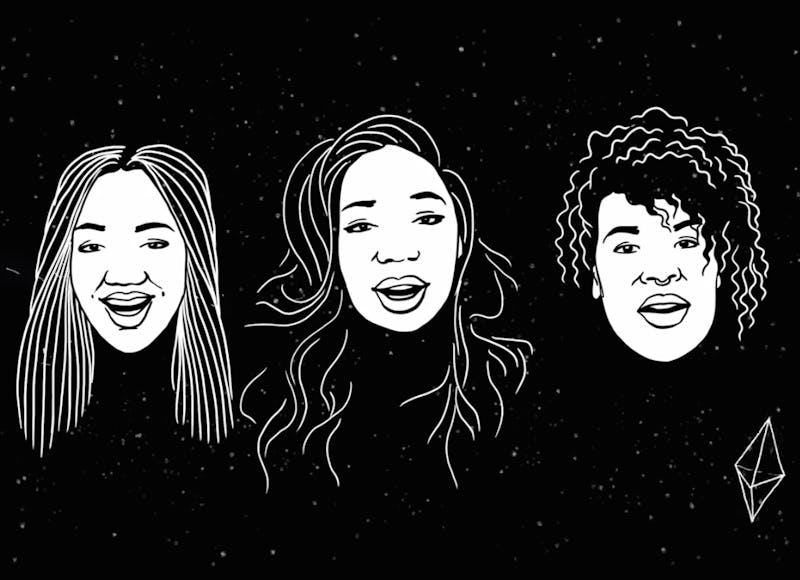 It's almost June, which means we're about to hit this year's halfway mark. This also means it's that time of the year when we start taking a look back at all the great albums that have been released so far. While you have been busy playing Beyoncé's Lemonade all day, every day, on repeat, trying to figure out who Becky with the good hair really is, other artists, especially female ones, have been releasing new albums. Hard to believe, I know. But don't worry, I'm about to get you all caught up on this year's amazing crop of female artists not named Beyoncé. Better late than never.
This list will have you revisiting the albums that dropped in the first part of 2016 that should definitely have your attention. All of these albums, which dropped between January and June, are by women who are doing it for themselves. From a classic country girl to Oakland's latest hip-hop export to a worry wart of an electronic artist, I've got you covered for whatever music style you want to hear. Oh, and don't you dare forget about Rihanna, who also dropped an album this year that is more than just a one-hit wonder.
Here, in no particular order, are the 11 best female albums that have been released in 2016 so far. They're no Beyoncé, but, come on. There's only one Beyoncé.
1. Jessy Lanza, Oh No
Jessy Lanza goes full-on electronic to address her personal anxieties in her sophomore album. From concerns that the air she's breathing is actually slowly killing her (Lanza's taken to filling her house with tropical plants) to the pressures of making music, specifically the electronic kind, which isn't always a welcoming space for female artists, the Ontario native is laying it all out there over a confident pop beat.
2. Frankie Cosmos, Next Thing
Greta Kline, who records as Frankie Cosmos, has a lovably DIY style that is sweet and understated. But, it's definitely not unassuming — this is a young woman who knows herself and writes with quiet confidence. Her songs about her friends' unbearable lightness ("Embody"), her own wicked ways ("Sinister"), and feeling like an underage sell out ("I'm 20") sound like the most honest of diary entries.
3. Hinds, Leave Me Alone
On Hinds' debut full-length, the four women get at what it's like to have your heart broken. On "Easy," the Madrid-based garage band sings about the torture of a breakup and how messy it can really be — made even more clear by the song's video, which has the girls' cheeks streaked with mascara. "Got no tears to share/And I sold every feeling you gave me," Ana García Perrote sings. "Now I'm all on my own."
4. Margo Price, Midwest Farmer's Daughter
Living isn't always easy, something Margo Price makes very clear on her solo debut. Price, who was signed to Jack White's Third Man Records, is a true storyteller, not unlike Loretta Lynn, who fills this album with her own stories of love and loss — specifically the tragic death of her young son. Price also lays out her own sins, which include a struggle with the bottle. Price's style may sound familiar, even vintage, but it's a style that's all her own.
5. Marissa Nadler, Strangers
Marissa Nadler has been making music for over a decade, but it's her last album, 2014's July, all about her breakup with her now husband, which had people really understanding the otherworldly power of her voice and the way it pulls at your heartstrings. While Nadler may not be heartbroken on her latest record — her seventh full length — she's still breaking hearts with delicate songs about the apocalypse. The end of the world may be coming, but luckily, Nadler is there to sing you to sleep with her elegiac lullabies.
6. Chairlift, Moth
This duo may not all be women, but it's songwriter and lead singer Caroline Polachek's voice that will have you hooked on this album. After working with Beyoncé on her self-titled album (they wrote "No Angel"), Charlift is back with a flirty new album that will get you dancing with songs like "Polymorphing" and have you weeping on trains, planes or in automobiles thanks to the beautiful ballad "Crying In Public."
7. Kamaiyah, A Good Night In The Ghetto
For lovers of the '90s, Kamaiyah is here to make you feel all nostalgic. On her debut mixtape, the Oakland rapper is sending those good time vibes on songs that are made for backyard BBQs where you want to get all philosophical. On "How Does It Feel," Kamaiyah wonders what it's like to be rich, before immediately contemplating how money may actually change a person on "Mo Money Mo Problems." Expect to hear Kamaiyah's voice playing out of every car this summer thanks to a guest spot on YG's new record, featuring Drake, "Why You Always Hatin?"
8. Julianna Barwick, Will
Julianna Barwick is Philip Glass for indie rock fans. Her instrumental music will haunt your dreams and beautify your nightmares. Barwick doesn't need words to say the things we want to hear, her music somehow does that perfectly by allowing you to find you own meaning. Will is like a choose your own adventure book in album form. Just press play and get ready to explore.
9. Rihanna, Anti
With her eighth studio album, Rihanna wasn't looking to make a pop album for the masses, she was looking to make an album for herself. Sure, we can't stop singing "Work," but RiRi shows she's more than a dancehall queen on her latest, which has her showing her range on the doo-wop ballad "Love On The Brain" and the slinky love song "Kiss It Better."
10. Colleen Green, Colleen Green EP
Colleen Green is like the lost female member of The Ramones. Her perfectly executed six-song follow-up to her 2015 album, I Want To Grow Up, is a perfect pop punk gem that has her complaining about a guy's wasted potential ("U Coulda Been An A"), her own swallowed pride ("Green My Eyes"), and how the sun is messing up her love life ("Cold Shoulder"). When Green's all said and done, she'll have you wishing the real CBGB's was still open for business.
11. KING, We Are KING
Let the dreamy R&B sounds of KING soundtrack your best summer ever. This trio, comprised of Anita Bias and twins Paris and Amber Strother, sure know how to make a steamy summer even steamier with songs that will make you nostalgic for Janet era Janet Jackson. Not too much, of course, since these women are showing that sound is alive and well. Get ready to bow down to the queens of KING.
12. Mitski, Puberty 2
On her fourth album, out in mid-June, Mitski is dealing with identity, specifically her own. As an American-Japanese woman, she doesn't always feel like she fits in alongside the white-dominated culture of the U.S., something she perfectly skewers on her song "Your Best American Girl." Talking to the all-American boy, she sings,"Your mother wouldn't approve of how my mother raised me. But I do, I think I do." No question, I definitely do.
Now, go give Beyoncé a rest — at least for a little bit — and check out these other female artists who are slaying all day.
Images: weareKINGworldwide/YouTube