9 Dirty Hair Style Tricks, Depending On Hair Type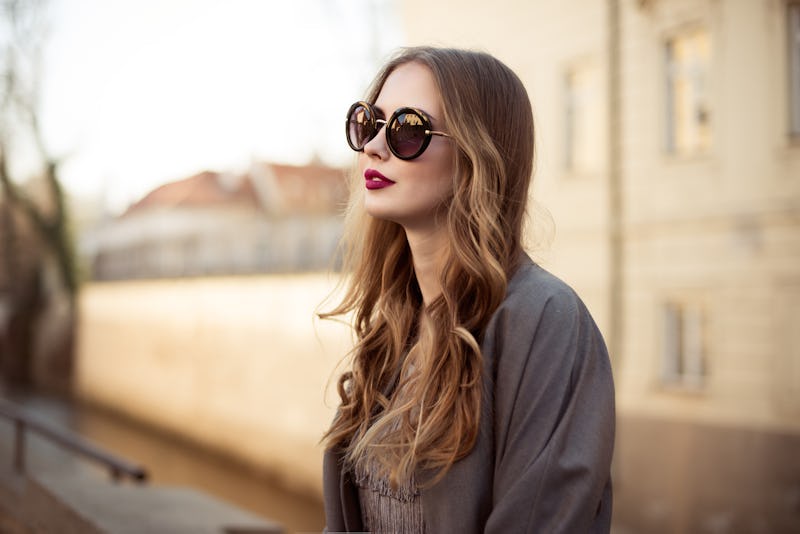 I have this friend who will go days without washing her hair — she just knows how to style dirty hair. When we're out to dinner on Friday and she's wearing one of her many hairstyles for dirty hair, saying, "I haven't washed my hair since Tuesday," I can't help but feel envious. I have to wash my hair every other day. In fact, I'm lucky if I can even go one day in between washes before my hair starts to look greasy. If I go two days, oh boy... It is bad.
I found myself asking my friend her secret on lazy girl hairstyling hacks for when you're between washes. She laughed, and told me it actually came down to finding the right dirty hair product that worked for her specific hair type. I just stared at her in disbelief. Could finding the right styling products really be the only thing keeping me from those amazing second- and third-day hairstyles?
It really is. No matter what your hair type is, you can style unwashed hair and look amazing. Whether you have straight hair that gets super greasy by the end of day two, or curly hair that becomes unruly if you wait too long to wash it, the right ingredients could completely predict how awesome your dirty hair looks.
For Unwashed Curls, Add Shine & Condition Tips With Olive Oil
Design Essentials Natural Curl Enhancing Mousse, $14, Amazon
Whether you have tight ringlets, loose and bouncy curls, or something in between, skipping a shampoo sesh (while great for volume) can result in unwanted frizz and a loss of defined curl shape. Refresh your curly tresses before bed with olive oil and nourishing vitamin B complexes, which won't leave you to deal with crunchy ends in the morning (unlike other formulas). This curl-enhancing spray will help breathe a little life into your hair and smooth out roughened texture built up between showers.
If Your Hair Gets Greasy, Let Mineral Technology Absorb Sheen & Pump Up Flattened Roots
Aquage Dry Shampoo Style Extending Spray, $18, Amazon
When it comes to styling dirty hair in general, dry shampoo is your best friend. However, typical formulas often leave a white residue in darker hair, and the greasy film that reemerges come 3 pm is always a bummer. This style extending spray takes advantage of Zeolite mineral technology to absorb grease all day long and plump hair roots (in addition to keeping you free of false grays with invisible, residue-free formula). Leave your hair looking just-showered clean, and see if you agree with the reviewer who says, "...this is the best dry shampoo out there."
For Hair Extra-Susceptible to Flatness, Keep Volume Levels High With Kaolin Clay
Winsome & Wisdome Pixie Dust - Volumizing Hair Powder, $15, Amazon
While not washing your hair can seem like a great idea at the end of a long day, the next afternoon often sees flat and lifeless style as a result. Instead, keep volume levels high with this powder's absorbent kaolin clay, which takes care of residual dirt and grime weighing down hair. Not only that, but greasiness doesn't stand a chance against the matte finish, while the aloe leaf restores moisture lost over time.
When You're Fighting Frizz, Jojoba Oil & Nourishing Vitamin E Smooth & Tame
Brocato Shine Drops Smoothing Serum, $14, Amazon
If your hair's body and volume is doing just fine on day two or three, but you can't seem to keep fly-aways and frizz under control, turn to this replenishing mixture of jojoba oil and vitamin E. The strengthening formula will keep unwashed hair protected from damaging, drying elements that often produce the unwanted halo of fuzz. Plus, the application is further simplified by its ability to work on both wet and dry hair. Major time-saver.
Turn Unwashed, Limp Strands Into Textured Beach Waves With Sea Kelp Extract
Captain Blankenship - Organic Mermaid Sea Salt Hair Spray, $17, Amazon
The best way to create amazing beach wave texture is by using the right salt spray for your hair. Add luster to your locks with this organic sea kelp extract spray. With its inclusion of essential oils like rose geranium and palmarosa, you might even find yourself washing your hair less anyway — just for an excuse to use this fresh-smelling spray!
For Hair With Great Texture Naturally, Lock In & Set Style With Brushable Finishing Spray
blowpro After Blow Strong Hold Finishing Spray, $10, Amazon
If you regularly leave hair unwashed because you're already rocking some impressive texture come sunrise, you go girl. But morning volume often isn't the same as 3 p.m. volume, am I right? Ensure your hair looks just as awesome first-thing as it does on your lunch break with this extremely effective brushable finishing spray. The special formula is full of soy, wheat, and corn protein that strengthens weakened strands, while rice protein helps your hair regain (and retain) its natural luster all day long. Bonus: The lightweight formula prevents buildup and won't leave hair feeling sticky or hard, either.
Give Curls Bounce
Devaconcepts DevaCurl Styling Cream, $18, Amazon
Super curly hair can lose its defined shape and bounce when you've spent the night rubbing it against your pillow. By running this styling cream through your hair, you can help your curls reactivate their natural body and texture for a renewed spring in their step. How? The cream is formulated with hydrolyzed jojoba protein and rosemary extract for fresh-smelling, highly nourished curls. Use on dry hair to define individual curls, or scrunch throughout for a silky, laid-back look.
For Fine Hair, Prolong Style & Add Texture With Hydrating Grape Seed Oil
KMS California Airplay Playable Texture Spray, $11, Amazon
For adding even more volume and body to hair, spray on a texturizing spray formulated with re-bonding technology, and squeeze another day out of your style. Work this rich formula of grape seed oil and invigorating peppermint leaf extract through your hair with your fingers for an artfully disheveled look. This lightweight formula works well because it isn't sticky, and reviewers say it works especially well for fine hair.
Bustle may receive a portion of sales from products purchased from this article, which was created independently from Bustle's editorial and sales departments.
Images: Fotolia (1); Amazon (8)