I'll Take "Who Is Buzzy Cohen?" For $200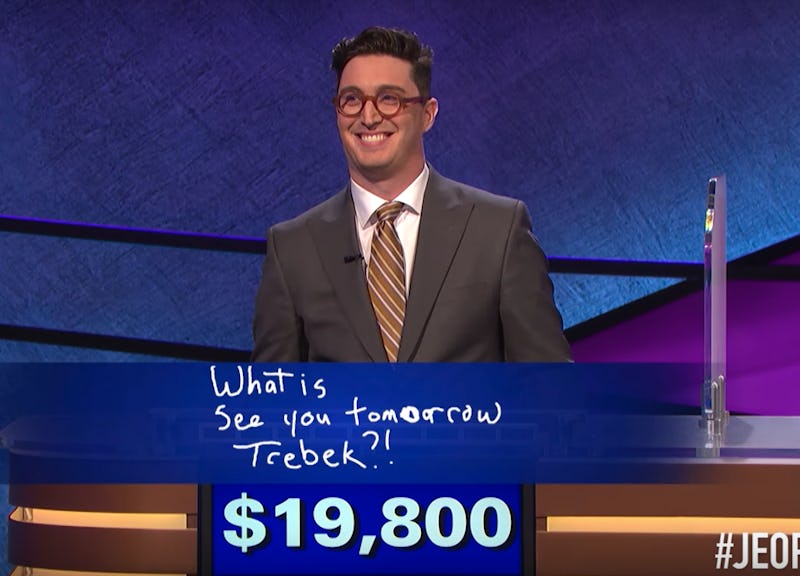 Jeopardy!'s latest contestant on a winning streak, Buzzy Cohen, is on the path to Jeopardy! greatness — and in more ways than one. The contestant is on an eight-day winning streak so far, taking a total of more than $145,000 up to this point, but he's also making a big name for himself with his continued trolling of the show's host, Alex Trebek. So who is Jeopardy! contestant Buzzy Cohen, (for $200, please)?
Cohen is a 31-year-old music executive from Los Angeles. For starters, his real name isn't actually Buzzy — it's a nickname that stuck with him since before he was even born, according to TheWrap. But the reason Cohen is taking the Internet by storm is because of his witty trolling on Jeopardy! He has used the last moments of Final Jeopardy to make jokes about his return, knowing that no other contestants would be able to beat him by the end of the day. On two separate occasions, Cohen ended Final Jeopardy with, "What is see you tomorrow Trebek?" and "Who is you aren't rid of me yet Trebek?"
Trebek responded with, "You're going to pursue this theme, as long as you're the champ, aren't you?"
Check out the full clip below.
Cohen told TheWrap that his behavior was prompted by contestant coordinator. He said, "The thing that people don't realize is that, when I went into my audition, the one thing that the contestant coordinator said was, 'It's a game show — have fun.' So that's what I'm doing." But he has no intention of stopping his act just yet. In a "YOLO"-esque explanation of his actions (that apparently have led women and men to send him sexts), Cohen told The Cut, "My friends were like, 'Can you just do something that we can turn into a GIF? And that's when the dirt-off-your-shoulder-wiping and the hair thing started."
Though Cohen, who studied for the show by reading Trivial Pursuit cards, has used the final Jeopardy question to troll Trebek, he has had to actually answer it, too. The question: "This spokes-animal created in 1951 got a wife and daughter, Antoinette, in the 1970s." The answer was "Who is Tony the Tiger?" Cohen himself has a wife (who agrees with his newfound heartthrob status) and a 2-year-old daughter, he told The Cut.
Buzzy is well aware that the haters are always going to hate. And at the end of the day, he's still cashing in on his Jeopardy! wins. Keep Buzzing along, Mr. Cohen.
Images: Jeopardy! (1); Giphy (1)