Jamie Lynn Spears Is Making Her TV Comeback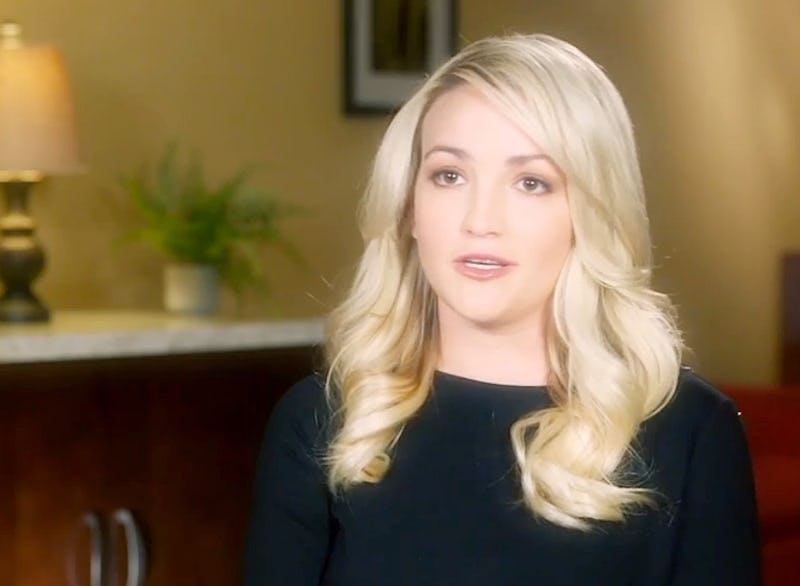 Jamie Lynn Spears is so much more than that child actor we all remember from Zoey 101. Back in 2007, after having what many headlines have attributed to one of the most high-profile teen pregnancies in Hollywood history, the now 25-year-old Spears is returning to TV for the first time in nine years to reveal "her side" of her story: "I'm not just a child star, and I'm not just someone's sister, and I'm not just a teen mom," Spears powerfully remarked in the trailer for her one-hour TLC special entitled Jamie Lynn Spears: When the Lights Go Out. "For the first time, this is the real story."
Following the infamous cancellation of her hit Nickelodeon series, Zoey 101 in late 2007, Spears seemingly disappeared from the public eye when she announced to the world as a high school junior that she was carrying her first child with then-boyfriend Casey Aldridge. But, it was all for good reason, because Spears was hit with unforgiving public opinion about announcement, making it even more burdensome to deal with in the spotlight. Merely due to the fact that she was the star of an adolescent-driven show, many bloggers and parents accusing the teen star of "glamorizing" teen pregnancy for her viewers. One mother wrote in a You Tell Us post reported by MTV News that she wanted Zoey 101 pulled from the air immediately. "I will not let my children watch the show any longer," she said. "How else can one make a statement about this disgusting lack of values? Shame on her, and shame on her mom."
"This is like one train wreck after another," another commenter wrote, according to the same MTV article. "This is why Britney should have set a good example for her sister." Of course, tabloids continued to erupt in a frenzy and instead of the positive allure Bristol Palin was subjected to following her teen pregnancy announcement, gossip magazines went on to print severe, negative gossip about a miscarriage, adoption theories, and infidelity issues between Casey and Jamie.
"I mean a lot of horrible nasty things were said," Spears reveals in the sneak peek of her special. "I look back now, and I'm like, 'Oh my gosh.'" Spears' decision to carry out the pregnancy forced the actress to remain silent among most of the scrutiny until she sat down with Glamour magazine to open up about motherhood in 2012.
"When I found out I was pregnant, [my parents and I] decided to do an interview with OK! magazine about it. I knew I needed to give an explanation to my fans, and I wanted it to be in my words first. I had to make a decision that I could sleep with every night," Spears said in the 2012 interview with Glamour. "I did feel responsible for the young girls and the mothers who I probably confused and let down. I apologize for that. But I wasn't trying to glamorize teen pregnancy. I hated when [the tabloids] said that. Everybody is dealt a hand of cards. It was my choice to play them the way I played them...It takes bravery to be a young mom, and it does take bravery to let the world watch."
It goes without saying, this is the real interview fans have been waiting years to see. Spears' new TLC special gives her a more public voice she never held nine years ago. Sharing her transition back on the little screen, viewers will be given a behind-the-scenes look at Jamie finally addressing how the media pressures of her teenage pregnancy affected both her and her family, while she juggles a now 7-year-old daughter Maddie, a new marriage with businessman Jamie Watson and her exploding country music career, such as her performance at the Grand Ole Opry.
"I wanna do something that I'm gonna be proud of," Spears remarks in her trailer. Jamie, you are definitely off to an amazing start with the success of her 2014 country album, My Journey and penning the various hits for other stars like Jana Kramer's "I Got the Boy," Spears is taking off on a high note. Check out the trailer of Spears' special airing June 26 on TLC at 10 p.m. EST above.
Image: TLC