'The Little Prince' Will Make You Feel All The Fee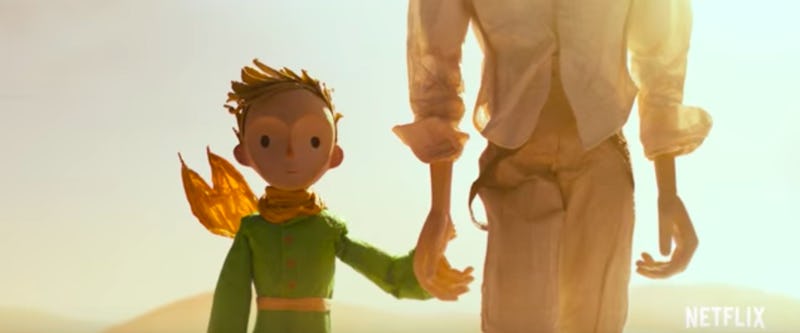 Call it the Up! effect: today, watching an animated film is usually equated with ugly crying into your movie snack of choice. Animated movies may not star people that look like the ones we see in real life, but damn it, can they make us feel. An upcoming animated feature looks ready to do just that, and considering that the new film is already based on Antoine de Saint-Exupéry whimsical and heartbreaking novella, we're in for one heck of an emotional rollercoaster ride. As Variety reports, upcoming Netflix film The Little Prince just received a release date, and it turns out you only have a few months to prepare for this life-affirming flick.
According to Variety, Netflix will release The Little Prince on its streaming service on August 5, which is also when the film will open in select theaters. As Deadline reports, The Little Prince was originally slated to be released via Paramount Pictures, but was picked up by Netflix when Paramount Pictures unexpectedly dropped the film from its schedule mere days ahead of its release date. Fortunately, the film's deal with Netflix means that anyone with an account can watch this sweet little film at home, and not be worried about freaking out fellow theater goers with their potential ugly crying face. In addition to the release date, Netflix has also released a new trailer for The Little Prince as well. Watch it and try not to think about how fast life is passing you by.
Right now, it's unclear just how similar the new film will be to de Saint-Exupéry's 1943 novella, but the trailer does suggest at least one big difference: that the narrator of The Little Prince — in the novella, he is known as The Aviator — is telling the story of his journey with the Little Prince to this girl, in hopes that she can learn the same lesson he learned from his friend. Though we'll have to watch the film to see how well the structure works, it seems like a smart way to incorporate the stresses put on children in 2016 to the timeless tale of the Little Prince.
Make sure to stock up on tissues before the August 5 release date — this is one story that's going to leave you sobbing.
Image: Netflix U.S. & Canada/YouTube