17 Graduation Gifts To Get Your Best Friend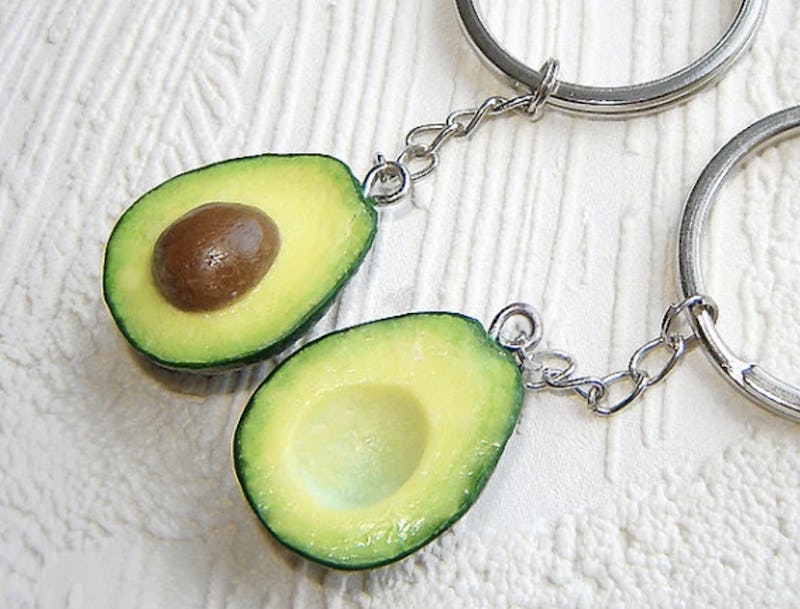 Whether or not you and your bestie are graduating from high school or college, it's a big accomplishment. If the two of you are extremely close, you might want to get a graduation gift for your best friend, to let them know how much he or she has meant to you throughout the study sessions, points of insomnia, and memory-filled weekends. Graduation gifts don't need to be super pricey (I mean, you are a graduate — you're pretty much guaranteed to be worrying about either paying off loans, or saving up for additional textbooks and tuition), but they should definitely reflect on your individual friendship. If you can find something cute that reminds you of an inside joke, or if you simply want to splurge on a nice weekend trip for the two of you to melt off the tension of exams, that's totally OK.
But if you're completely clueless on what to gift the person who has helped you survive these last few educational years, here are a few ideas on things that your best friend is guaranteed to love. No matter what, they'll be sweet gestures that'll let them know that even if you're no longer at the same school from here on out, you hope that your friendship will thrive.
Best Friends Bracelet, $17, Etsy
Back in the day, BFF-themed jewelry was big, a little tacky, and probably plastic. A bracelet like this is a bit more subtle, which means that it'll be perfect for everyday wear. This sterling silver bracelet fastens with a lobster clasp, and can include your initials for that extra personalized touch.
Arrows of Friendship Charm Bangle, $38, Alex and Ani
While we're discussing bracelets, let's bring up this gorgeous bangle bracelet from Alex and Ani — especially if your BFF prefers gold jewelry. This bracelet, which features arrows (which are a symbol of friendship), comes in both silver and gold, and is the perfect accessory for a bunch of different ensembles. Even better, if you buy this bracelet, the company will give a donation to Best Buddies International.
Philosophy's Thank You Set , $19, Amazon
Everyone likes to smell nice, and this set from philosophy will definitely make your best friend relax in luxury. This set includes a shower gel/bubble bath combo, shampoo, and lip shine, all smelling of raspberry sorbet. Nothing says "thank you" better than raspberry sorbet.
4 Opening Windowpane Collage Frame , $32, Target
Surely you'll be flooding Instagram with pictures of the big event, but sometimes it's important to print out actual photos that'll help you reflect later on. This frame has an adorable antique texture, and will surely be a hit when you fill it with photos of the two of you.
Long Distance Love Best Friend Set , $24, Etsy
These are perfect, if your best friend is either going to college in a different state, or went to your university paying out-of-state tuition. Nellie, over at Nelliebead, customizes her keychains with hearts and trails, proving that friendship can definitely survive long distances. She also offers a set featuring two different countries of your choice, if your best friend was an international student.
Star Wars BB-8 USB Car Charger, $32 Amazon
Is your best friend a total Star Wars geek? Then he or she will totally fall in love with this BB8 phone charger made by ThinkGeek. Since phones are the best way to stay connected, you'll be making sure that your friend will always have plenty of battery life to take your phone calls. Plus, uh — let's face it, this thing is adorable.
Deep Bloom Sea Vase , $25, ModCloth
It's graduation time, so your buddy is likely to have a few bouquets thrown her way. Might as well give her a cute place to store them, right? This ceramic vase will surely make a statement, and will be a great way to store flowers even after graduation day.
Pintrill PB&J Pin Set , $20, UrbanOutfitters
Nothing goes together better than peanut butter and jelly. Chocolate and peanut butter are a close second, but will never dethrone the PB&J power couple. The real question is, out of the two of you, who's the peanut butter and who's the jelly?
Garden-in-a-Can Set , $25, Back To The Roots
Back To The Roots has really made home gardening incredibly easy. If your friend is going to be living with parents for awhile, or in an apartment that doesn't have ample gardening space, these cans will help him or her cure their gardening itch. Plus, there's nothing more delicious than homegrown herbs. This four-pack includes the essentials — basil, sage, cilantro, and dill. All these herbs need is a little sun and water — even a window will help these plants thrive.
The Gourmet Chocolate Make Your Own Pizza Kit , $14, TheHut
Note: This pizza is made of chocolate. And this is perfect, since chocolate is an amazing celebratory gift, and many nights with your best friend were likely spent eating pizza. Even better, it can be assembled in its own little pizza box (which unfortunately, isn't edible.)
Mirror iPhone Case, $18, Etsy
There's a good chance your friend has an iPhone. And, there's a good chance that your friend might be totally freaked out about the future ahead. Things get a little nerve-wracking after high school and college end, and sometimes, a compliment can go a long way. Lottidot on Etsy solved this problem by creating this super cute iPhone case, that'll always remind your friend that you think they're totally glamorous. Plus, it doubles as a go-to mirror. Bonus.
Wishing Ball , $33, Amazon
After graduation, life gets kind of hectic. It's super important to have a moment to reflect every once in awhile. This hand-blown glass wishing ball will allow your friend to record a wish every week. It'll help them jot down some thoughts, and makes for pretty cool home decor. Let's just hope that each slip of paper doesn't end up saying "I wish college wasn't over."
Zig Zag Photo Collage Frame in Gold, $27, Amazon
The great thing about this gift is that your friend can use it for a bunch of stuff. If he or she just got a job in an office, and needs a stylized place to store notes and reminders, this'll have them covered. Or if they're looking for sensible decor for their new apartment, this'll be a handy accessory to have.
Knock Knock Why You're My Bestie Fill in the Love Journal, $9, Amazon
This little pocket-sized journal lets you fill in some personal information about why your friendship is so strong. Your friend can carry it around and take a glance at it every time they're having a bad day, remembering how they have made such a difference in your life. Plus, since it's an interactive gift, you'll be able to really think about the many reasons why your friend is so fantastic.
Best Friends Donut And Coffee Duo Flowy T-Shirt, $18, Etsy
Announce your BFF-ship to the world, with these fun little flowy shirts from TeesAndTankYouShop. If you and your friend had a habit of getting coffee and pastries together before a big exam, this'll be the perfect way to honor the tradition. Each shirt is sold separately.
Best Friend Gift Keychain, $16, Etsy
Friendship is a lot like an avocado — it's uh... well... OK, so I don't really have a fun quip about avocados and friendship. But what I do know, is that this key ring set is a subtle way of always remembering that the two of you together make something whole. Share these key rings to symbolize the bond you've created. If you both happen to go batty over guacamole, even better.
Happy Life Box , $36, Amazon
Let your friend store all of his or her favorite mementos in this pewter box, which has a pretty incredible (and oh so true) message on top.
Images: Etsy (5), Alex and Ani, Sephora, Target, Urban Outfitters, Back To The Roots, ThinkGeek, ModCloth, TheHut, Uncommon Goods (2), Bed Bath & Beyond, Amazon