Get Excited About Disney's Newest Action Hero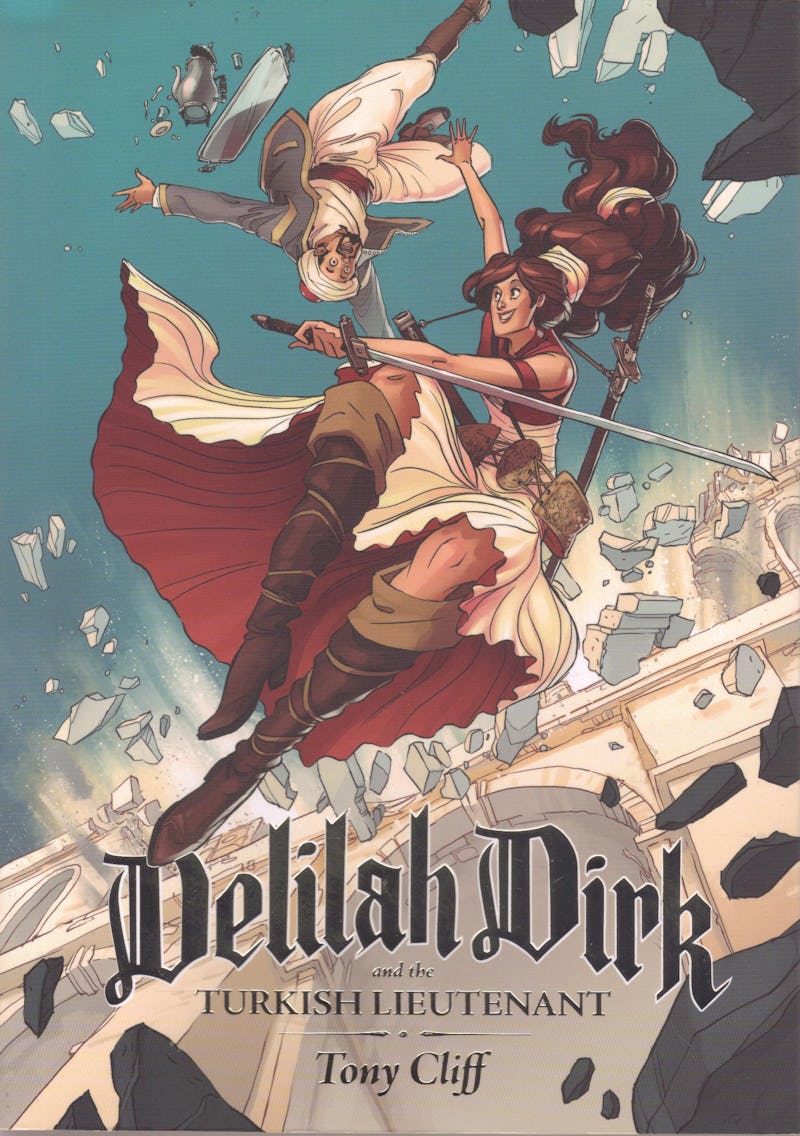 The swashbuckling Delilah Dirk graphic novels started life as a web series, with a new installment posted every Saturday. They were revolutionary, to say the least: The Mary Sue described the series' first book, Delilah Dirk and The Turkish Lieutenant as "like Indiana Jones meets The Venture Bros., except with a female lead." Now, the protagonist Delilah Dirk will hit the silver screen: According to Deadline, a Delilah Dirk Disney movie has been announced to be in the pipeline.
There's one key difference: the graphic novel will become a live action feature. This makes sense: Dirk is a master swordsman who has mastered 47 different sword techniques, which makes her a ripe character for on-the-edge-of-your-seat nail biting action scenes. She's a pretty riveting character in general, who, despite being a woman in 18th century Constantinople, is insanely well-travelled, good at acrobatics, can hold her own in martial arts and travels in a flying boat. In other words, she's everyone every girl wants to be when she grows up.
Considering she was also developed in response to a lack of nuanced action heroines, this all begs the question: Could she be the feminist action heroine we're all looking for? And I'm not talking about the boring cliché of the Strong Woman, but instead, something more layered and fun. Well, Delilah Dirk author Tony Cliff, told Entertainment Weekly:
Part of the inspiration for the Delilah Dirk series was reading mainstream superhero comics back in the late '90s and finding that all the female characters were almost without exception completely humorless. This contrasted heavily with the actual human women I knew and counted as friends, and I wanted to bring that missing element to the type of comics I liked.
You can see this reflected in the reviews of the book on Good Reads, many of which commend Delilah Dirk and The Turkish Lieutenant for its refreshing refusal to stick to a traditional romantic storyline (spoilers ahead!): when Dirk encounters the Turkish lieutenant, readers seem all set for a manic pixie dream girl style romance, but the pair eventually part ways before reuniting for a platonic friendship.
Another strong theme in the reviews is how many of the reviewers seem to feel real warmth towards Dirk, not just as a character but as a representation of a woman in a graphic novel (both male and female readers alike). If Disney sticks close to the source material, I think they're onto a winning bet for a feminist female-led franchise. And I for one can't wait to see Delilah Dirk's mad sword skills in live action.
Images: Roaring Brook Press