Early '00s Pop Music Video Dances Were Everything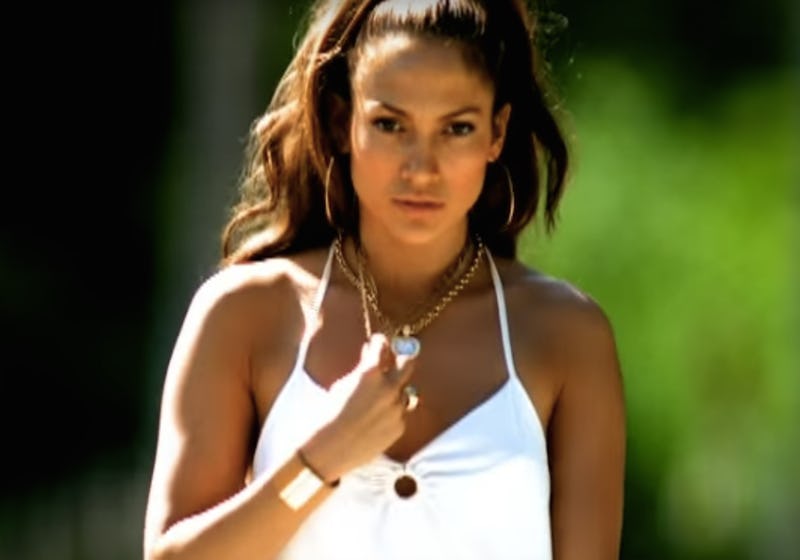 In the early aughts, you were nobody in pop if your music video didn't include an elaborate, over-choreographed mass dance routine. In those lazy, hazy days of 2000-2005, extra status points were won via, a, complicated constructs to incorporate your dance into the video narrative (think: Jennifer Lopez "Love Don't Cost A Thing" postcard dance troop or *NSYNC-as-puppets in "Bye Bye Bye") and b, matching outfits, a la Christina Aguilera's troop of sexy girl-boxers in "Dirrty" or B2K's mass denim look in "Uh Huh." But those days are gone. Today's pop royalty, whether Justin Bieber or Selena Gomez or Ariana Grande, insist on painfully dance-free music videos. I have zero idea if these artists are sexy, cool, lithe in the sack or if their crew's tight. There are no clues anymore.
Have music video choreographers gone the same way as travel agents, saxophonists, and print journalists? Did music video choreography emit its final gasp when none of us were even listening? Ugh, probably.
So, without further ado, let's revisit the best dance routines the early '00s had to offer us. The ones you practiced for hours in front of your bedroom mirror so you could "effortlessly" introduce it at the next school dance.
1. "Uh Huh" – B2K
It looks complicated, but it was actually so simple: jiggle your legs a lot, add in some angular posturing with your arms and snake your neck in staccato to the beat. Done.
2. "Love Don't Cost A Thing" – Jennifer Lopez
You had to have serious 'tude to pull this dance off. Those snaky hip movements and aggressive shoulders were just plain ridiculous without the requisite bad girl credentials. Kind of an awkward one when rocking it solo, but hey, at least it was easy, right?
3. "Yeah" – Usher
Not for the faint of heart — after all, in terms of footwork/falsetto, Usher's basically our generation's Michael Jackson. Honestly? Not sure anyone could pull this one off apart from Usher and his troop of painfully talented dancers.
4. "Bye Bye Bye" — *NSYNC
The Sistine Chapel of music video dance routines. It's the best because it's not just aesthetically appealing, it's deep. That girl is playing them! They're puppets! She's making them dance for her affection! Ugh, I can't even.
5. "Oops!... I Did It Again" – Britney Spears
Even when not constrained by a skintight red PVC catsuit and dancing on a planet with a regular level of oxygen, those moves were hard.
6. "Survivor" – Destiny's Child
Don't be fooled by the snazzy matching camouflage — this dance routine was oh-so-possible for your average non-Beyoncé human.
7. "Liquid Dreams" – O-Town
The dance routine was as brazenly sexual as this song's title (seriously, this song's title: wut?). But still so simple, so temptingly, temptingly simple.
8. "Pop" – *NSYNC
Pre-solo career Justin Timberlake was so good: "Hey there, sassy girl." Also, those moves. Sure, the armwork was a little out there, but if your crew was tight enough (tight as *NSYNC! impossible) then this was your dance.
9. "Lady Marmalade" – Mya, Pink, Christina Aguilera, Lil' Kim
Left breast, right breast, add a crotch grab and hit the floor.
10. "Case Of The Ex" – Mya
Pole dancing but not. Just go reinvent a whole genre of dancing, Mya.
11. "Dirrty" – Christina Aguilera
Ride into your school dance on a motorbike and then thrust like there's no tomorrow. This is what twerking looked like in the '00s.
Miley Cyrus, Rihanna, and Ariana may all be a helluva lot cooler than the musicians on offer in the early '00s pop universe, but what they make up for in street cred, they lack in movement. So please, 2016's popstars. I know you can sing. Your Snapchat presence is seriously something. That fashion line on the side looks dope. But where oh where are the routines?
Images: JenniferLopezVEVO/YouTube