Luke Is Already Jealous On 'The Bachelorette'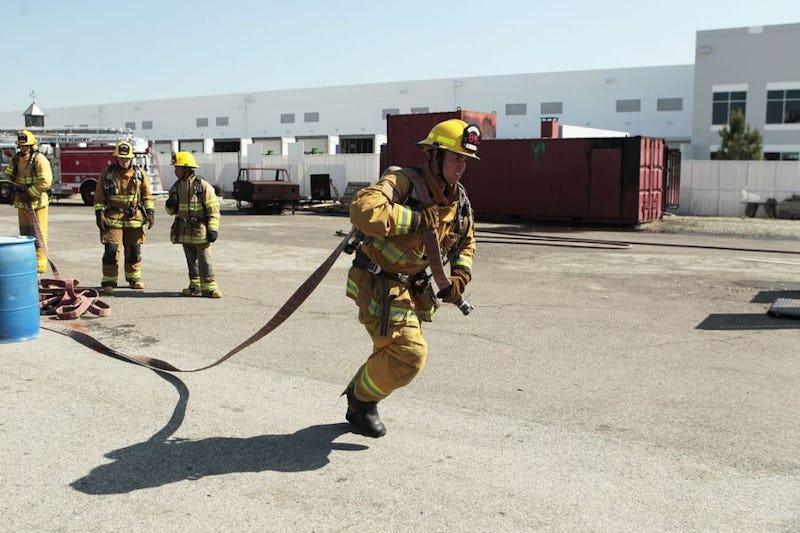 Guys, Bachelorette JoJo Fletcher officially has limo arrivals and that awkward first cocktail party under her belt, and that means it's now time for actual dates to begin. And with these dates comes the big, invisible, forgotten cast member of this show: The green-eyed monster. It's early yet, but the jealousy is already coming out, and it all started with the season's first group date. The day began with a fire fighting-themed challenge, followed by rooftop drinks and a little bit of one-on-one time, as per usual. It was then that JoJo and Luke got to forge their connection on The Bachelorette... 'til it became pretty clear that Luke may not be cut out for this particular method of dating.
At first, they started talking about Luke's time in the military, which JoJo was really impressed by — duh. They pretty much hit it off right away, so it wasn't surprising when a full blown make out session happened on the patio. Things were going really well, or so Luke thought. Because then it came time for JoJo to give out that coveted date rose, and she chose somebody else. Wells got the rose, and that left Luke feeling visibly bummed out about it.
"It's extremely frustrating seeing Wells get the rose tonight when I thought JoJo and I had a clear connection," he said. "To actually see someone else get the rose hurt."
For those of us who have been watching this show for awhile, this is just par for the course. Roses are handed out, and you don't always get the one you want, and you also kind of have to live with the fact that this woman you like is going to explore relationships with the other dudes that are there. If that's not something he can accept, as much as it does suck, The Bachelorette might not be for him. But on the bright side, Shawn Booth felt the same way, and he ended up living happily ever after with Kaitlyn Bristowe (so far).
Hopefully, Luke bounces back. JoJo definitely seems to like him, so I have a feeling more one-on-one time is in his future if he can just hang in there!
For everything Bachelor Nation, check out Bustle's Bachelorette podcast.
Image: Rick Rowell/ABC