'Better Call Saul's Kim Is TV's Standout Feminist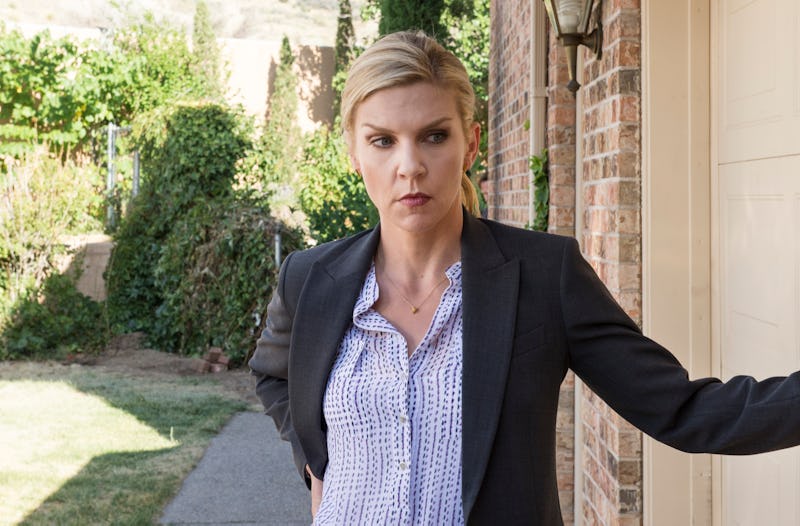 In AMC's Better Call Saul, ambitious lawyer Kim Wexler (played by Rhea Seehorn) is the lone female character in a cast filled with men. Yet she hasn't been drowned out by her male cast mates at all. In fact, Kim is Better Call Saul 's most feminist character, and the writers of the show say are proud of it, as they told the audience at a Writers Guild Foundation event at the WGA Theater in Beverly Hills. "I wasn't writing it thinking that she's a feminist, but it's nice that it worked out that way and people really responded to her character," says executive story editor Ann Cherkis. "You approach every character the same, male or female. No, she's not talking about wanting to have a baby or getting married, and it never even occurred to us, because it doesn't feel like who she is."
And, it's who Kim is that has had many viewers and much of the internet declaring that she's the most feminist character on TV. Kim has been part of the cast of the series since the first season of the Breaking Bad prequel series, but she gets to take center stage in Season 2. Sure, Kim and Jimmy (who eventually becomes Saul Goodman) pursue a romantic relationship in the second season, but it's his actions that are mostly motivated by his romantic feelings for her — and not the other way around.
"I think we were very excited to give Kim a bigger role this season," Cherkis says. "I think, in terms of her character, it was all there in Season 1, but we really fleshed it out more and we felt that it was time that this character got her due."
Executive producer and co-creator Peter Gould tells the audience at the WGA Theater that it was Kim — and Jimmy's desire to be with her — that actually helped the writers figure out the Season 2 premiere and the direction of the season. "Once we were able to see it through that lens — that Kim is the most important person to Jimmy — the answers fell into place," co-producer Jonathan Glatzer says.
But, aside from her relationship with Jimmy, what makes Kim feminist is that she's her own character with her own ambitions. During Season 2, she tries to fight for respect at her law firm and then moves onto to establish herself as a solo attorney — turning down Jimmy's offer to start a firm together. And, when it comes to their relationship, she can barely say the word "dating." Kim's not into lovey-dovey labels at all. "She trusts what they have," Seehorn told Yahoo! TV last month. "There are some things that are very anti-stereotypical about her, especially as a female character, and that's another one of them. She does not seem to be busying herself with worrying about labeling it or demanding things in the relationship. I like that about her."
And, so do fans.
Images: Ursula Coyote (2)/AMC