Chelsea Handler & Rashida Jones' Best Feminist Moments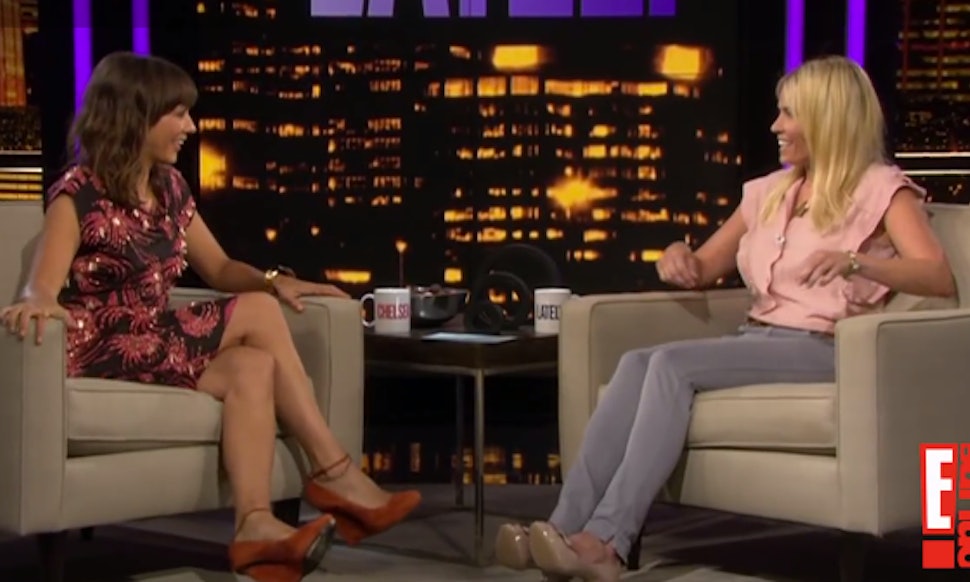 February 25th: a good day for feminism. Why? Because it's the birthdays of two of Hollywood's coolest feminists, Chelsea Handler and Rashida Jones. Turning 39 and 38, respectively, the two women have spent their careers breaking barriers and supporting other women, all while establishing themselves as two of the funniest, smartest, and hardest-working ladies in the business. Whether it's being late night's only female host (Handler), writing a critically acclaimed screenplay (Jones), or contributing hilarious, honest pieces for Glamour (both), the women's efforts have been major reasons why "feminism" is no longer a dirty word in Hollywood.
In honor of Handler and Jones' birthdays, let's take a look back at the duo's most feminist moments.
Image: E!
Chelsea Handler: Talking Openly About Getting an Abortion
While on Rosie O'Donnell's 2012 OWN talk show, Handler opened up about an abortion she had when she was 16, and the effects that her choice had on her life. "I wouldn't be a good mother," she said, and while her honesty was controversial, it was barrier-breaking for women. Handler's honest, moving interview was seemingly one of the first times that a famous female in Hollywood had talked openly, and without regret, about getting an abortion.
Image: OWN
Rashida Jones: Defending Her Heritage
According to Jones, who is interracial, she was often seen by many black people as not being "black enough," and faced criticism by those of all races for her mixed-race heritage. As a teenager, she gained fame for writing an intelligent, thoughtful letter to Tupac Shakur, who'd criticized her parents' marriage. "To demean a man like Quincy Jones… demeans the whole progress of African-Americans," she wrote.
Chelsea Handler: Getting 'Chelsea Lately'
In 2007, Handler became late night's sole female talk show host with Chelsea Lately, a half-hour series on E!. Seven years later, Lately is hugely popular, with consistently high ratings, a spin-off mockumentary, and more than its share of controversies, largely thanks to Handler's no-holds-barred dialogue. Recently, Handler defended her series in a must-read essay, arguing against being listed separately from her male late-night colleagues.
Image: E!
Rashida Jones: Being One Half of the Best Friendship on TV
Chelsea Handler: Writing 'My Horizontal Life'
To date, Handler has written five books (her latest, Uganda Be Kidding Me , will be released next month), and it all started with My Horizontal Life. The story collection, about Handler's various one-night stands, became an instant bestseller thanks to its hilarious honesty about topics like sex, alcohol, and friendship.
Rashida Jones: Playing a Lesbian in 'Our Idiot Brother'
Our Idiot Brother was far from a perfect movie, but one of the things it did get right was the natural, relatable intimacy between Jones' Cindy and her girlfriend, Zooey Deschanel's Nat. The couple's relationship in the 2011 film felt real and honest, a win for both the LGBT and feminist communities.
Image: The Weinstein Company
Chelsea Handler: Getting Her Own Publishing Imprint
As if writing books wasn't enough, Handler received her own publishing imprint in 2010, Borderline Amazing/A Chelsea Handler Book. She signed a three-book deal with the imprint, the first of which was released in 2011 to huge sales. Overachiever, much?
Rashida Jones: Writing 'Celeste and Jesse Forever'
Not many screenplays in Hollywood are feminist, and even fewer are genuinely good. Yet Celeste and Jesse Forever, a 2012 dramedy co-written by and starring Jones, managed to be both. Funny, smart, and candid, the film, about the friendship between a divorcing couple, earned Jones and her co-writer, Will McCormack, an Indie Spirit Award nomination for Best First Screenplay.
Image; Sony Pictures Classics
Chelsea Handler: Hosting the VMAs
In 2010, Handler hosted the VMAs, making her only the second female host in the show's history. The last woman to take the reigns? Roseanne Barr, all the way back in 1994. Handler's VMAs garnered over 11 million viewers, the most for the show in eight years.
Rashida Jones: Directing the Music Video for 'Brave'
In her debut as a director, Jones brought Sara Bareilles' hit song "Brave" to life with a music video that's been viewed nearly 19 million times to date. Both the song and video encourage female empowerment, telling young girls and women to be themselves and stand up for what's right.
Chelsea Handler: Executive Producing 'Are You There, Chelsea?'
Sure, the one-season NBC show was pretty bad, but the important thing was that it was produced by, based off a book by, and starring women. Handler was an executive producer of the series, as well as a member of the ensemble cast.
Image: NBC
Rashida Jones: Selling Scripts to Major Networks
Chelsea Handler: Winning Every Award
Forbes Celebrity 100? Check. Time's 100 Most Influential People? Check. Comedy Person of the Year Award? Check. And the list goes on and on, including several awards for her work with the LGBT community; Handler, a major supporter of LGBT rights, has hosted the GLAAD Media Awards and the Human Rights Campaign Gala.
Rashida Jones: Penning Feminist Essays for 'Glamour'
Some excerpts from Jones' Glamour essay: "I love sex; I am comfortable with my sexuality." "'RU a whore?' The answer to this would have been an overwhelming YES if you were referring to me from 2007 to mid-2011." "There's more than one way to be a good feminist." The whole piece is filled with thoughtful, funny insights from Jones, who's spoken to several other publications since about her support of feminism and frustration with gender-based norms.
Chelsea Handler: Taking Control of Her 'Sex Tape'
When, in 2010, it was reported that a sex take of Handler was being offered for sale, the comedian didn't let the drama take priority. Instead, she revealed that the footage was actually a copy of her '90s audition tape, in which she had "accidentally" added sex scenes as a joke. "I've been showing it at birthday parties for years!", she said. Badass.