9 Books To Read With Your Partner In A LDR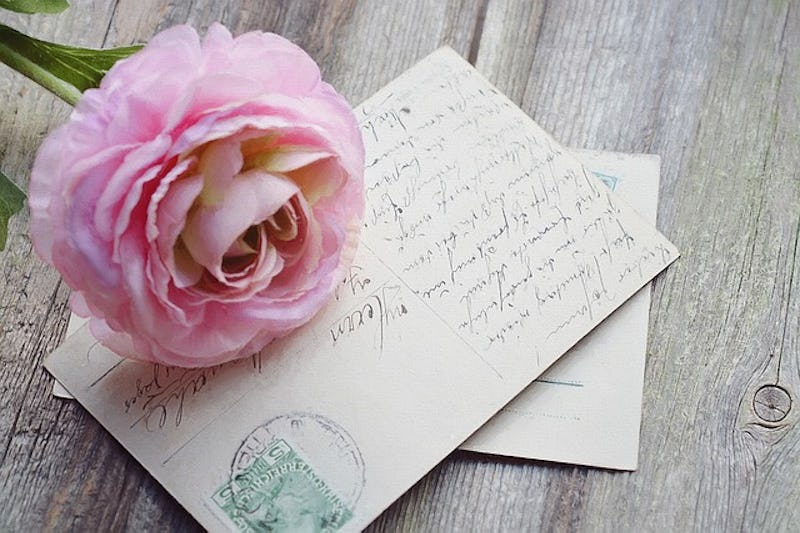 After I graduated college, I moved to New York City for an internship and left my serious boyfriend behind to finish school. We lived apart for two and a half years, and during that time, I learned a lot about being in a long distance relationship, including the best books to read with your partner while you're in one. Phone sex isn't the only way to connect from across state lines.
When my boyfriend and I were long distance, books played a huge role in our relationship. Having a mini book club between the two of us gave us something to talk about on our weekly phone dates and provided an opportunity to do something together, even though we were miles apart. They were a medium we used to stay connected, a lesson in commitment and follow-through, and an opportunity to get to know each other better, especially when it came to picking out our next reading selection. For book nerds like me, you don't really know someone unless you know their reading taste, and for anyone in a long distance relationship, finding out can be a great way to stay connected.
From travel and adventure stories to epic romantic quests, intriguing mysteries to ruminations on love, here are 9 books to read with your partner in a long distance relationship.
A magical story about adventure, darkness, and love, J.R.R. Tolkien's classic Lord of the Rings trilogy is a fun pick for couples in a long distance relationship to read together. Featuring epic quests, long journeys, and lovers torn apart, the story or Aragorn and Arwen will be one each of you can relate to. Spanning over 1,000 pages, The Lord of the Rings is a book that will keep both you and your partner occupied in your time apart.
While it's an untraditional choice for most book clubs, a cookbook is the perfect selection for you and your partner to read together while you're in your long distance relationship. A book like Klancy Miller's Cooking Solo can give you and your partner a way to eat together, even if you're far away, while teaching you both how to cook and portion for your solo lifestyles. You can select different recipes to try on the same night, and it will be like you're having dinner together — sort of.
3. Americanah by Chimamanda Ngozi Adichie
Chimamanda Ngozi Adichie's bestselling novel Americanah should be on everyone's reading list, but if you're in a long distance relationship, it should be at the very top. Nigerian teenagers Ifemelu and Obinze fell in love at school in Lagos, but the conditions of their country cause Ifemelu to flee to America to study. Though Obinze had always hoped to follow her, immigration prevents him from entering the country, and he is forced to live an undocumented life in London. A powerful, affecting novel about love across the globe, Americanah is an inspiring read for any couple who can't be together.
For the nights you miss your partner and neither of you can sleep without the other, stay awake turning the pages of Martin Seay's thriller The Mirror Thief . A layered story of three Venices — Venice, Italy, in the 16th century, Venice, CA, in 1958, and the Venice Casino, Las Vegas, in present day — The Mirror Thief is an intriguing original mystery that you won't be able to put down until you've reached its stunning conclusion. Once you finish the book, you'll be glad to have your partner to talk about it with — just make sure you don't spoil the ending for them.
Share your love for young adult fiction with your partner with Jennifer E. Smith's the Geography of You and Me, a sweet and romantic story about a a chance encounter that changed the lives of two people forever. When Lucy and Owen meet during a city wide blackout, they immediately connect, but once the lights turn back on, reality sets in and the two find themselves — and their love — on opposite sides of the world. A hopeful book about the power of love over distance, it's the perfect pick for a couple going through the same thing.
If you think you and your long distance partner have it bad, then you should both read The Odyssey . Homer's epic poem tells the story of the Greek hero Odysseus's 10-year journey home through captivity, boat wrecks, pirates, cannibals, and intervening gods and goddesses, to get home to his wife, Penelope. A true classic, The Odyssey may seem like a challenging read, but with your partner just a phone call away, you can do it together.
Nonfiction book about law and politics don't usually make the best reading selections with your long distance partner, but Love Wins is the exception. The true story behind the landmark Supreme Court ruling in favor of same-sex marriage in 2015 has all the important dates, names, and numbers down pat, but it also has a very touching and very human story about the power of love. Inspiring and powerful, Love Wins is a must read for everyone whose every been in love.
8. Enchantment by Orson Scott Card
Part fantasy, part fairy tale, part romance, and all adventure, Orson Scott Card's Enchantment is a book both you and your partner can enjoy. When Ivan, a young Ukrainian-American man, moves back to the Ukraine to finish his graduate work, he finds a strange memory from his childhood — a woman asleep in the woods — to be true when he comes across the sleeping lady once again. He wakes her with a kiss, and finds himself transported back to a 10th century kingdom that the princess and he must save. A unique retelling of Sleeping Beauty, Enchantment is the perfect blend of action and romance, you and your partner will each be able to find something to love about this amazing novel.
Modern love, especially long distance love, has it's own unique set of challenges, and no one understands that better than you and your partner. But just because love can be challenging sometimes, doesn't mean it's hopeless — just ask New York Times editor Daniel Jones, whose "Modern Love" column features stories about love and loss in today's world. His collection compiles 50 true stories about about love, from the falling for the first time to marriage to heartaches and breakups to, yes, even difficulties of navigating a long-distance relationship. A book that any couple can relate to, Modern Love is a great read for anyone trying to make a relationship work in our world today.
Images: Pixabay