8 Swimsuit Hacks For Comfort & Confidence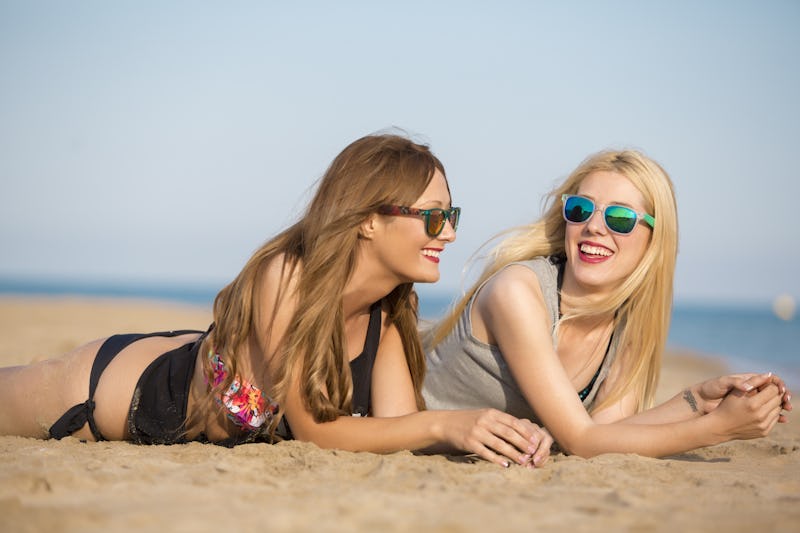 I've got a very low tolerance for the beach. For one, heat is not my friend. For another, I'm a complete baby when it comes to sand in places where it shouldn't be. Add in the fact that feeling comfy and confident in swimsuits can seem like one of the most annoying things in the world, and I have a very adequate list of reasons to stay home and watch Netflix in my air-conditioned room. But at the end of the day, knowing how to feel confident in a bathing suit really comes down to being comfortable.
I'm all about natural health, so I also can't ignore all of the health-giving benefits of a great beach day. The sun provides essential vitamin D, the sand stimulates all the nerve-endings in your feet that lead to better circulation and a boosted mood, and the sea is filled with tons of minerals that help your body and skin to detoxify and heal. I can't avoid all that just because of saggy fabric on my swimsuit or inadequate boob support. That's why, this summer, I'm giving the beach another shot, but you'd better believe I'm going prepared. Here are some of the best and easiest ways to feel confident with your swimsuit game, so you feel comfortable and ready for any inconvenience that nature might throw at you.
Add Support & Structure To Any Bikini Top Or One-Piece
Silicon Bikini Gel Inserts , $12, Amazon
My boobs grew in somewhere around third grade, and ever since, finding an adequately-padded swimsuit has been a massive struggle. Even if I did, it was only a matter of time before I found the insert pads all ripped up somewhere in the dryer. These silicon bikini gel inserts make an awesome waterproof replacement that gives you loads of support for any swimsuit or bikini. They come in your choice of nude or transparent, and are way more durable and sturdy than the foam that usually comes in your swimwear.
Stop That Unbearable Sand-And-Salt Chafing
Surf Butta Anti-Chafe Balm , $15, Amazon
Sand, salt, and skin is the best recipe for angry-looking chafe rashes by the end of the day. This Surf Butta anti-chafe balm is made with ingredients like shea butter and aloe vera to prevent chafing skin during those long summer days, even in the face of sweat and sea water. It comes in an easy-to-apply stick that goes on silky smooth for use between thighs, under arms, or underneath swimwear, and because it's non-staining, waterproof, and lasts all day, it makes a great addition to any beach bag to make sure you stay comfortable and smooth.
Get Rid Of Pills And Lint On Your Swimwear
Deneve Fabric Defuzzer , $11, Amazon
Bathing suits are made from lightweight materials that are constantly coming into contact with water, so they tend to pill up much faster than your other clothes. To give your bikini a thirty-second face lift, try this Deneve fabric defuzzer. It quite literally shaves the pills and fuzzies off your swimwear with six stainless steel blades that are tough on lint, but gentle on any and all fabrics. This one is entirely portable because it works on batteries, and it's easy to clean out, as it has a removable cartridge that collects anything it shaves off. Reviewers say that they're now "obsessed with shaving fabrics," because it makes all their clothes look and feel like they did the day they brought them home from the store.
Protect Your Skin And Your Suit By Skipping The Chemicals
Organic LureLux Mineral Sunscreen , $13, Amazon
Most dermatologists would yell at me, but I have a love/hate relationship with sunscreen. My half-Irish skin doesn't respond well to unprotected time at the beach, but I'm really not cool with the amount of chemicals in most sunscreens. The answer? A great mineral-based sunscreen. This organic LureLux mineral sunscreen protects your skin with natural zinc oxide, in addition to delivering healing vitamin D and moisture to your skin with ingredients like aloe vera leaf, grape seed oil, beeswax, and grapefruit extract. Reviewers love that it's lightweight, feels like butter, and won't cause a reaction (even with sensitive skin types). Best of all, it's non-greasy and absorbs into skin, so it won't feel uncomfortable underneath your suit, and it won't ruin the fabric.
Avoid Stubble, Bumps, And Stinging With A Great Epilator
Philips Satinelle Epilator , $28, Amazon
The no-shave movement is getting a lot of recognition among women, and I think it's awesome. After all, body hair is the most natural thing in the world. However, I'm a shave-for-myself kind of shaver, and when it comes to beach season, upkeep can get really irritating — especially when your freshly-groomed legs come into contact with salt water. Not only does this Philips epilator prevent bumps and irritation (because instead of cutting the hair, it's plucking it all at once, like a convenient at-home wax), but it stops that terrible stinging sensation you feel when you shave right before going in the water. It's a number one best-seller because it has two speed settings, a comfortable grip, easy control, a washable head, and minimal pain, all while leaving your legs, underarms, or bikini area silky smooth for much longer than a razor would.
Keep Your Swimsuit Looking And Feeling Like New
Splash Swimsuit Wash , $10, Amazon
If you spend loads of time searching for the right bathing suit, only to have it fall apart by the end of the season, this one's for you. Splash swimsuit wash gently removes chlorine, salt, and lotions from your swimwear fabrics, all without parabans, phthalates, and phosphates. Because the elements break down the elastic in your suit much faster, this one's a life-saver, and it smells great, too. Just put it in the machine along with your bikini, and enjoy your favorite beachwear for much longer without stretching, sagging, or ripping.
Adjust Your Support With Durable Strap Clips
3 Piece Strap Clips , $6, Amazon
Most spaghetti-strap bathing suits lack any kind of adjusting mechanism, so after a little bit of use, your straps are loose and unsupportive. These 3 piece strap clips are a durable and comfortable way to lift for added support (while keeping your straps taught and in place), so you don't end up flashing anyone after a particularly big wave. They're made with a subtle yet attractive design and come in three different colors — white, black, and beige. While they're created for use on your bras, they work just as well on swimwear. One reviewer says, "They really make a difference in my bustline with both bra AND bathing suit straps! I am very short AND big busted, so these bad boys are working hard, and they do a great job!"
Enjoy The Sun And Sand, Even On Your Period
Athena Menstrual Cup , $18, Amazon
Personally, I don't know why every woman on the face of the earth hasn't switched to a menstrual cup all the time, because I'm entirely won over – but when it comes to a beach day on your period, strings, soggy tampons, and the general lack of bathrooms ruins everything. A high quality menstrual cup, like the Athena menstrual cup, holds way more liquid, is entirely undetectable from the outside, and you absolutely cannot feel it. It's made with ultra-soft and comfortable medical-grade silicon, and comes in two sizes to make sure you've got just the right fit. My favorite thing about it is that you can wear it for up to twelve hours, and it doesn't leach chemicals and bleach into your system like most tampons do. Believe it or not, ladies, a beach day on your period can be entirely hassle-free.
Bustle may receive a portion of sales from products purchased from this article, which was created independently from Bustle's editorial and sales departments.
Images: Fotolia (1); Amazon (8)