'Maya & Marty' Kicks Off With Tom Hanks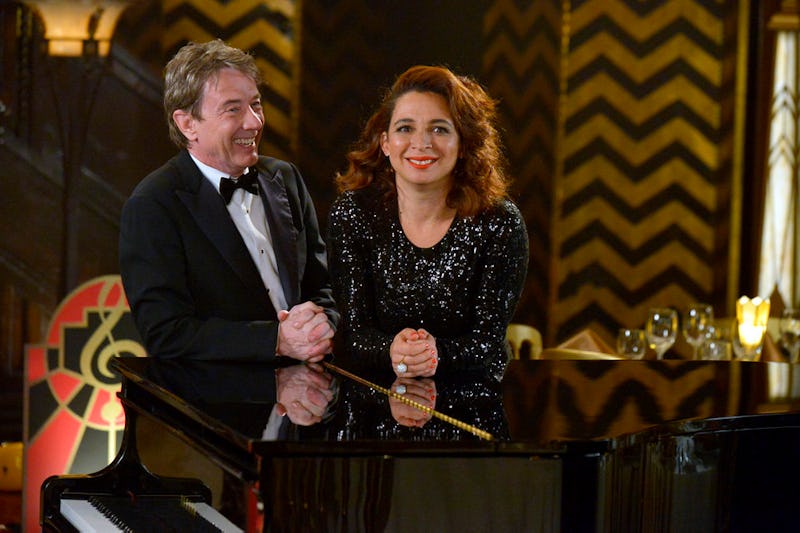 NBC's Maya & Marty is exactly as hilarious as you would expect a TV show to be if you put together the brilliant Maya Rudolph, the legendary Martin Show, and Saturday Night Live exec producer Lorne Michaels. And of course the series kicked off in epic fashion: Tom Hanks starred in Maya and Marty's "The Astronaut" sketch, a parody of that other space movie, The Martian. The show opened with the two-time Oscar-winner playing the titular astronaut who fakes a space mission in order to get some time away from his wife.
Maya & Marty premiered on Tuesday night with hosts Rudolph and Short commenting on how they weren't sure exactly what form the show would take: Sketch comedy, variety, wacky fun-time hour, or all three. But if the opening sketch was any indication, the show is simply funny and that's all viewers really need. In "The Astronaut," Hanks hilariously plays Gene, who tells his wife that he's going to space, but she keeps catching him around town catching up on Chicago Fire, eating chicken fries with Rod in a supermarket parking lot. And when Gene finally transmits from space, it turns out he's actually hiding out at Rod's house for a 4-5 year mission. Oops.
It's not quite a departure for Hanks, who has played an astronaut in the movie Apollo 13, but this time around, this astronaut never departs Earth. Hanks wasn't the only celeb to make a cameo appearance in the star-studded premiere of Maya & Marty. Larry David stopped by to be interviewed/insulted by Short's Jiminy Glick. SNL's Kate McKinnon played Ted Cruz's wife Heidi opposite Rudolph's Melania Trump in a sketch that showed the latter ingesting actual diamonds. Jimmy Fallon and Short dressed up as creepy twins on a parody of Little Big Shots, which featured Kenan Thompson's always hilarious and spot-on Steve Harvey impression. Musical guest Miley Cyrus even got in on the fun and joined the show's Goodnight Moon parody skit.
And if this first episode is any indication, viewers will be in for a hilarious treat this summer if they keep watching Maya & Marty.
Image: Lisa Rose/NBC