Miley Cyrus Keeps It Tame On 'Maya & Marty'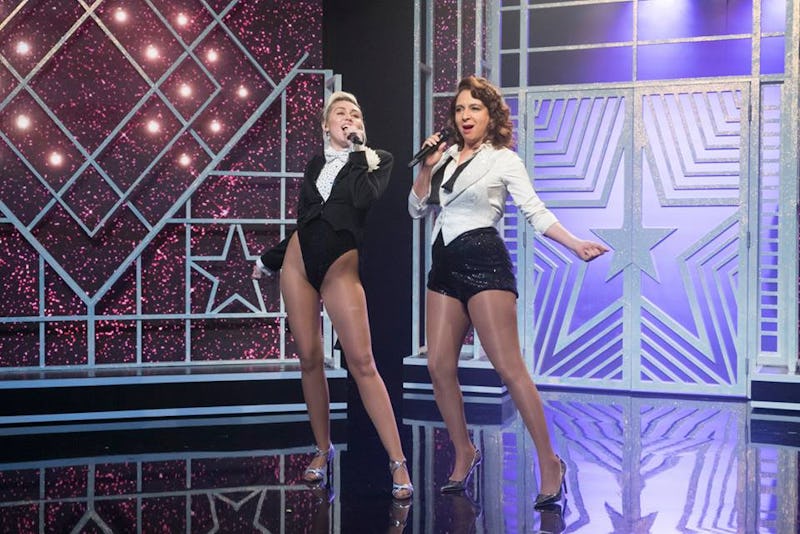 When I heard Miley Cyrus would be performing on the premiere episode of Maya & Marty on Tuesday night, well, I expected something colorful, crazy, and very Miley. But instead, Miley Cyrus performed a medley on Maya & Marty and kept it surprisingly pretty low key. She didn't wag her tongue at anyone. She didn't twerk on anyone in particular. She didn't drop a surprise album. Instead, Cyrus kept it classy by singing two songs, and belted a duet with talented show host Maya Rudolph. But at one point, Cyrus did take off her pants, because she's still Miley.
Maya & Marty is a variety/sketch comedy series hosted by Rudolph and fellow Saturday Night Live alum Martin Short. Think of it as SNL lite for primetime — after all, it is executive produced by SNL's own comedy king Lorne Michaels. So just like the Sautrday sketch show, there was a musical guest: Cyrus, who first crooned Leonard Cohen's "I'm Your Man" dressed in a top hat and sequined suit. But just when you thought, "I guess Miley's done with the bear leotards," she goes for it and rips off her pants, revealing a leotard (but no bears). She segues into Peggy Lee's "I'm A Woman" in a brand new set, accompanied by none other than the Maya in Maya & Marty.
Together, Cyrus and Rudolph commanded the stage with their voices as they sang this one out for all the W-O-M-E-N out there. Later in the show, Miley would return to her acting roots and play a little girl in a sketch that was a parody of the children's book Goodnight Moon. She donned a dark-haired wing that made her look almost like Disney Channel's Hannah Montana again.
Except Maya & Marty is way better than Hannah Montana — at least for the first episode. With Tina Fey and Steve Martin scheduled to appear next week, I have a feeling this show is going to keep bringing the funny.
Images: NBC