'Night Shift' Takes Place In The Perfect City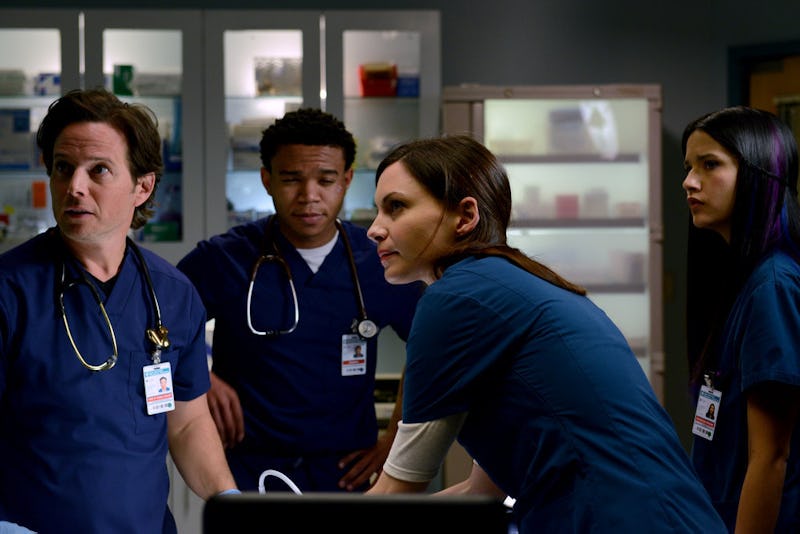 NBC's Night Shift will start its third season on Wednesday night, just in time to bring a shot of adrenaline to your summertime viewing. The series shows the very hectic graveyard shift at a Texas hospital, but is San Antonio Memorial Hospital from Night Shift real? The action-packed medical center is fictional, according to several sources, but the San Antonio setting of the show is deliberate. Executive producers Gabe Sachs and Jeff Judah told The San Antonio Express-News in 2014 that they wanted a setting for the series that wasn't already all over TV, like New York City, Los Angeles, Chicago, or Washington, D.C.
"Then we began to realize Texas is its own country; it has such a diversity and such a different way about it. And we thought, 'that would be cool,'" Judah told the publication. Despite its Texas setting, Night Shift is actually filmed in Albuquerque, New Mexico, where Breaking Bad was shot and there are plenty of tax breaks for filming. "They are willing to come to San Antonio if we had that type of rebate available from the state and the city combined," Drew Mayer-Oakes of the San Antonio Film Commission told local radio station WOAI in 2014. "We have a half a million dollar fund to try to maintain shows like this, but in a TV series, that money would be gone in two episodes." So not only is San Antonio Memorial a fictional hospital, but its scenes are actually occurring in New Mexico.
Still, San Antonio makes the perfect setting for the Night Shift and here's why.
It's The "Wild West"
You've heard the promos on NBC with Dr. Scott Clemmens declaring that the night shift is like the "wild west." And it's true, Night Shift is fast-paced and often unpredictable. Could that be a metaphor for San Antonio itself? Sure, it's a smaller city than the more well-known Texan metropolitan areas Dallas and Houston, but that's part of the charm. Most people don't know what to expect from San Antonio.
It's Diverse
San Antonio is located a mere 161 miles from the Mexican border. According to the 2010 U.S. Census, the city's population is 63.2 percent Hispanic, which gives the Night Shift a great opportunity to feature a diverse population of patients and storylines not often found on TV. Judah told the San Antonio News-Express that they wanted to make sure that was reflected in the cast as well. ""We wanted a really racially diverse cast," he said. "Of the nine main roles ... there are only three white guys."
It's A Military City
San Antonio's tourism website nicknames the location as "Military City USA," due to a consistent service presence in the city for the past 300 years and a high concentration of bases. Judah and Sachs also wanted the Night Shift to be similar to M*A*S*H with a combination of comedy, medical drama, and military presence. In the series, Drs. T.C. Callahan (Eoin Macken), and Topher Zia (Ken Leung) both have histories on the battlefield, and Dr. Drew Alister (Brendan Fehr) has returned to active duty.
"It worked out also because we wanted to have a military theme involved, and there's so many bases," Judah told the San Antonio News-Express. "We could have people from San Antonio working at the hospital and a lot of others from around the country who settled there after being in the military."
It Has A Large Military Medical Center
According to San Antonio's tourism website, the city houses the Brooke Army Medical Center at the Joint Base San Antonio-Fort Sam Houston, the largest military healthcare organization, and the Army Medical Department Museum. So not only is the city associated with the military, there's a strong interest in medicine, too.
It's A Smaller City
In order to make Night Shift as hectic as it is, San Antonio Memorial needs to serve a large community, Sachs and Judah told Military.com. "In San Antonio, there's one Trauma 1 Center that's responsible for 22 counties," Judah said.
"That was sort of mind-blowing to us. That helps us get some of the military aspect because we can bring the helicopter into it. People can't get to the hospital in an hour when you're covering 22 counties, so our doctors and our shift's mentality is we're gonna bring the golden hour to the people in the field. We felt like San Antonio or Texas gave us the kind of open space where people don't have access to immediate emergency or trauma care."
There Are Endless Stories To Tell
All of the above aspects of San Antonio give Night Shift endless storyline possibilities for Season 3 and beyond.
Images: Ursula Coyote/NBC (4)