10 Of The Creepiest Books Of All Time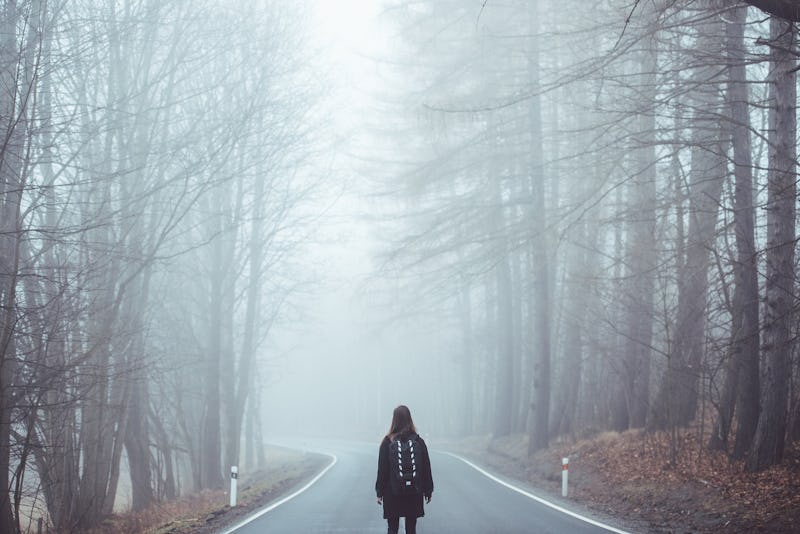 Summer is perfect for romances and bright cheery stories that match the sunshine, but if you're a little oddball (I'm raising my hand), it's also the perfect time to delve into books that will put a little shiver in your suntanned spine. If your summer months are more for scary stories around the campfire than breezy first love, happily ever after tales, this list of 10 of the creepiest books of all time will fulfill all your warm weather dreams.
Just because I love a creepy book doesn't mean I don't get scared. I'm the kind of person who will read horror book after horror book and then spend the next few weeks double bolting my door, checking under the bed and in the closet, and putting on the light in the hallway before I go to bed. My creepy book spirit animal is Joey from Friends, who, after reading Stephen King's The Shining has to hide his copy of the book in the freezer. I've been known to flip the cover of a book upside down on my nightstand or cover it with my blanket when I sleep so it doesn't give me nightmares. What I'm saying is I sympathize.
To add those chills to the hot summer days, pick up one of these eerie, creepy books that are both contemporary and have stood the test of time.
Of course, of COURSE, Shirley Jackson is the first one I have to mention on this list. Heck, this entire list could be Shirley Jackson. When I read "The Lottery" in eighth grade English class it changed my life and set this horror-lover into a deep dive from R.L. Stine to Jackson and the other classics. The Haunting of Hill House is probably Jackson's most famous novel, so if you haven't read her works yet, this is a good place to start. Fair warning: Don't read it when you're home alone because, you guys, this Hill House is definitely haunted and you'll begin to think yours is, too.
Daphne du Maurier is better known for the chilling Rebecca , but I'm partial to Don't Look Now when I want to get the heebie-jeebies (the scientific term). This collection of short stories has the slow, rising dread and terror that du Maurier is lauded for, no matter if she's focusing on pilgrims who find their Holy Land is full of strange phenomena or, in the title story, when she's telling the story of a young couple under the control of sinister psychics in Venice.
Lauren Beukes may be relatively new compared to many others on this list, but she certainly brings the creep factor in Broken Monsters . The story begins when Detective Gabriella Versado finds a body, but not just any body. This one is half boy, half deer. And as these odd and eerie bodies start popping up, Detective Versado gets caught in the middle of one of the strangest cases of her life. Meanwhile, her teenage daughter begins an online relationship with a man who could be a predator. It's an unusual crime story that bends into thriller and a psychological dream story that will keep you up at night.
4. Dawn by Octavia Butler
Octavia Butler is the queen of science fiction, and often her stories veer into the totally scary and eerie. And when it comes to Dawn, Junot Diaz said, "This book still gives me nightmares and teaches you right quick that no trade is ever free," and who am I to disagree with that? Lilith Iyapo and other survivors were put to sleep for 100 years when an atomic fire destroyed Earth. Now, Lilith has woken up on an alien spacecraft and has to lead her people to save the human race from extinction.
5. It by Stephen King
Guys, here's some straight talk: I still leap over storm drain grates onto the sidewalk because of this very book. If you want to be afflicted by that oddball need, then go ahead and read. Sure, literally dozens of Stephen King books could make it onto a list of the creepiest books ever, but this is the only one that contains not just clowns, but shape-shifting clowns, so really what else do I have to say?
I won't spoil whatever happened to Baby Jane, but I will tell you what happened to anyone who has ever read this book and that's sleep with the lights on. This horror novel-turned-Hollywood flick centers on two sisters, one a Hollywood icon and the other a former vaudeville star who now lives in her sister's shadow. The icon, Blanche Hudson, had her illustrious career cut short after the accident she was in with her former-star sister, Baby Jane. But some people say that Baby Jane caused the accident on purpose, tired of being overshadowed by her sister. And now the two sisters live in a house on the hill, with Jane taking care of Blanche. This psychological thriller takes a super creepy turn as elderly Baby Jane's fantasies of stardom start blurring with her present reality.
Four hundred years ago, Dawit of Lalibela, along with the other members of an Ethiopian sect, traded in their humanity to become immortal. Now he's David, and he and his new wife, Jessica, live in Miami. Now, the leader of his group, The Immortals, wants David to leave his family and return home to them. David, however, doesn't want this, and instead formulates a plan where Jessica and their family can also live forever by taking their souls. This complex story is, at it's heart, a chilling family drama, and Tananarive Due, an icon in horror, builds up the tension and the creep factor through to its jaw-dropping climax.
8. Ring by Kōji Suzuki
Remember the horror movie The Ring that made you straight-up terrified to watch a short film? Japanese horror master (and that's saying something because Japan does epic horror) Kōji Suzuki's novel is where it first began. But don't worry, there are plenty of chills in the original that didn't make it over to the U.S. movie. For the uninitiated, Ring centers on a mysterious videotape that warns viewers they will die in seven days after watching unless they do one, unspecified, thing. Um, thanks but no thanks, VHS.
As if I could leave off the creepiest book ever given to children. It's not just these scary stories that were so chilling, it was the epic artwork by Stephen Gammell that burrows down into your brain. If you're my age and you don't sleep in bed with the blankets mostly covering your cheek so a spider doesn't lay its eggs in your face then it's like I don't even know who you are.
House of Leaves is iconic, passed around when it was literally written on a bundled pile of paper, and it's hard to describe if you haven't yet read it — except that for sure the creep factor is sky high. A family moves into a home on Ash Tree Lane and discover that the home inside is much, much larger than its outside. But the story is much more than your typical horror narrative; it has an unconventional structure and form that builds and builds on the claustrophobia and creeps as you turn the pages.
Image: Unsplash/Pixabay