Rupert Grint's Not Actually In Gryffindor?!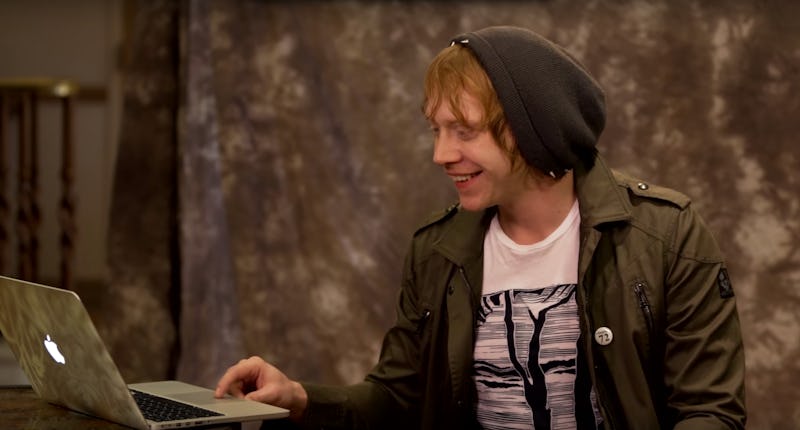 For everybody who grew up on a diet of Harry Potter movies, Rupert Grint and Ron Weasley are basically one and the same. They've got the same red hair and cheeky grins, they both like sweets — but hang on, Rupert Grint isn't in Gryffindor? Maybe our favorite ginger Brit (sorry, Ed Sheeran) isn't as similar to his fictional counterpart as we thought.
A video on the Pottermore YouTube channel reveals that Rupert Grint took the Sorting Hat quiz and was sorted into... wait for it... Hufflepuff. Before taking the test, Rupert told Pottermore that he "would have to be Gryffindor," and that he felt like he "belong[ed]" there — but luckily, the result didn't seem to be too much of a disappointment. After a brief pause (and a raised eyebrow), Rupert accepted the news. "It wasn't what I was expecting, but...I love that," he told Pottermore. Phew!
Grint's not the only original Harry Potter cast member to be sorted into a different house from their wizarding alter-ego. In perhaps the strangest turn of events, Draco Malfoy actor Tom Felton was sorted into Gryffindor instead of Slytherin. Felton was crushed, but J.K. Rowling said she'd seen it all along. (And anyone else who follows the loveable Felton on Instagram will agree.)
Rupert Grint officially leaving the Gryffindor world feels like the end of another era — but it's not all bad. We're just six days away from the first previews of The Cursed Child in London, and Grint agrees that "it's great that [Harry Potter is] living on in so many different forms. And you know what? Now that I've had a chance to absorb the news, I'm loving the idea of Rupert Grint as a Hufflepuff (especially because his ginger hair would look smashing in yellow).
Image: Pottermore/YouTube