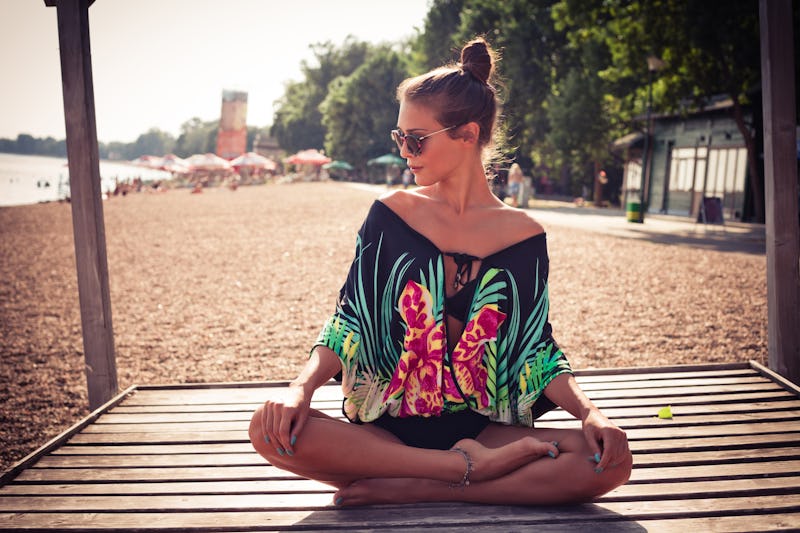 Whether you live by the coast or you're on vacation, there's no better way to wind down after a warm day on the beach than with a refreshing drink at the bar (preferably something frozen, fruity and full of tequila). You've got the perfect cover-up and a glowy tinted moisturizer to make a stylish transition from sand to happy hour, but what do you do with your ocean-soaked hair? Styling your hair for summer should be just as easy as sipping your beach cocktail, am I right? Going home to take a shower and fussing with hot tools would be a total buzzkill.
There are some lucky ladies who leave the shore with perfectly disheveled hair. You know, the loose, wavy, sun-streaked hair that every surfer girl somehow rocks. But if you think your post-beach hair is beyond saving, think again. Before packing up and trekking all the way back to your bathroom, remember this: Summer hair should be a little messy. So ditch your wet swimsuit, slip into some espadrilles and blow off the blowout.
We partnered with The Wet Brush to bring you easy-to-achieve hairstyles that take you from the beach to the bar—no shower or even a mirror required. Now that's what I call summer hair #goals.
Prep Strands Post-Swim
There are tons of products touting beach-in-a-bottle, but the best way to score that tousled texture is by taking advantage of the shore's natural elements. The salt water adds body and grit to hair, while the ocean breeze gives it that lived-in, windblown look.
After swimming, blot hair with a towel and gently brush out the kinks and knots. The Wet Brush Original Detangler has flexible bristles that work through tangles without pulling at strands or causing breakage, says celebrity hairstylist Danielle Priano. Because the salt (and sun) can cause dryness, smooth on a conditioning oil from mid-shaft to ends to keep strands soft and touchable.
No plans on going near the surf? No problem. Stash the store-bought stuff in your beach bag or make your own sea salt spray at home. Shake well and spritz generously throughout the length of hair.
Make Better Beach Waves
Nothing says summer like surfer-girl strands, but getting the look isn't necessarily a breeze (unless your hair is naturally wavy—lucky you!). Try these techniques for your hair type.
To turn bouncy curls into loose waves, divide hair into two sections and tightly braid each side. "The plaits will help stretch and relax your natural curl pattern," says Priano. Unravel braids when dry and gently comb with your fingers to play up the piecey-ness of beach hair. Then hands off—too much finger-fussing can cause poof.
If your hair is straight, split towel-dried strands into four equal sections and tightly wind each one into a bun, then secure with pins. "Because hair is malleable when wet, it will take on the twists and bends of the buns while drying to create a soft wave pattern," Priano explains. Once dry, spritz on a generous amount of texturizing spray. Finish by flipping your head over and tousling for that Cali-cool vibe.
Twist 'Em Back
Thanks to its relaxed elegance, this reinvention of the half-up hairstyle can be dressed up or down. The twisted back strands frame your face, while taming the frizz and flyaways that can appear along your hairline.
To start, use your hands to create a center or slightly off-center part. Then grab a one-inch section of hair from your hairline, split it in half, and begin twisting the two together. Add more hair to each section as you work toward the back of your head and secure at your with crown with a bobby pin. Repeat on the opposite side, creating an "X" with the pins for extra hold. Forget symmetry, Priano says, as the end result should look effortless.
Do A Tousled Ponytail
Whether perfectly pulled back or thrown up as an afterthought, a ponytail can be worn pretty much everywhere. Dress up the go-to style with this playful tease: Keep it sleek in the front and bushy-tailed in the back.
Gather sea-soaked strands at your crown, using the Wet Brush to smooth out kinks as you brush hair back. Fasten with an elastic, then slick a few drops of oil over the front to prevent frizz and add sexy sheen. If your hair is straight, twist the tail into a loose bun to create texture as it air-dries (no need if your hair is naturally wavy or curly). Once dry, use the Wet Brush to gently backcomb the tail for extra volume and lift. Finish the look by wrapping a small section of hair around the base of the ponytail, tucking the ends into the elastic.
Try A Back-Braided Topknot
For a stress-free style that works on both the beach volleyball court and the dance floor, pull strands up into a messy topknot. Add a loose braid up the back of your head for a pretty (and easy) surprise.
First flip your head upside down and use the Wet Brush to work out tangles. With your head still flipped, grab a small section of hair from the nape of your neck and begin to French braid. Continue braiding the hair until it reaches the crown of your head and secure with an elastic. Standing back upright, gather loose pieces into a high ponytail. As you secure the pony with another elastic, pull strands only halfway through to create a little loop, wrap the ends around the base, and tuck them into the band. Voila!
This post is sponsored by Wet Brush.