Ocean Water Might Be Damaging Your Hair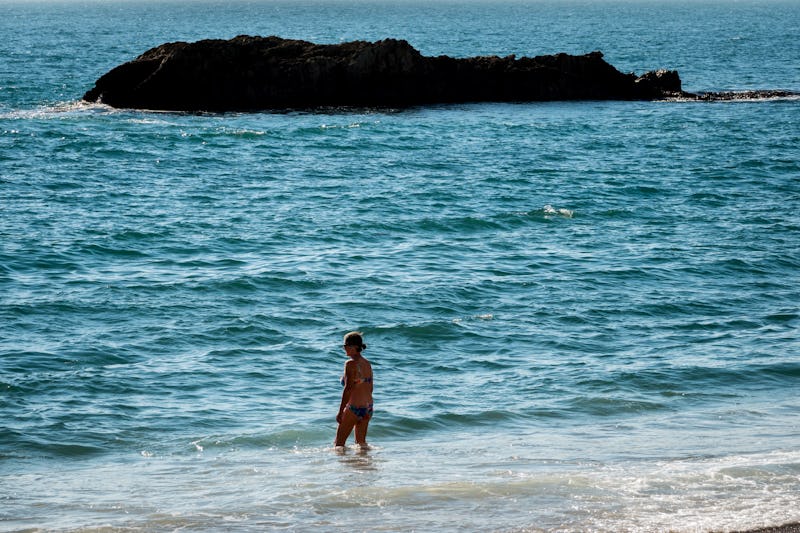 Matt Cardy/Getty Images News/Getty Images
Pool water gets a bad rap, but can ocean water ruin your hair, too? From the time we were old enough to understand what hair care was, we were constantly bombarded with rumors about just how bad chlorine is for our hair. "It will turn your hair green!" my mom always said. "If you don't rinse and brush it immediately after swimming, you'll be dealing with knots for weeks!" my hairstylist once told me. "If you don't swim in a braid, your hair will fall out," my elementary school best friend informed me before doing a cannonball into the deep end. But as it turns out, ocean water is just as much of a threat to our perfect, shiny hair as pool water is. Yup, you heard me: beach-wave-inducing, skin-clearing ocean water is actually bad for your hair.
I spoke with famed celebrity hair stylist, Nick Arrojo, (who you may recognize from his role as makeover maven on TLC's What Not To Wear) and he told me that overdoing it with salt water can really mess with your strands.
"A quick dip in the sea won't do too much harm," he says, "but ultimately, yes, overexposure to ocean water can leave hair dehydrated, tangled, and brittle. Hair will become tougher to brush, comb and style."
These problems get worse with color treated hair, so it's absolutely imperative to take proper care of your locks when you're spending time in salt water. Here are a few things you can do to minimize the damage.
1. Wet Your Hair Before You Jump In
Rinse your hair under clean un-salted water, like from a shower, before going in the ocean. This will seal the pores in your strands and help keep the salt from penetrating them. The colder the water, the better (sorry!).
2. Coat Your Hair With Oil
Spectrum Naturals Organic Coconut Oil, $6.84, Walmart.com
Another way to keep salt molecules from drying out your hair is to coat your strands with oil before diving in. Coconut oil or Jojoba oil work best, and can help prevent the ocean salt from bleaching your ends.
3. Embrace Leave-In Conditioner
ION Swimmer's Leave in Conditoiner, $12.99, Amazon.com
This vegan leave in conditioner, from ION, is meant to be used immediately after swimming (rinse the salt water out of your hair, first) and helps repair brittle ends.
4. Take Care Of Your Color
Arrojo Color Save Shampoo, $17, ArrojoNYC.com
Because ocean water can be particularly harsh on color treated hair, it's important to use the right products to maintain your dye. Arrojo's Color Save Shampoo contains Vitamin B5 and oat proteins, which help lock in color, increase vibrancy and preserve shine.
Arrojo Color Save Conditioner, $19, ArrojoNYC.com
Arrojo's Color Save Conditioner smells like linden-blossom and helps detangle and moisturize hair as it locks in color.
5. Comb, Don't Brush
Unwash Detangling Shower Comb, $9, Jet.com
You shouldn't use a brush on any sort of wet hair, but this becomes especially important after the ocean. Brushing wet hair can cause stretching and breakage, because your hair is actually weaker when it's wet than when it's dry. For detangling after a dip in the ocean, use a wide tooth comb and gently work your way through the knots. Apply leave in conditioner as necessary.
Images: Matt Cardy/Getty Images, Sean M. Haffey/Getty Images; Courtesy of Brands