This Retailer Will Stock Rihanna Creepers Soon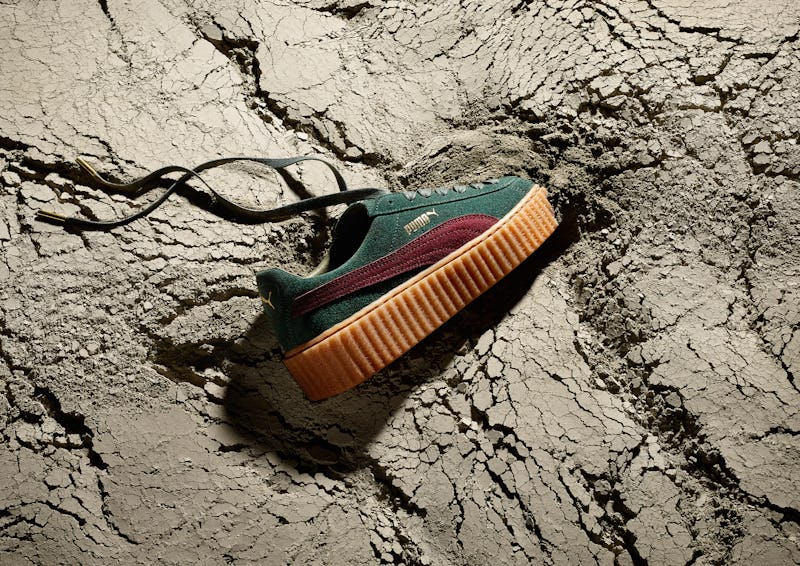 Oh, hey guys! The Rihanna x Puma Creepers will be available again this weekend. Wait... what? There were no restocks planned for the three new colorways, as confirmed to Bustle by Puma's PR team. So WTF is up? Relax and I will tell you. Rihanna x Puma Creepers will be going on sale at an independent retailer this weekend. It's probably not a restock, technically speaking. It appears that a specific Los Angeles-based retailer, which also sells its wares online, is releasing some more of its stock. Perhaps the store didn't make all of its stock available for purchase last Thursday, May 26, when the shoes were officially released by the sneaker brand. But let's stop overthinking it and get to the important stuff. When can you shop the Rihanna x Puma Creepers this weekend and where?
You can shop the super chic kicks at Madison, a retailer which has two locations in the tony towns of Beverly Hills and Brentwood and whose Instagram bio confirms it is an "international footwear authority specializing in high-end shoes and accessories." Madison will sell all three of the new colorways of the Rihanna x Puma Creepers online on Saturday, June 4, at 7 a.m. PT. Madison also ships worldwide.
See their Insta post below, confirming the on-sale.
The all-white, all-black, and green Creepers are going on sale in women's sizes only. So get ready to shop at that time.
Bustle reached out to Puma PR again to confirm that Madison is indeed an official Puma retailer and the team affirmed that Madison is legit.
So bookmark the site and hop online at 7 a.m. PT or 10 a.m. ET to try and scoop up a pair of these super fashionable kicks. I have been wearing mine since they arrived.
Images: Madison Shoes/Instagram (1); Courtesy Puma (2)