One Part Of 'Feed The Beast' Is Very Real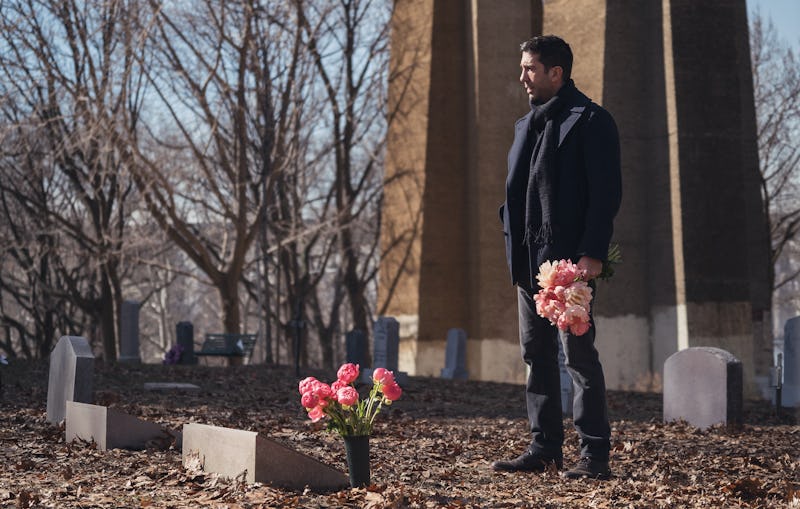 AMC's new drama Feed the Beast premieres on June 5 and both its premise and setting are intriguing. Two lifelong friends (played by David Schwimmer and Jim Sturgess) take one last shot at their lifelong dream of opening a restaurant together. But, they have more than restaurant management to contend with — Schwimmer's character, Tommy, is an alcoholic single father who's mourning the recent loss of his wife. Meanwhile, Dion (Sturgess) has recently been released from prison and is battling a cocaine addiction. Oh, and did I mention they'll also have to deal with the mob and corrupt city officials this season? It all sounds very dramatic, but is Feed the Beast based on a true story?
Although some elements of the show will be realistic, the series is not based on actual events or real people. Rather, Feed the Beast is an adaptation of the Danish drama, Bankerot — and it's not the first time AMC has drawn inspiration from a foreign series. In 2011, the network adapted The Killing from a Danish police procedural, Forbrydelsen. While The Killing was shifted to an exceptionally rainy version of Seattle, Feed the Beast's new home will be the South Bronx, where Tommy and Dion open their swanky restaurant in a remodeled piano factory on the waterfront.
The Polish mob will play a significant role in the series, but a great deal of artistic license has been taken with this aspect of the show. After meeting with the cast and showrunner Clyde Phillips, Winston Cook-Wilson of Inverse.com concluded that the Polish mob doesn't exist in the Bronx. He also quoted Michael Gladis, who plays a member of the aforementioned mob, as saying that: "It's not really like the Polish Mafia in Greenpoint, who are more like what you'd think the Russian mob would be like... They definitely don't wear tailored suits, and speak in an erudite sort of way like my character."
Interestingly, the most realistic part of the show will be the restaurant scenes. According to Zagat, Harold Dieterle acted as a consultant on the series. If his name sounds familiar, it's because he won the first season of Top Chef and has acted as the chef-owner of two New York City restaurants, Kin Shop and Perilla. The same article noted that Schwimmer and Sturgess trained one-on-one with an expert sommelier and chef.
Schwimmer told Zagat that speaking with Josh Nadel of NYC's NoHo Hospitality Group helped him develop his character: "I was inspired by and based my backstory on Josh's own story because he's self-taught and he's one of the top sommeliers in the city." Similarly, Sturgess underwent training at The Brooklyn Kitchen, where they taught him "chef choreography." So, we can expect a realistic depiction of the restaurant industry — but the rest of the plot is fictional in every way.
Images: Ali Paige Goldstein/Lionsgate Television/AMC (2)