Use These Money Saving Hacks For Financial Success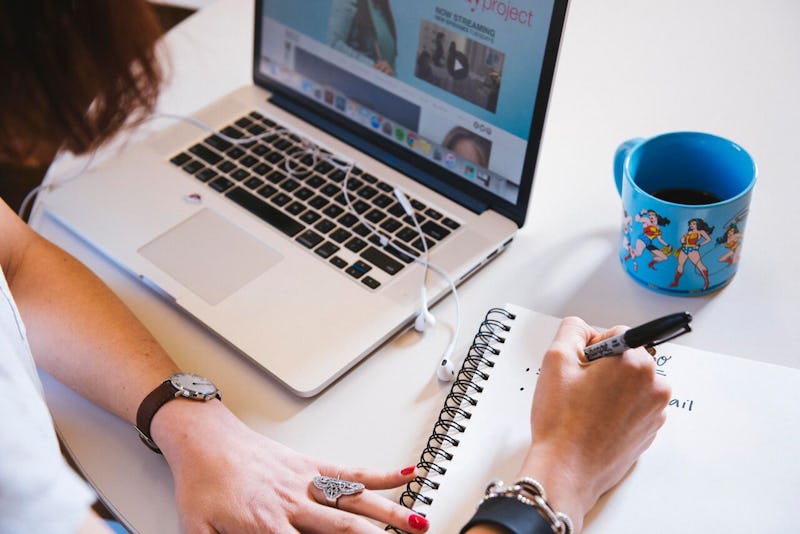 Between happy hours after work, travel plans, manicures and new pairs of shoes, it seems as though there's always ample opportunity to spend and spend some more. Unfortunately, giving into our spending desires too often can seriously damage our wallets and bank accounts. Thus, it's important to take note of your finances and prioritize expenses in order to protect yourself from financial strains and unwanted stress.
As a certified health coach, I work with clients on balancing their life elements. By feeling secure and confident in where they stand regarding fitness, health, relationships, career and finances, they are better able to go about each day with high energy levels, productivity and wellbeing. When finances are a struggle, it can build a lot of tension that can seep into all aspects of one's life and interfere with the ability to function, work and maintain healthy relationships. Plus, if you are managing finances with a spouse or partner, there's double pressure to be responsible and make rational decisions together.
Here are seventeen surprising ways to be smarter with money, feel financially balanced in the present and start saving for the future. Trust me, once you set yourself up in a way that is sustainable, you'll feel more comfortable and happy on a daily basis.
1. Download An App
"If you want to be smarter with your money you need to use a budgeting tool or app," says Robbie Doull, associate at Quantitative Risk Management, over email with Bustle. "I use Mint, but there are hundreds of similar apps, and you can track things ranging from your stock investments to just what's in your bank account," he adds. Doull recommends getting a rough monthly spending number and to take note of where your money is going. Apps are great for laying out all of your expenses for you, as we often don't consider our finances in the moment we are handing over a credit card.
2. Set A Budget
"R/personalfinance is a pretty good subreddit devoted to personal budgets. It could be a good place to start if you are making a budget for the first time," recommends Doull. When coming up with a budget, think about what is realistic for you (how much groceries you need based on your diet) and get rid of accessories that are not important (such as a new bag or pair of shoes). Plus, going under budget never hurts, so don't feel pressure to meet that requirement each month or week, depending on how you space it out.
3. Grocery Shop Wisely
Buying fruit and vegetables that are in season is a great way to save money, as prices are lower, and there are usually sales. If you want produce that is either out of season or for a smoothie, buy it frozen, as it's less expensive and will last longer. Check in with your app to see how much you spend each month on groceries, and try and think about it while shopping. "If I know I spend an average of $150 a month on groceries, I find myself thinking about where I am on that budget when at the store," expresses Doull.
4. Ask For Samples
Many stores, especially Whole Foods Market, will allow you to taste the food before purchasing. Make sure that you enjoy the foods you bring home so that you don't have to waste your money. Plus, sometimes they will give you larger pieces for free. If you ask to try a slice of bread, and you like it, they will often let you take the remainder of the loaf home free of cost. Similarly, if the store is out of a seasoning you like, you can ask someone in the fish or meat department if there is any bit of seasoning they can spare. Usually, you'll find yourself coming home with a small container!
5. Take Advantage of Business Perks
"If you work for a company that matches a portion of 401k deposits, it almost always makes sense to get the full matching amount, it's basically free money that can be used for the future," advises Doull. Saving money for the future is so important for financial freedom and retirement, as you don't know what expenses may pop up as you age (medical bills, familial obligations, travel opportunities, etc.). "It should be clearly stated what percentage of contributions your employer will match, and then you can decide how much you want to contribute per month," says Doull. Figure out what works for you, but start somewhere and now.
6. Set Up An IRA
If you do not have access to a 401K, it doesn't mean that you cannot start saving money for retirement. There are two types: Roth and Traditional. "In a Roth IRA, you are taxed before you contribute. So you would pay taxes now, and when you withdraw later in life, you don't pay any tax. Traditional is basically the opposite, where you are not taxed now, but are taxed on withdrawal," explains Doull. When deciding, look at your current finances and figure out what your goals are for the future regarding employment. Think about the age you'd like to retire and the type of lifestyle you want to live.
7. Embrace A Little Risk
Investing can be a great way to make money for the future, if done wisely. Meet with a broker or look into investing tools online to make a wise decision. "The first step should always be to figure out what your goals are, which basically entails, how much money do I have to invest, how long do I want to invest it for, and how risky do I want to be," says Doull. "People who put themselves in the center of deal creation can benefit from a much higher return than most investors," says web designer and founder of digital marketing agency 97 Switch, Jeremy Greenberg, over email with Bustle. "As a business owner, I find that placing my resources into my business is the best investment I can make. Instead of making a 4-10% return, I can make over a 1000 percent return on my money," Greenberg says.
8. Cook At Home More
All those restaurant bills certainly add up. Not only is cooking at home healthier, it also help you save money, as you have the option to buy in bulk, purchase deals and save for leftovers during the week. Stock up on meats, produce and nuts to create homemade trail mixes for snacks at work and delicious dinners that can be remodeled for lunch the next day. Buying lunch and snacks during the week can be pricey, so save some money by bringing your own.
9. Change Your Daily Coffee Order
Do you wake up with a morning pumpkin spice latte with and extra shot, whip and vanilla syrup? Each morning? That cost definitely adds up! Think about some of your habits that are not essential for your wellbeing, energy, or time. Drinking a plain brew or even brewing your own coffee at home can be just as delicious once you adapt to the new taste, and it will give you more wiggle room in your budget for other things.
10. Get Grooming Discounts
Beauty departments often offer free makeovers, so head to a counter and ask for a "new look." It's a great way to save money on both expensive beauty services and daily products, allowing the latter to last way longer. Similarly, many beauty schools will offer free or discounted hairstyle appointments, as it complements the students' training. Plus, your hair will probably look great!
11. Try New Fitness Classes
Most studios and gyms offer complimentary classes or passes for new customers, so definitely take advantage of that perk! Varying up your workouts is also beneficial for your body, routine and mind. There might also be referral offers, where if you refer new customers, you'll receive a discounted price, as well.
12. Go BYOB
Book reservations at BYOB restaurants to save money when dining out. Alcohol can be extremely pricy, and it's pretty easy to find BYOB restaurants that serve delicious food. Be wary of a corkage fee; if it exists, bring a bottle that doesn't require an opener or see if you can bring your own. These restaurants are also really fun for both romantic date nights and larger get-togethers.
13. Share Media Streaming Accounts
A great way to enjoy your media and still save money is to share media streaming accounts with friends and family. One person can pay for Netflix, another for HBO Go, another for Hulu, and so forth. It's easy to hook up the streaming accounts to your devices, and with a bowl of popcorn and a soft blanket, it makes for a cozy night in.
14. Reconsider Expiration Dates
Expiration dates usually indicate an item's quality and freshness, rather than it's safety. We often throw food out once it reaches the expiration date, and this can be a serious waste of money. Understanding how long past the expiration date food can last will help eliminate these extra costs.
15. Change Your Commute
Biking or walking, instead of driving can cut gas costs and enhance your quality of life, as studies show that a long commute can negatively affect one's wellbeing. If biking or walking isn't an option, find a carpooling buddy (or two) and take turns to help decrease one another's expenses. Plus, it'll be a more pleasurable way to arrive to the office!
16. Align Spending With Your Values
"Look at money from a 'freedom' standpoint and align your spending to your deepest values," says certified healthy living coach Liz Traines over email correspondence with Bustle. "Money gives you opportunities to do whatever it is you might want to do in your lifetime AKA it provides freedom," she continues. Think about what you value in life and the behaviors that you embody in order to make mindful decisions.
17. Use A Journal
If apps and technological gadgets aren't your thing, stick with a journal to keep track of your expenses, budget and spending goals. "Look back on a week of spending and see what seems unnecessary and what that amount of money could buy you over time (i.e. that one bedroom apartment that would make life so much more peaceful)," advises Traines. Seeing the numbers in print can be a great wake up call.
Being mindful of your spending habits can help you save money for the future and make better decisions in the present. It's a great feeling to enjoy financial freedom and security, and such chronic uneasiness can be debilitating to one's wellbeing, self-esteem, health and lifetime goals. By making smart, responsible steps, it's easy to create a life that is in line with both desires and needs and can pave the way for an exciting future!
Images: Pexels (18); Isla Murray/Bustle