The Best Piece From House Of Harlow x Revolve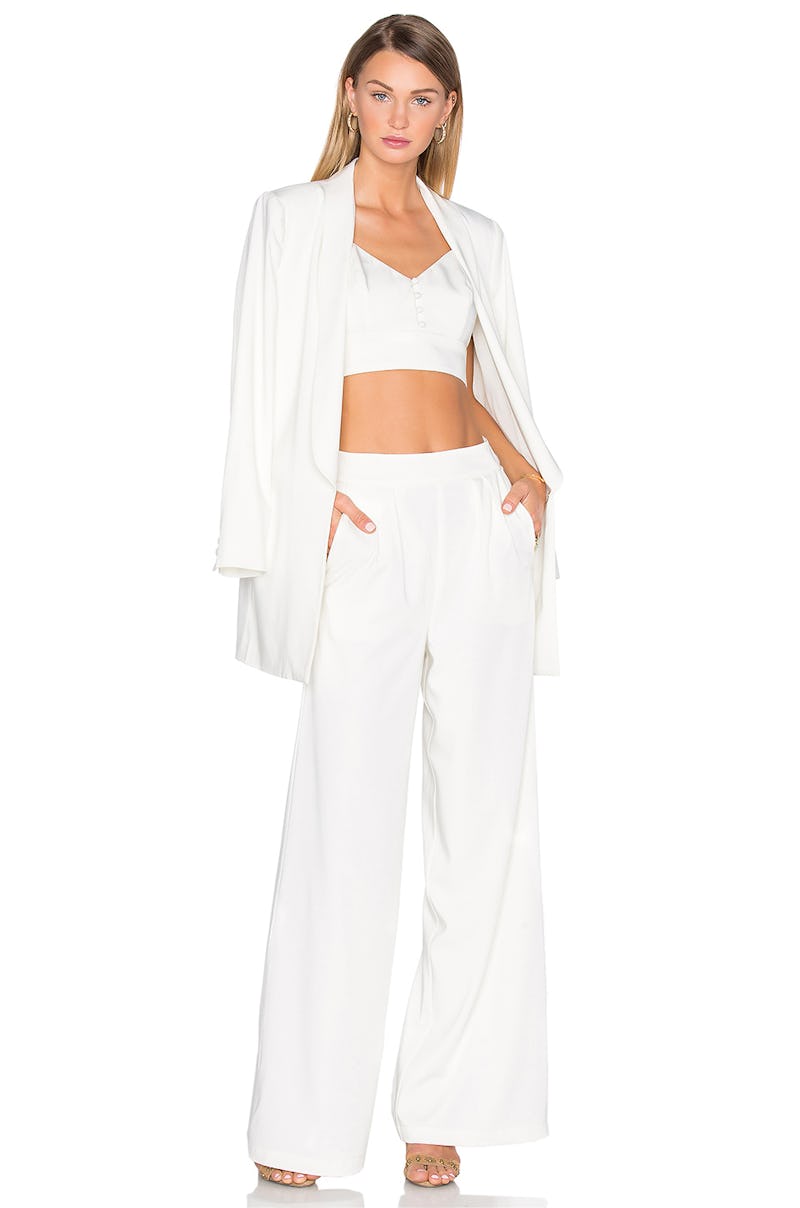 Nicole Richie, whose boho-fabulous style has transcended her Simple Life stardom of the early 2000s and remained relevant all the way through to today, has officially launched her House of Harlow x Revolve collection.
The capsule is available exclusively on Revolve.com, with some pieces ready for purchase, while others are posted for pre-order. The collection is made up of the two parts of Richie's style — beachy flower child and badass business woman in a power suit — and melds together into a line that somehow makes total sense.
"Revolve is a perfect space to do this, because it wouldn't necessarily make sense if the collection is broken up," Richie said in an interview with Elle.com. "But working with Revolve, you get to pair things and see it all together. You'll see a bold-printed pant and a ripped bodysuit, and you can see how it looks together... You can tell that all the pieces are telling one story."
The capsule includes lacy slip dresses, neutral crop tops and bralettes, lightweight rompers, basic body suits, and printed maxi dresses. There are some random accessories and delicate gold jewelry thrown in there, because, why not? This is Nicole Richie we're talking about, after all, and she can do whatever the hell she wants (like calling Kim Kardashian a "ho" on national television...).
Among all of the amazing pieces in the one, there is one item in particular that you absolutely need to elevate your summer look: A timeless pair of white, wide-wide leg trousers.
House of Harlow X REVOLVE CHARLIE WIDE LEG PANT, $158, Revolve.com
These white, high-waisted ultra-wide pants are incredibly versatile, and can be paired with other pieces from the collection or tons of things you already own. They have a hidden back zipper, a pleated waist and roomy pockets (who doesn't love pockets?!), and at $158, they'll give you a serious bang for your buck.
Richie wore the navy and white striped version to the capsule's launch party, so safe to say they have her stamp of fabulousness approval.
Even with a plain black tank top, the pants look majorly chic. Pair with a statement necklace and a bag with a pop of color for an easy day to night look.
House of Harlow X Revolve Bailey V-Neck Bralette, $98, Revolve.com
White on white is having a major moment (as it does every year from Memorial to Labor Day), so you can wear the white pants with this white crop top from House of Harlow x Revolve, or any other white top you already own.
House of Harlow X Revolve Bree Crop Top, $110, Revolve.com
The striped, off-the-shoulder crop top that Richie wore with her matching pants also works with the white version, and will give a less matchy-matchy feel to the look. Really any off the shoulder top crop top will work because the proportions compliment the width of the pant.
Kate Moss x Equipment Slim Signature printed washed-silk shirt, $300, Net-a-Porter.com
For a more work-appropriate look with these pants, try a classic silk button down like this one from another collaboration we are loving this week — Kate Moss x Equipment.