'PLL's Troian & Tyler Aren't Worried About Spaleb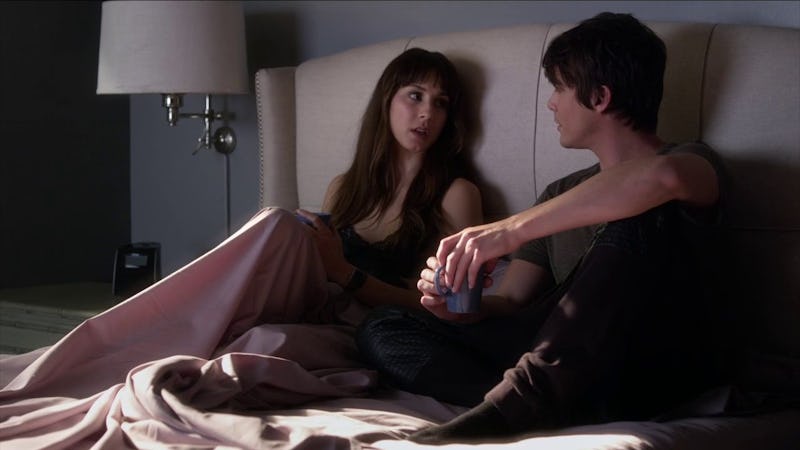 Pretty Little Liars is never short on shocking plot points, but most of them involve murder, betrayal, or the reveal of a person behind the black hoodie — not a love triangle. Alas, five years after the Liars discovered Big A's true identity, fans were subject to what might be the most shocking moment in PLL history: Hanna's ex-boyfriend Caleb hooking up with Spencer. Though fans learned that Haleb ended years earlier, it didn't make Spaleb an easier pill to swallow, especially since it seemed obvious that Hanna and Caleb still had feelings for one another — especially since they kissed in the Season 6 finale. Will the kiss bring the end of Spaleb once and for all? On the show's set, Bustle got some Pretty Little Liars Spencer and Caleb spoilers from Troian Bellisario and Tyler Blackburn, who don't seem to think that a Spaleb breakup is imminent.
Blackburn doesn't believe that the Lost Woods Resort kiss between Hanna and Caleb will necessarily break-up Spaleb for good, even if it does raise some questions about their relationship. "I think that Spencer and Caleb are mature adults, and that they know how to communicate and work through things," he says of how Spencer might react to news of the kiss. However, that doesn't mean Spencer will ignore the fact it happened. As Blackburn puts it, the kiss "will definitely throw things for a loop for a bit."
Bellisario seems to agree with that statement. "I don't think the [Haleb kiss] will blow everything up," she says. "I think that when the person you love still carries a torch for other people, it's difficult. It's not insurmountable, but I think that both parties have to be willing to make it work, to forgive and forget."
Though fans may assume that Caleb will run back to Hanna (assuming she survives A.D.'s attack, of course), Bellisario hints that things might not be that simple. After all, Spencer and Caleb now have a pretty strong bond and they might be willing to fight for it. "I think that [Spencer and Caleb] have so much in common and that they're so compatible and that they're building more towards that every day," Bellisario says.
While Spencer and Caleb's relationship may need some mending after the Haleb kiss, the real relationship fans should be concerned with is the friendship between Spencer and Hanna. Luckily, Bellisario resassures me that we shouldn't worry about these friends breaking up over their mutual love of Caleb:
"I do see a world where everyone is happy, because these are three people who care deeply about each other, and only want the others to be happy. I think that these people will sacrifice their own happiness for [the others' sake] whether that be Hanna sacrificing her own happiness so Spencer and Caleb can be together, or even all three of them just being alone."
So rest assured that when Pretty Little Liars premieres on Freeform on June 21 at 8 p.m., no matter what happens to Spaleb or Haleb, the Liars' will do whatever it takes to keep their friendship in tact.
Images: Freeform; Giphy