Where To Buy Kylie Jenner's "Real Friends" T-Shirt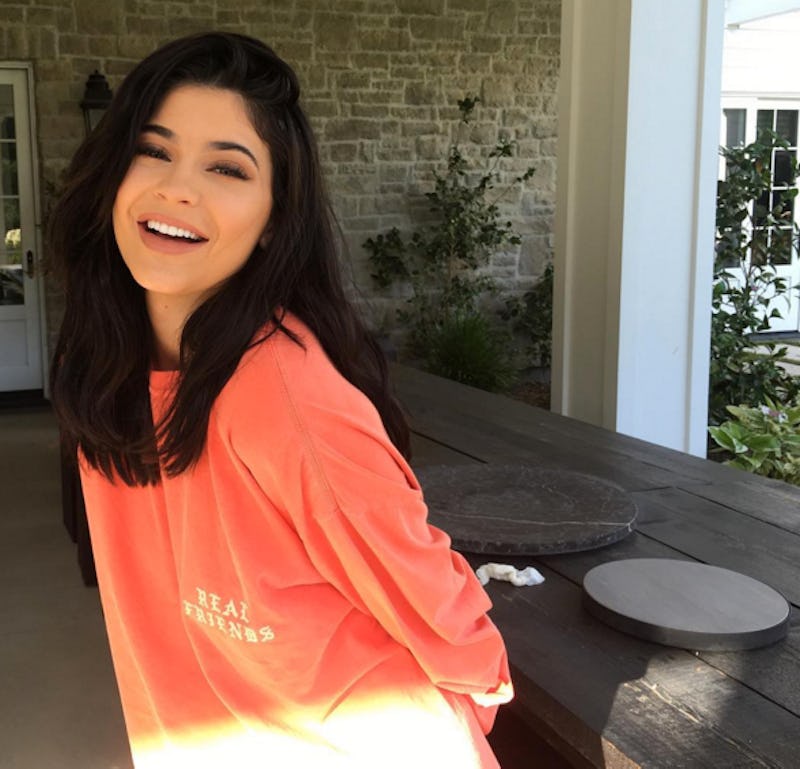 You know you're apart of the crew when you can rock Yeezy's Pablo merch. Especially when he probably gifted you with it himself. Copy Kylie Jenner's "Real Friends" t-shirt because while we can't all be in Kanye West's inner circle, we sure can dress the part!
Not only is "Real Friends" a track off of The Life Of Pablo, it's also just a cool saying, in general. You've got to know who your real friends are, and as far as I'm concerned my truest of pals are the ones rocking tees like these, too. So, Jenner, that means you, girl!
Now, you may not always be able to cop the exact same t-shirt as Jenner (or one that's given to you by Mr. West) right now. However, DASH stores are also set to carry TLOP merchandise, so it's quite likely you can shop this exact version at one of those stores or online eventually. Bustle has reached out to DASH for comment on when the TLOP clothing will be in stock.
In the meantime, there are some great options on Esty and a few other retailers that will allow you to live out your #squadgoals just like Jenner. These items will keep you busy and stylish until you can cop some of the official stuff. So, if you and your friends are ready to show off your major squad pride, then let's get to shopping some Kanye-inspired shirts, shall we?
What would your real friends wear? This t-shirt, of course.
1. Real Friends
Kanye Real Friends T-Shirt, $19.99, Etsy
You'll know who your real friends are when you're all wearing these matching tees, am I right?
2. In Pablo We Trust
The Life Of Pablo Shirt, $21.99, Etsy
If you and your crew look up to Kanye, well, you know what to do. Rep one of these shirts, of course!
3. Love You Like Kanye Loves Kanye
I Love You Like Kanye Loves Kanye T-Shirt, $13.41, Etsy
Feel free to gift your BFF with this tee, you know, just to show how much you care.
4. Squad
Squad Sweatshirt, $79, Private Party
Matching sweatshirts for the entire squad? That just seems like the cool thing to do.
5. We Can Be Friends
Tell Your Friends To Get With My Friends Sweatshirt, $79, Private Party
Now you can make friends wherever you go.
6. Squad Flannels
Squad Flannel, $38, Jawbreaking
Flannels for you and your pals? How trendy of you!
Now, you can feel like you're apart of the "It" crowd, too.
Friends forever!
Images: kyliejenner/Instagram (1); Courtesy Brands (6); Giphy (1)