12 Amazon Wish List Items People Are Obsessed With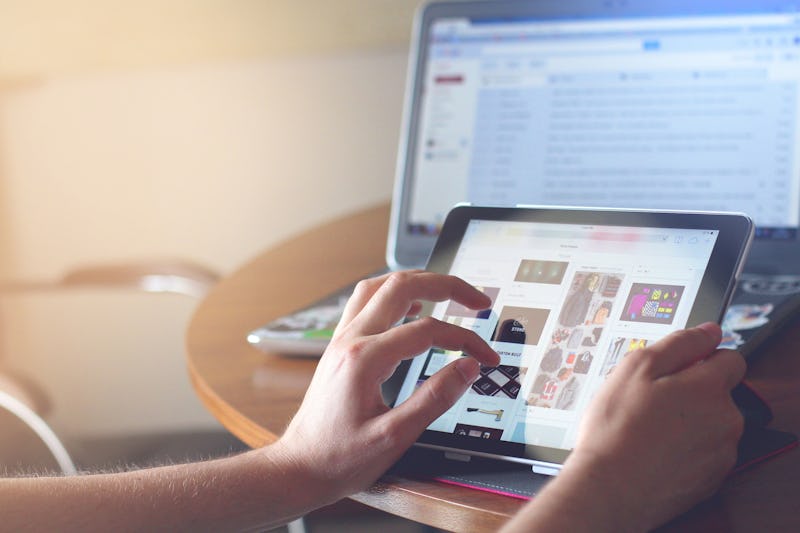 Confession time: It's been roughly four years since I set foot in a department store with the intention of actually buying something. I'm a chronic online-shopper, and that's why Amazon's Most Wished For items lists intrigue me like nothing else. I absolutely love seeing what's popular from Amazon's wished-for items, what's doing well this year, and which trends people are totally obsessing over.
Whether you're a techie, a traveler, a beauty addict, a relaxation guru, or just looking for Amazon's top best-selling outdoor items for your next barbecue, you've got all the options in the world right at your fingertips. In fact, when I think about the world before you could type anything into a search bar, or read through hundreds of reviews, and opt for two-day shipping, I wonder how anyone ever survived the holiday season pre-internet. I think Amazon makes the ideal resource for chasing down popular online shopping trends because it's super easy to use, and its countless categories help you find exactly what you're looking for. (They also keep a close eye on what's selling, and how people feel about their purchases, which doesn't hurt, either.)
Check out these most wished for items across all sorts of categories on Amazon — you just might find that, from now on, you've got all your gift lists and personal needs covered.
Charge Your Devices Four Times Over While Traveling
Crave Travel Pro Power Bank , $23, Amazon
For extra juice on any device, no matter where you are, get your hands on Crave's power bank. It charges your phones, tablets, and cameras quickly and effectively (and two at a time), whether you're in the car, at an airport, or camping in the middle of nowhere. It can charge a smartphone from 0 to 100 percent before it needs to be charged itself, and it's also compact, portable, and comes with a travel pouch for easy storage on the go.
Straighten And Smooth Hair With The Convenience Of A Brush
Professional Ionic Hair Brush Straightener , $20, Amazon
To straighten and smooth hair while you brush it, check out this ionic hair brush straightener. It utilizes negative ion technology to keep your hair relaxed and frizz-free, but because it uses bristles instead of a hot plate, it detangles and straightens each strand efficiently without the need for other tools. Reviewers say it's so much quicker (and causes less damage) than a straightener, and the 11 different temperature settings make this ideal for any hair type.
Capture HD Footage From High Up In The Sky
Spy Drone with Camera , $40, Amazon
Ideal for techies, aspiring pilots, videographers, or creepers, there's this Spy Drone with Camera. It flies through the air steadily and with full movement from its handheld controller, recharges quickly and easily with a battery and a wall charger, and comes equipped with a wide-angle HD camera that immediately saves your footage to a memory card. Not only is it durable, stable, and easy to land, but it's hands down one of the best first-time drones you can own because it's reliable, loads of fun, and comes at a mere fraction of the price of other brands.
Take A Nap Anywhere With This Strong And Convenient Hammock
E-Joy Portable Parachute Hammock , $18, Amazon
If you're a nap time anytime kind of person, this E-Joy Portable Parachute Hammock is high up on the wish list for the sports and outdoors category. It's ridiculously strong, made from braided and breathable nylon rope, and comes ready to go and easy to attach with the included cords. Not only is it mildew-resistant, extra durable, and super comfortable, but it comes with a lightweight compression bag that's ideal for travel. Whether you're camping, boating, traveling, or just relaxing in your own backyard, here's to napping made easy.
Check Out These High Quality Bluetooth Gaming Headphones
Bluetooth Stereo Earpiece Headset Gaming Headphones , $30, Amazon
Whether you're a gamer or just plain sick of wires, these Bluetooth stereo gaming headphones are on the most-wanted list because they create a surround-sound effect, while canceling outside noise without any wires whatsoever. It also has a sensitive and clear microphone, ideal for gaming, Skyping, or phone conversations, and the included jack is widely compatible with iPhone, iPad, Samsung, and Sony, among others. One reviewer is calling them, "the best headphones I have ever owned," and others are in agreement.
Freshen Up Your Face With Natural Dead Sea Mud
Pure Body Naturals Dead Sea Mud Mask , $18, Amazon
This Pure Body Naturals Dead Sea mud mask is one of the most popular items in beauty and personal care because it uses all-natural ingredients (like nourishing and mineral-rich mud from the Dead Sea in Israel) to tighten pores, reduce acne, heal discoloration, do away with blackheads, and draw out toxins from the surface of your skin. Reviewers love how clean and smooth their skin feels, and some say they saw a significant difference after just one session.
Relax And Ease Away Stress With R-Rated Coloring
Release Your Anger: Adult Coloring Book , $8, Amazon; Premium Pre-Sharpened Colored Pencils , $16, Amazon
When it comes to the current trend of adult coloring books, few are as adult as Release Your Anger, and as a native New Yorker with an affinity for profanity, I'm absolutely thrilled this one made the list. It's filled with 40 beautiful and intricate designs that you can color to your heart's desire, and each one comes complete with a swear word to ease your inner-rage. Reviewers love that the black pages make the colors pop, and that each design is single-sided, so you don't have to worry about ruining the opposite side. Pair it with these pre-sharpened colored pencils — a high-quality set of over 40 vibrant colors that are water-color capable, made of durable recycled wood, and come ready to go in their very own stylish roll-up case.
Amp Up The Fun At Any Party With This Best-Selling Card Game
Cards Against Humanity , $25, Amazon
Every great party I've been to in the past few years has been made better by Cards Against Humanity, and that's why this game holds the number one best-selling spot in Amazon's toy category. It's a card game based entirety around opinion and a sick sense of humor, where one person picks a question (black card) and all players throw down their funniest or truest answer (white card). It's up to the drawer to choose who wins, and awkwardness, laughs, eyebrow-raises, and wit ensue like never before. It's an incredible ice breaker, and even better with people who are already your best friends.
Hydrate And Freshen Air With This Color-Changing Oil Diffuser
InnoGear Aromatherapy Essential Oil Diffuser , $20, Amazon
This number one best selling InnoGear aromatherapy essential oil diffuser comes high up on the wish list for household supplies, as it adds essential humidity back into the air, releases the heavenly scent of your favorite essential oils, changes colors with its seven LED mood settings, has a safe automatic shut-off function, and cleanses the air of dirt and odors. It also comes with a wall charger and is one of the quietest diffusers on the market.
Dress Up Any Backyard Or Room With Solar Powered Lights
Solar Powered Homestarry Warm White LEDs , $13, Amazon
In my opinion, lighting is the easiest way to transform any space, and those surfing the Home Improvement category seem to agree. These solar powered white LEDs are way up on the wish list because they're extra durable, copper-wired for ultimate bending control, waterproof for using in the backyard, and entirely solar-powered, so plugs and extension cords cease to be an issue anymore. They're 40 feet of bright, beautiful, and warm lights, ideal for any backyard, holiday display, or interior makeover.
Keep All Of Your Belongings Dry And Safe With This Travel Bag
Weekender Bag Bomber Travel Duffel Bag , $80, Amazon
This one's number one in the clothing category, but it's not so much clothing as it is storage for your clothing. The Weekender bag bomber travel duffel bag is the most durable and sensible bag for heavy travelers because both its lining and zippers are 100 percent water-resistant. The bag itself has side pockets with an overhanging lip, and also comes with a smaller travel bag as well as an attachable shoulder strap. One reviewer says, "It is quite durable, even when rubbed up against rougher edges, and can hold quite a lot of heavy substances."
Listen To Music Anywhere — Even In The Water
Waterproof Wireless Bluetooth Shower Speaker , $25, Amazon
Don't let water cramp your style. This waterproof wireless bluetooth shower speaker is ideal for use in the shower, at the pool, in your kayak, or on the beach. It's got a universal bluetooth function that allows you to play your music from any device, or it's got a built-in MP3 player. An included microphone lets you answer all of your calls, hands-free, and one charge lasts up to ten whole hours. Choose one of four stylish colors, and receive an included stand to keep it put.
Bustle may receive a portion of sales from products purchased from this article, which was created independently from Bustle's editorial and sales departments.
Images: Pixabay/Pexels; Amazon (13)