9 Effective & Affordable Korean Skin Care & Beauty Products That Actually Work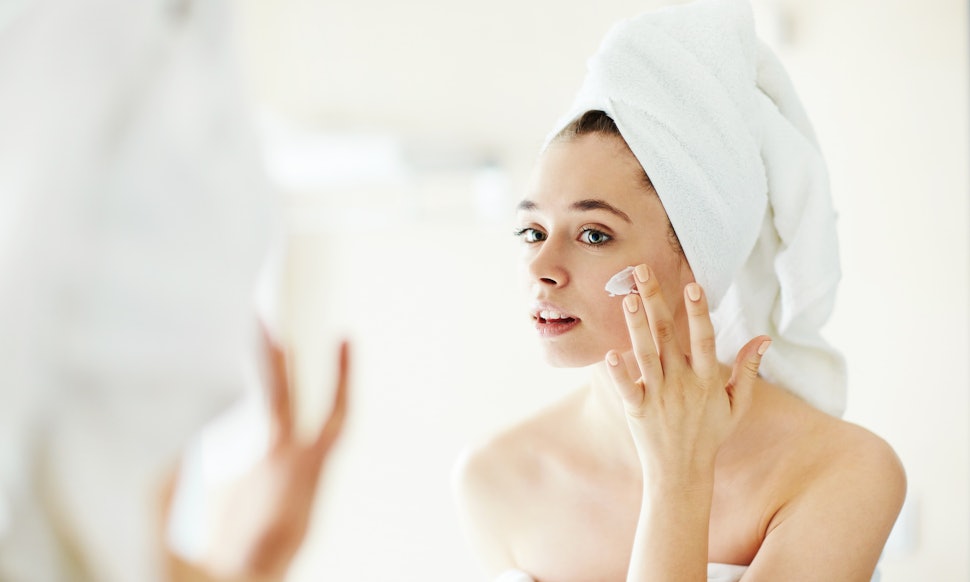 It's estimated that Korean women use twice as much of their income on skin and hair products than American women, according to BBC. Perhaps that's why effective and affordable Korean beauty products have exploded in recent years — both in South Korea itself, and in the countries that they export to.
Consequently, they're one of the leading researchers of new beauty products, and they're constantly trying out new and innovative ingredients to find the best Korean beauty products for clearing up acne, tightening up pores, reducing redness, strengthening hair, and easing under-eye circles. I have a slight obsession when it comes to reading ingredients labels, so when I can't — because, for instance, it's in a different language — it admittedly makes me a little nervous. However, the recent market has been flooding with affordable Korean skin care and beauty products that are seriously effective, and there's a very solid reason as to why.
While the ingredients can be a little unconventional (like snail slime and ultra-hydrating mushroom fungus), there seems to be a tendency toward natural and organic — something that I really value, even if I can't read the labels. Want to know which popular Korean products are way more effective than they are expensive? Here are nine of the best.
Cleanse Away Blackheads And Impurities With This Bubbling Foam
Milky Piggy Carbonated Bubble Clay Mask , $10, Amazon
This fun and bubbly Milky Piggy carbonated bubble clay mask is a huge seller right now because it cleanses pores by pushing dirt and impurities to the surface of the skin. It uses all-natural ingredients to create a five-minute mask that foams up and leaves your face looking clear, smooth, bright, and fresh. Reviewers are absolutely thrilled with this stay-at-home spa night addition, saying things like, "This mask was SO much fun, and it actually did make my skin gorgeously smooth and glowing when I washed it off."
Ease Under Eye Circles With This Cooling Serum
TonyMoly Pandas Dream So Cool Eye Stick , $7, Amazon
If you wake up with particularly bad under eye circles in the morning, this TonyMoly eye stick might just be a life-saver. The easy-to-apply serum is formulated with cooling and hydrating ingredients (like bamboo extracts) that ease dark circles, lighten skin, and reduce puffiness. Reviewers love the way it smells and feels, and it works wonders for just about any skin type.
A Lightweight, Long-Lasting Foundation That Looks Matte All Day
Missha Magic Cushion Foundation , $11, Amazon
The Korean cosmetics company Missha came out with this Missha Magic cushion foundation, and it's going over wonderfully. The lightweight and long-wearing powder achieves a flawless, smooth look without any build-up or caking, and it absorbs sweat and sebum to keep your face looking matte and clean all day long. It also has moisturizing and sun-protecting qualities — no wonder it's got great reviews.
Pick Your Personalized Mask For Any Skincare Issue
I'm Real Mask Sheets , $14, Amazon
These I'm Real mask sheets come in a pack of 11 different masks for all different uses — lemon for tighter skin, tomato for sebum control, rice for even skin tone, red wine for smaller-appearing pores, avocado to nourish cells, and more. The sheet itself is made from natural pulp, and totally transforms your face in as little as 20 minutes. Reviewers say they love the spa-level quality, and their faces feel nothing short of amazing after removing these masks.
Pull Out Blackheads With Activated Charcoal
My Scheming Activated Charcoal Blackhead Removal Mask, $10, Amazon
This 3-step blackhead removal system called My Scheming activated charcoal blackhead removal mask is trending like crazy on YouTube right now. Simply soften pores with the sebum cream, apply a generous amount of the bamboo charcoal mask to your face, let it dry, peel it off, and see all the gunk that was stuck in your pores. Then apply the finishing pore clarifying essence, and you're good to go. People say it's painless, effective, and you know it's working because you can see the results stuck to the mask.
Strengthen And Nourish Hair With This Self-Heating Argan Oil Mask
Korean Argan Oil Thermal Steam Hair Mask , $8, Amazon
This Korean argan oil thermal steam hair mask hydrates and heals limp strands with moisturizing and natural ingredients. Its main ingredient is argan oil, which penetrates deep into hair and roots to nourish and strengthen with fatty acids, antioxidants, and vitamins. Simply apply to wet hair, allow the self-heating mask to soften hair from the inside out, wash out after ten minutes, and style as desired. Your hair will look and feel much more silky and manageable.
Cleanse Away Impurities And Discoloration With Rice Water
Rice Water Bright Cleansing Oil , $10, Amazon
To brighten and cleanse your face without drying it out, there's this rice water bright cleansing oil. It cleans away makeup, impurities, and dirt, both for oily and dry skin alike, and is especially effective when it comes to clearing up acne or breakouts. Reviewers say it smells nice, is super gentle, feels lightweight and absorbent, and leaves skin looking incredible.
Remove Hair From The Root With This No-Hassle Epilator
GoHo Facial Hair Epilator , $13, Amazon
This Korean invention is a no-hassle alternative to waxing or tweezing. The GoHo facial hair epilator is essentially an easy-to-use spring that clasps around hair follicles and pulls them out by the root with little to no pain or inconvenience. It leaves skin smooth for weeks on end — much longer than shaving — and because it's durable, flexible, easy to clean, and great for travel, this might just replace your favorite pair of tweezers.
Tint Your Lips For Long-Lasting Color
Peripera Peri's Tint Water Lip Stain , $3, Amazon
To get extra long wear out of your lip color, there's Peripera Peri's lip stain. Rather than a gloss or a stick, this one ensures a natural-looking long-lasting color. It's super lightweight and can be layered to alter your tint, and it's formulated with hydrating and nourishing fruit complexes to keep your lips looking smooth and healthy.
Bustle may receive a portion of sales from products purchased from this article, which was created independently from Bustle's editorial and sales departments.
Images: Fotolia (1); Amazon (9)