14 Non-Religious Poems About Losing A Loved One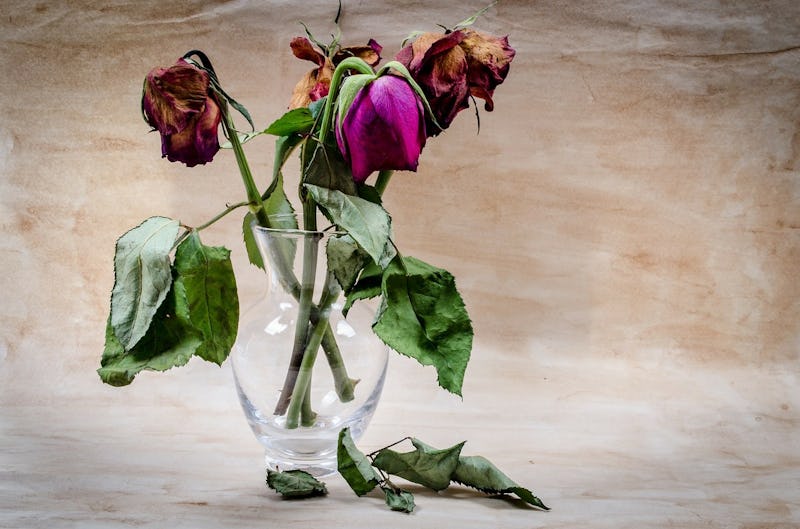 When a friend or family member passes, sometimes the power of words can help you grieve — whether you follow a religion or not. Of course the Bible, the Quran, the Talmud, or whatever religious text you believe in can have comforting and honest words for what you are experiencing, but for those who might not belong to a church or other group, there are non-religious poems about losing a loved one that can help.
These secular poems can assist you in your private hours as you grieve or they can be meaningful additions to a funeral or memorial service. In a way, if it is hard for you to find the words for celebrating your loved one's life or explain your complicated emotions during this struggle, poets can find the words for you. Whether you've lost your best friend, your mother, your child, or any other close person in your life, there is probably an appropriate poem or text that can encapsulate your emotions.
Classic poets like W.H. Auden, Edna St. Vincent Millay, and Emily Dickinson as well as newer, contemporary poets like Penelope Shuttle and Kevin Young have written powerful poems about losing a loved one. Hopefully you can find some peace or calm within the lines of their poetry.
I think, no matter where you stray,That I shall go with you a way.Though you may wander sweeter lands,You will not soon forget my hands,Nor yet the way I held my head,Nor all the tremulous things I said.You still will see me, small and whiteAnd smiling, in the secret night,And feel my arms about you whenThe day comes fluttering back again.I think, no matter where you be,You'll hold me in your memoryAnd keep my image, there without me,By telling later loves about me.
By ways remote and distant waters sped,Brother, to thy sad grave-side am I come,That I may give the last gifts to the dead,And vainly parley with thine ashes dumb:Since she who now bestows and now deniesHath ta'en thee, hapless brother, from mine eyes.But lo! these gifts, the heirlooms of past years,Are made sad things to grace thy coffin shell;Take them, all drenched with a brother's tears, And, brother, for all time, hail and farewell!
3. "Change of Address" by Dónall Dempsey
You didn't dieyou just changed shape
became invisibleto the naked eye
became this grief
it's sharpnessmore real
than your presence was
before you were separate to meentire to yourself
now you area part of me
you are inside my self
I call youby your new name
'Grief...Grief!'
although I still call you'Love.'
I cast you into the waters.Be lake, or random moon.
Be first light,lifting up its beggar's cup.
I scatter your ashes.Be the gale teaching autumnto mend its ways,or leopard so proud of his spotted coat.
Be the mentor of cherry trees.
I cast your dust far and wide,a sower broadcasting seed:Be wild rose or hellebore or all-heal.
Descend as a vein of silver,never to be seen,deep in the lynx-eyed earth.
Rise as barn owl white as dusk;dove or raven marvelling at his flight.Know different delights.
An honest man here lies at rest,The friend of man, the friend of truth,The friend of age, and guide of youth:Few hearts like his, with virtue warm'd,Few heads with knowledge so inform'd;If there's another world, he lives in bliss;If there is none, he made the best of this.
Stop all the clocks, cut off the telephone,Prevent the dog from barking with a juicy bone,Silence the pianos and with muffled drumBring out the coffin, let the mourners come.
Let aeroplanes circle moaning overheadScribbling on the sky the message 'He is Dead'.Put crepe bows round the white necks of the public doves,Let the traffic policemen wear black cotton gloves.
He was my North, my South, my East and West,My working week and my Sunday rest,My noon, my midnight, my talk, my song;I thought that love would last forever: I was wrong.
The stars are not wanted now; put out every one,Pack up the moon and dismantle the sun,Pour away the ocean and sweep up the wood;For nothing now can ever come to any good.
7. "Darling" by Jackie Kay
You might forget the exact sound of her voiceOr how her face looked when sleeping.You might forget the sound of her quiet weepingCurled into the shape of a half moon,
When smaller than her self, she seemed already to be leavingBefore she left, when the blossom was on the treesAnd the sun was out, and all seemed good in the world.I held her hand and sang a song from when I was a girl -
Heil Ya Ho Boys, Let her go BoysAnd when I stopped singing she had slipped away,Already a slip of a girl again, skipping off,Her heart light, her face almost smiling.
And what I didn't know or couldn't see thenWas that she hadn't really gone.The dead don't go till you do, loved ones.The dead are still here holding our hands.
Finally fall.At last the mist,heat's haze, we woke
these past weeks with
has lifted. We find
ourselves chill, a brisknesswe hug ourselves in.Frost greying the ground.
Grief might be easyif there wasn't stillsuch beauty — would be farsimpler if the silver
maple didn't thrustit's leaves into flame,trusting that springwill find it again.
All this might be easier ifthere wasn't a songstill lifting us above it,if wind didn't trouble
my mind like water.I half expect to see youfill the autumn airlike breath —
At night I sleepon clenched fists.Days I'm like the childwho on the playground
falls, cryingnot so much from pain
as surprise.I'm tired of tide
taking you away,then back again — what's worse, the forgettingor the thing
you can't forget.Neither yet —last summer'schoir of crickets
grown quiet.
Music I heard with you was more than music, And bread I broke with you was more than bread; Now that I am without you, all is desolate; All that was once so beautiful is dead.
Your hands once touched this table and this silver, And I have seen your fingers hold this glass. These things do not remember you, belovèd, And yet your touch upon them will not pass. For it was in my heart you moved among them, And blessed them with your hands and with your eyes; And in my heart they will remember always,—They knew you once, O beautiful and wise.
10. "Grief" by Stephen Dobyns
Trying to remember youis like carrying waterin my hands a long distanceacross sand. Somewhere people are waiting.They have drunk nothing for days.
Your name was the food I lived on;now my mouth is full of dirt and ash.To say your name was to be surroundedby feathers and silk; now, reaching out,I touch glass and barbed wire.Your name was the thread connecting my life;now I am fragments on a tailor's floor.
I was dancing when Ilearned of your death; maymy feet be severed from my body.
11. "Cold" by Carol Ann Duffy
It felt so cold, the snowball which wept in my hands,and when I rolled it along in the snow, it grewtill I could sit on it, looking back at the house,where it was cold when I woke in my room, the windowsblind with ice, my breath undressing itself on the air.Cold, too, embracing the torso of snow which I lifted upin my arms to build a snowman, my toes, burning, coldin my winter boots; my mother's voice calling me infrom the cold. And her hands were cold from peelingthen dipping potatoes into a bowl, stopping to cupher daughter's face, a kiss for both cold cheeks, my cold nose.But nothing so cold as the February night I opened the doorin the Chapel of Rest where my mother lay, neither young, nor old,where my lips, returning her kiss to her brow, knew the meaning of cold.
Time does not bring relief; you all have lied Who told me time would ease me of my pain! I miss him in the weeping of the rain; I want him at the shrinking of the tide; The old snows melt from every mountain-side, And last year's leaves are smoke in every lane; But last year's bitter loving must remain Heaped on my heart, and my old thoughts abide. There are a hundred places where I fear To go - so with his memory they brim. And entering with relief some quiet place Where never fell his foot or shone his face I say, 'There is no memory of him here!' And so stand stricken, so remembering him.
Do not go gentle into that good night,Old age should burn and rage at close of day;Rage, rage against the dying of the light.
Though wise men at their end know dark is right,Because their words had forked no lightning theyDo not go gentle into that good night.
Good men, the last wave by, crying how brightTheir frail deeds might have danced in a green bay,Rage, rage against the dying of the light.
Wild men who caught and sang the sun in flight,And learn, too late, they grieved it on its way,Do not go gentle into that good night.
Grave men, near death, who see with blinding sightBlind eyes could blaze like meteors and be gay,Rage, rage against the dying of the light.And you, my father, there on the sad height,Curse, bless me now with your fierce tears, I pray.Do not go gentle into that good night.Rage, rage against the dying of the light
The bustle in a houseThe morning after deathIs solemnest of industriesEnacted upon earth.
The sweeping up the heartAnd putting love awayWe shall not want to use againUntil eternity.
Images: Public Domain Pictures/Pixabay; Sebastian Pichler, Przemysław Sakrajda, Trina Christian, Volkan Olmez/Unsplash