The Best Skincare Ritual to Do While Showering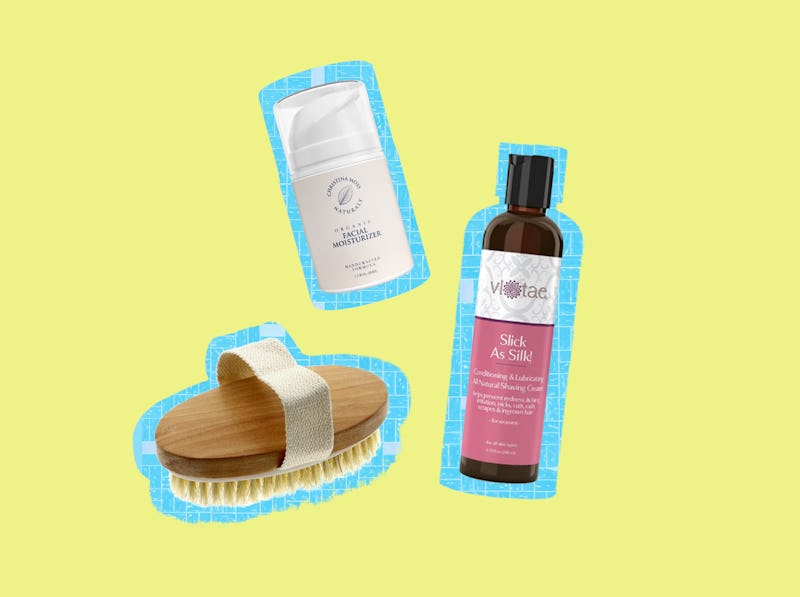 The human body is insanely resilient, and it's good at retaining a state of equilibrium so it can be as healthy as possible. So when it comes to the best shower skincare routine and tips, it's essential to remember that your body already has all these natural functions in place. In fact, tons of products saying they'll improve your shower skincare routine by washing away necessary oils are upsetting your body's natural functions, rather than helping them.
In the holistic health and nutrition field, a good rule of thumb for the best shower skincare routines is to forego the chemicals and replace everything (edible or not) with pronounceable, recognizable, and natural ingredients. While most people wouldn't ever consider eating things like parabens, sodium lauryl sulfates, and synthetic fragrances, these are the things that are in many soaps and moisturizers. Because your skin is one huge porous sponge that absorbs everything it comes into contact with, these chemicals end up in your body one way or another.
When someone changes their skincare regiment to include organic ingredients that support the skin's healing abilities, oil-producing processes, and natural flora, many skincare issues can clear up entirely on their own. Here's a list of the easiest shower habits you can adopt to lower your chemical load and make a huge difference in the look and feel of your skin.
Go For An Organic Soap With Healing Ingredients
Rise 'N Shine Raw Organic African Black Soap , $20, Amazon
America has a misconception that sterile is better, but it turns out that your body is covered with necessary micro-organisms that populate the skin of a healthy person, protecting against imbalances, breakouts, and infections. Rise 'N Shine's raw organic African black soap, unlike other antibacterial soaps, keeps these micro-organisms in place. It's made with natural oils and plantain skin ash to gently cleanse your skin, but because it's filled with natural vitamins and minerals, it clears up everything from acne to eczema in no time at all.
Control Oil Production With A Shampoo That Won't Strip Your Scalp
Grass Roots Natural Shampoo Bar , $13, Amazon
Normal shampoos are loaded with chemicals (parabens, SLS, and toxic fragrances) that confuse your scalp into producing much more oil than it needs, creating a dependency and even prompting breakouts around your hairline. This Grass Roots natural shampoo bar is made with only natural ingredients that nourish your hair without stripping any of the healthy oils, preserving the balance that should be there. Reviewers say their hair feels clean, softer than ever, and no longer requires conditioner to feel hydrated and moisturized.
Moisturize The Natural Way While Your Pores Are Wide Open
Christina Moss Naturals Organic Facial Moisturizer , $25, Amazon
Your pores are wide open after a shower due to the moisture and heat, but that means they're extra-absorbent, too. Skip all the nasty chemicals with this Christina Moss Naturals organic facial moisturizer. It's filled with a blend of healthy and recognizable ingredients, like nourishing oils, but no worries — it's lightweight and absorbs into skin quickly and effortlessly without a greasy residue. One reviewer says she suffers from an auto-immune disease that reacts with even the most "sensitive-skin friendly" creams, and she calls this one "truly amazing."
Purify Your Shower Water For Better Skin And Hair
HotelSpa Rainfall Shower-Head Filter , $25, Amazon
Among the skin- and hair-harming chemicals you might find in your everyday tap water, there's chlorine, fluoride, aluminum sulphate, hormones, pesticides, and nitrates. This HotelSpa rainfall shower-head filter removes chemicals and impurities from your shower all without sacrificing quality. It's got six different shower settings, an extra-large face, a classy chrome look, great water pressure, and a luxurious rainfall effect. As one reviewer says, "This is exactly what my poor hair and skin needed."
Exfoliate Gently With Konjac Root
The Official Blue Jolie Natural Konjac Sponge , $9, Amazon
Full-body exfoliation is a key step to beautiful skin, but most brushes and sponges are super abrasive and made from harsh synthetic materials. The official Blue Jolie natural konjac sponge is made from konjac root — a natural and sustainable material that softens in water, creating a soft but effective way to buff away dirt and dead skin. It's infused with activated bamboo charcoal to pull impurities right out, and it's gentle enough to use on a daily basis.
Shave Your Way To Smoother Skin, Everywhere
Slick As Silk Natural Shaving Cream , $22, Amazon
If you break out on your legs, underarms, and bikini line, it might be more than your typical razor burn — many people are very sensitive to the parabens, triethanolamine, artificial fragrances, glycols, and fillers found in most shaving creams. This Slick As Silk natural shaving cream is made with all natural plant and essential oils that soothe skin and create a smooth and healthy setting for the closest shave ever. Because it's wonderful for sensitive skin, nicks, bumps, irritation, and ingrown hairs are no longer an issue, and you can have soft skin everywhere.
Dry Brush After Your Shower For Glowing Skin
Touch Me Dry Skin Body Brush , $7, Amazon
Dry brushing is another great habit to get into right after a shower because it helps to move toxins, promote circulation, unclog pores, and stop breakouts. The Touch Me dry skin body brush is made with only natural bristles and high-quality polished wood. It has a durable strap for easy handling and control, and feels extra-soft and pampering against your skin. One reviewer says, "One of my favorite buys on Amazon. This brush is the perfect palm size for dry brushing your legs...I have poor circulation and my legs feel a sense of comfort and relief after using the brush."
Give Yourself A Moisturizing Oil Massage
Lux Skin Oils Organic Sweet Almond Oil , $20, Amazon
The ancient Ayurvedic practice of oil massaging is great for increased circulation, decreased stress and tension, and nourishing the skin. This Lux Skin Oils organic sweet almond oil is ideal for use at the end of your shower because it's cold-pressured, pure, all-natural, and has absolutely no fillers or additives. It comes in a convenient pump bottle for a no-mess application, and it nourishes and plumps skin for a dewy, healthy glow without clogging pores or causing breakouts.
Repopulate Skin Probiotics With This Topical Spray
LiviaOne Topical Organic Probiotics Spray , $27, Amazon
Thanks to new studies about the importance of probiotics for your digestive health, tons of people are reintroducing fermented foods back into their diets. However, it's also important to repopulate these micro-organisms on the surface of your skin, and it can make all the difference in the feel and appearance of it. LiviaOne's topical organic probiotics spray is one of the only available sprays that help you to repopulate your skin flora to naturally and safely fight eczema, acne, breakouts, fungal infections, and more. It's USDA-certified organic and filled with all the necessary enzymes to keep your skin healthy and clear all over.
Bustle may receive a portion of sales from products purchased from this article, which was created independently from Bustle's editorial and sales departments.
Images: Amazon (9)