Will a Fifth 'Shrek' Be Successful? Let's See How It, & Other Animated Franchises, Have Held Up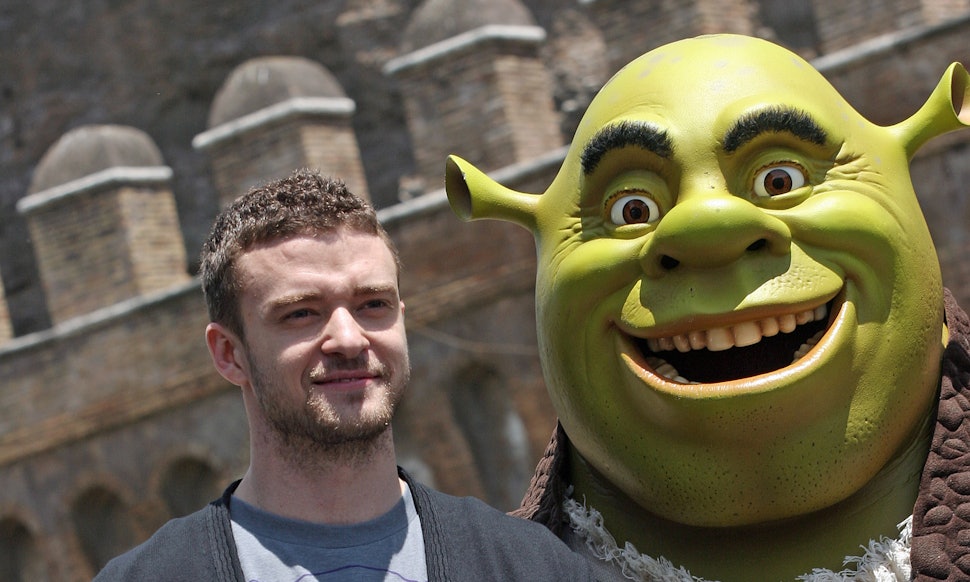 Elisabetta Villa/Getty Images Entertainment/Getty Images
Well everyone, get your waffle irons ready, it looks like the Shrek franchise is far from over. The Dreamworks animated series has plenty of fairy tales left in its future. According to studio Exec Jeffrey Katzenberg, "I think you can be confident that we'll have another chapter in the Shrek series. We're not finished, and more importantly, neither is he."
What's always been impressive about the Shrek series is its ability to maintain the same cast for its recurring characters. And considering Shrek, Donkey, Fiona and Co. live in a magical world, there are endless places these characters could go.
In terms of animated franchises, Shrek has one of the longest and most successful track records. Not only have there been four huge films, but there's also a Broadway musical (now on tour), and a slew of ogre-riffic merch.
Let's see how it stacks against the competition.
'Toy Story'
Pixar really encapsulated what it meant to create a full body of work within one story. The Toy Story films grew along with their characters, introduced us to new characters, and was wholly appealing to kids and grown-ups alike, even though it emotionally wrecked the twentysomethings who tried to stomach watching Woody and Buzz face their near finale in an incinerator. The first and last installments of the Toy Story saga were its strongest pieces. However, Toy Story 2 was far from a throwaway (Hello female heroine!). Well done, Disney.
Grade: A+
Image: Toy Story 3/Disney Pixar
'Kung Fu Panda'
Sometimes an overweight Panda named Po needs to rise above expectations and save the Valley of Peace. And sometimes an animated film like Kung Fu Panda is waaaaaaaay more successful than industry insiders may have predicted. Along with the Shrek films, the Kung Fu Panda franchise has made Dreamworks a major contender against the Disney juggernaut.
Grade: B
Image: Kung Fu Panda/ Dreamworks
'Monsters Inc.'
The first Monsters Inc. was a truly innovative piece of filmmaking. I remember sitting in the theater and being mesmerized by how Sully's hair moved. And it had what all great Pixar films have at their core: a heartwarming story that needed to be told. It also probably helped a lot of kids sleep without a nightlight. In fewer words, Monsters Inc. was a real gem. And Monsters University, the prequel to Monsters Inc. didn't quite deliver as big of a punch as the original. When a movie as wonderful as Monsters Inc. comes along, maybe its just best to just let it lie (or not wait 12 years between films).
Grade: B-
Image: Monsters Inc./ Disney Pixar
'Madagascar'
The Madagascar films are every babysitter's nightmare. Granted, the first of the franchise is a lot funnier than I expected, but it's the sort of movie you can watch once and be fine with that. But kids? Oh, kids are going to watch all of these on repeat all of the time until the end of eternity. Also it seems like the creators were recycling A LOT after the first film. Though, I do like the idea of New York zoo animals going on adventures all around the globe. It's like the Hangover series, but more adorable!
Grade: C
Image: Madagascar3/Dreamworks
'Cars'
There's still a Cars 3 to be made, but the first two films were pretty big successes for Disney. It's also one of the bigger merchandising vehicles (pun intended) of the animated genre. Have you ever walked into a friend's house who has kids and not seen some sort of Cars paraphernalia? Me either. However, there's still something slightly less resonant about the Cars films. The stories of Lightning McQueen and Co. are just mostly really loud.
Grade: C (for Cars!)
'Ice Age'
Welp, the Ice Age films are basically the only films that can compete with Shrek in the "Animated Franchises that Just Won't Stop" category. This 20th Century Fox creation brought us wonderful characters like Sid the Sloth, Scrat the Squittel (The Wile. E Coyote of his generation) and Manny the Mammoth. In an over-saturated market, Ice Age rose above a lot of its competition and continues to churn out huge hits. But like many of its fellow franchises, the first two are really funny and creative while the rest just feel lackluster in comparison.
Grade: B-
Image:Ice Age/ 20th Century Fox