Jen Atkin's Hair Accessory Line Is Perfection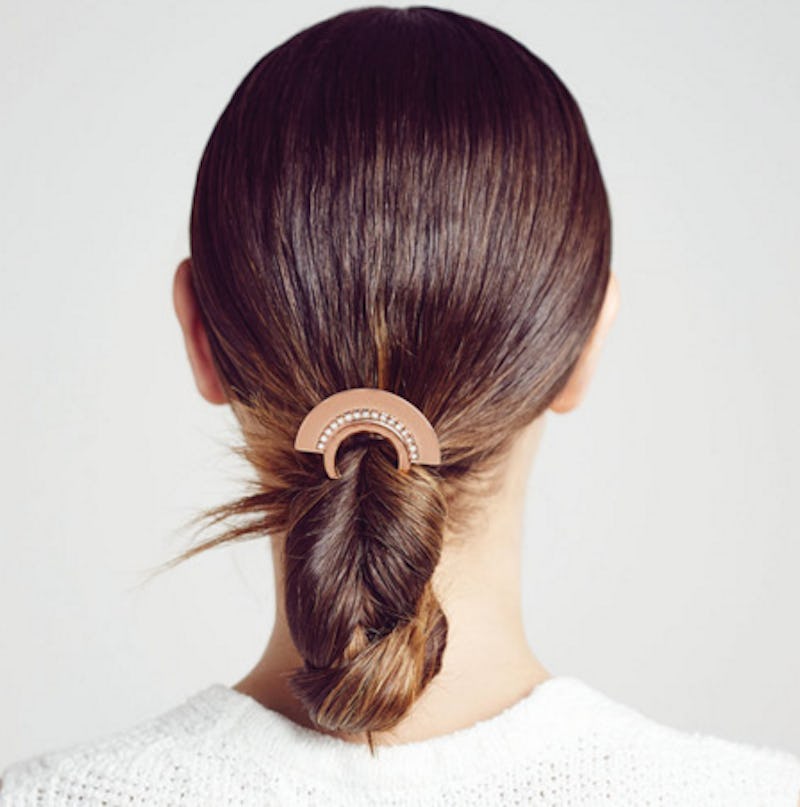 Not only is this celebrity makeup artist making it easier to care for your hair the same way her celeb clients do, she's also making it easy for you to style your hair as if you're getting ready for your close-up, too. Find out where to buy the Jen Atkin X Chloe + Isabel collab so all of your hair goals can finally be met.
These two have joined forces to create a minimalistic, but oh-so stylish line of hair accessories that will help you add a little pizazz to your top knot, fishtail braid or half up-half down 'do. Honestly, you're going to want to throw one of these metallic pieces into your hair no matter what kind of trendy style you're rocking. Because a little bit of extra bling never hurt nobody.
The 13-piece collection features a variety of bobby pins, barrettes and headbands. But, these aren't your ordinary fasteners that are meant to secure but not to be seen. Oh no. You're going to want to put these bad boys on display! The entire collection is already available to shop on the Chloe + Isabel website, so get those wallets ready. Your summer hair game is about to get a whole lot stronger.
Each piece is versatile and affordable. Umm, have I died and gone to hair heaven? I surely think so!
1. Bun Cuff
Bun Cuff, $45, Chloe + Isabel
Excuse me, but has a top bun ever looked better?
2. Smooth Crescent Barrette
Smooth Crescent Barrette, $28, Chloe + Isabel
Throw this in your hair for an instantly chic upgrade with very minimal effort. Now, that's my kind of morning routine!
3. Small Circle Clip Set
Small Circle Clip Set, $24, Chloe + Isabel
Accentuate your braid and your overall killer style with this set of clips.
4. Crystal Pavé Fan Pin
Crystal Pav é Fan Pin, $32, Chloe + Isabel
Ok, this is my favorite piece of the entire collection by far. I mean, is that the chicest braid you've ever seen in your life or what?
5. Split Headband
Split Headband, $22, Chloe + Isabel
Top off your flowing locks with a little big of metal hardware for an even edgier look.
6. Ponytail Clip
Ponytail Clip, $18, Chloe + Isabel
This isn't a little girl's hairstyle. That ponytail of yours is all grown up, now!
7. Wishbone Pin Set
Wishbone Pin Set, $16, Chloe + Isabel
Because sometimes bobby pins are meant to be seen.
Upgrade your look with these pieces and more by visiting the Chloe + Isabel website because when it comes to hair accessories, it just doesn't get better than this.
Images: Courtesy Chloe + Isabel (7)