Derek Tells Chad What's What On 'The Bachelorette'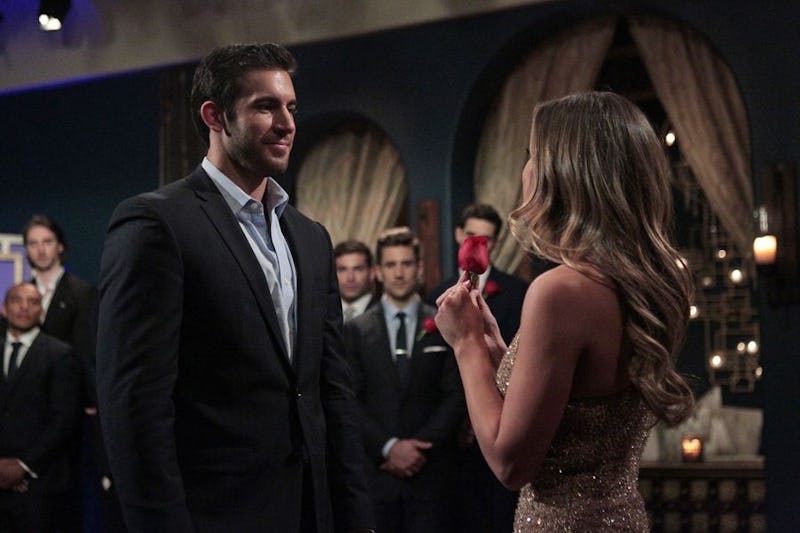 The Bachelorette is always pretty dramatic, but JoJo Fletcher's season might be the most dramatic straight out of the gate. Over the last few episodes, the tension between Chad Johnson and the rest of the contestants has become more real than ever. So it's about time for someone to say something about it, right? I mean, the guy has required his own security team. And on Tuesday night's episode, it finally happened — but not from Evan, like you might think. Derek stood up to Chad on The Bachelorette , and it was a moment totally worthy of applause.
At first, Chad pulled Derek aside to talk after he heard him talking to JoJo. Chad confronted Derek in a pretty mean way, but Derek held his own really well where a lot of the other guys might have been intimidated. Even though Chad told him to stop talking about him to JoJo, Derek said that if she asks him a question, he's going to give her an honest answer. Derek even admitted that he's scared of Chad, but that doesn't stop him from standing up to him. That I can understand, because as much as I thought Chad was funny at first, now that I've seen what he's capable of, I'd be scared, too.
And so far, Twitter is loving this interaction — and not just because it gave us a chance to look at Derek's Jim Halpert looking face again. Some of my favorite reactions:
It's official: Derek needs to be the spokesperson of the guys when it comes to Chad. He can definitely hold his own, no matter how intimidating Chad can be. Yet another reason to love him. Sigh.
Image: Rick Rowell/ABC