This BECCA x Jaclyn Hill Product Won't Be Released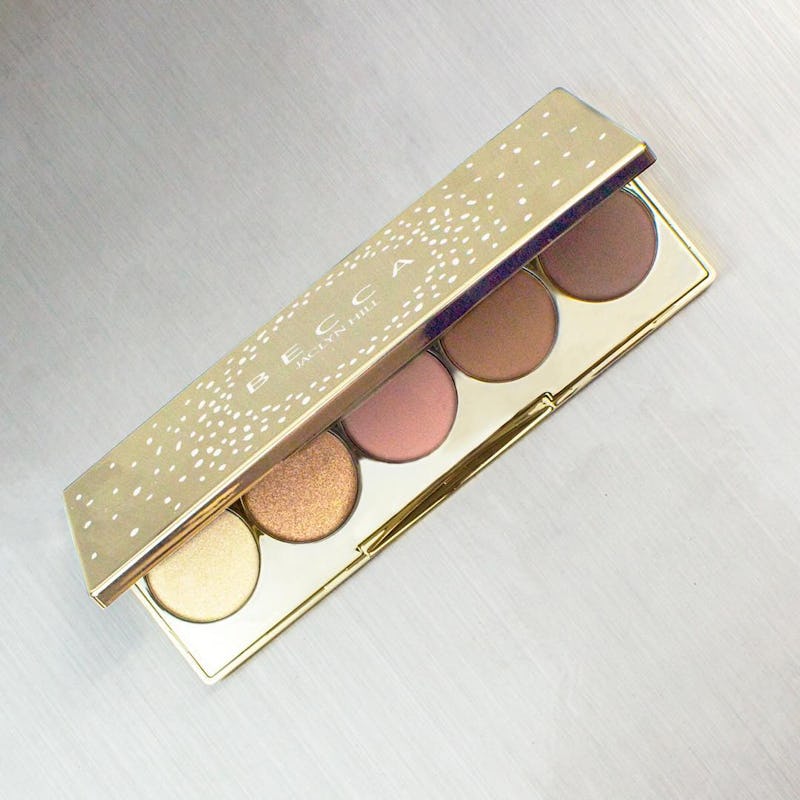 If you're a beauty junkie, you probably already knew who Jaclyn Hill is. If not, she's one of the brains behind the headline-grabbing BECCA x Jaclyn Hill Champagne Glow Collection. The hyped palette seems to have hit a snag, though. The BECCA x Jaclyn Hill Champagne Collection eye shadow palette will not be released on June 16, according to Hill's Snapchat. This news may come as a shock to those who don't keep an eye on beauty blogs or reviews, but on Tuesday night, Hill explained the situation.
The entire Champagne Glow collection has been insanely hyped since news of a second highlighter from Hill started circling (after she posted a makeup tutorial to her YouTube that featured an unnamed beauty). Fans were soon to discover not only Prosecco Pop — the new highlight — but also the entirety of the Champagne Glow collection, including the eye shadow palette.
While many enjoyed the palette, Hill's Snapchat on Tuesday night painted a bit of a different picture. The YouTuber and entrepreneur got right to the point when she opened her camera, announcing that the palette would not be released on June 16 as anticipated. Understandably, questions arose, and Hill immediately answered.
According to the Champagne Glow creator, she began receiving messages and comments from subscribers describing the palette as dry and patchy. While the negative reviews have been seemingly coming in for quite some time, Hill took a moment to address the lapse in communication between herself and her Hillsters. As it turns out, Hill has been collaborating with BECCA in order to address the issue in the best possible manner. She has not been glossing over it, as many will probably accuse her of doing.
Hill explains via Snapchat that she created a singular shade for the palette, while the others are BECCA shades with BECCA formulations. As time for the launch grew nearer, a crunch began and BECCA sent the product to a different lab in order to get the palettes faster. BECCA believed the new lab could reproduce their typically stellar line of shadows. As it turns out, the lab was incapable of doing so, which resulted in customers' negative experiences.
While many may decry Hill for allowing such a release, the perennially honest and upfront blogger explained perfectly that she has no oversight regarding formulation changes or labs. Plus, let's be real: Expecting Hill to swatch God-knows-how-many-palettes until she got a poor-quality product is unreasonable. Let's not forget that while Hill could have easily ignored the reviews in order to put money in her pockets, she didn't. Instead, she worked hand-in-hand with BECCA — who are, according to Hill, brainstorming ways to make things up to customers — to pull the palette and stop its release.
There's little doubt that many will wholly fault Hill for the imperfections and inconsistencies of the palette, but for all the criticisms, the truth remains that Hill has always and will always remain true to her subscribers and fans. Her honesty and transparency on Tuesday night only further prove her dedication to her craft.
According to the Snapchat, both Hill and BECCA are extremely disappointed that the Champagne Collection eyeshadow palette will not be released on June 16. However, by pulling the product, they show their true colors. Both the brand and the guru have shown incredible grace in a tough situation.
For more information on the decision to remove the eye shadow palette from the Champagne Glow Collection launch, follow Hill on her honest, open, and hilarious Snapchat. While tonight's post may have been a tough one, Hill is able to weather any storm, and our girl's got us.
Images: beccacosmetics/Instagram