13 Plus Size Fitness Instagrammers To Follow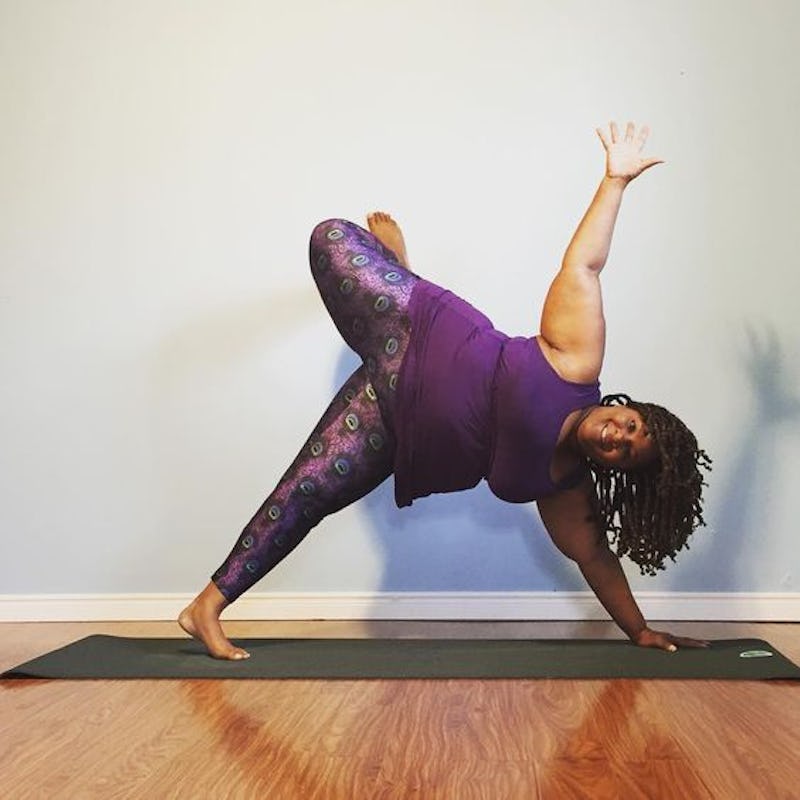 In a culture obsessed with a very specific (thin) ideal for health and fitness, many plus size athletes are revolutionizing the ways we think about movement and wellness. Although there is so much stigma surrounding fat bodies in fitness-related spaces, more and more plus size fitness practitioners are proving that big bodies can be strong, fast, and flexible.
Despite all this positive change, it can still be challenging for those of us with bigger bodies to sign up for workout classes or gym memberships. For many, it's frightening to put ourselves out there in communities that have historically been very hostile to fat individuals. Plus, with all the pressure often placed on plus size women to view physical activity purely as a weight loss strategy, it's no wonder the gym can feel like a dangerous space.
I like to turn to social media for inspiration from all the fat, fabulous fitness babes who are rocking their own movement practices. It's easy for me to get overwhelmed by the one-dimensional narratives of striving and deprivation that fill mainstream fitness forums, and the plus size fitness movement often has exactly the body positive antidote that I need. If you also need a little inspiration in your own practice, check out these awesome plus size fitness Instagrammers, and prepare to get your sweat on.
1. Curvygirlmeetsyoga
Luisa A. is a curvy yogi who posts great poses and honest commentary. I love that she shares pics of herself practicing in a variety of different locations, highlighting how flexible (and portable) a yoga practice can be.
2. Leebee2321
Leah Gilbert is a triathlete, running coach, and fitness instructor with formidable drive and a body positive perspective. Check her out when you need a break from mainstream fitspo.
3. Mynameisjessamyn
If you haven't heard of Jessamyn Stanley yet, allow me to introduce you. A true revolutionary, Stanley serves up serious yoga, body positivity, and style with a deep commitment to inclusion and honesty.
4. Round_the_way_gal
Jessica is a body positive plus size yogi and instructor with a gorgeous smile and bold sense of style. A role model for mixing up your fitness routine, she also posts pics of dance workouts, weight lifting, and other great movement practices.
5. CeCe Olisa
As a health, fitness, and fashion blogger, Cece Olisa does it all (and does it well). Whether you need outfit inspiration or great workout ideas, she's your girl.
6. Nolatrees
Yogi and instructor Dana Falsetti, aka Nolatrees, has one of my favorite fitness accounts on Instagram. Her photos are gorgeous, her words are gentle and supportive, and her approach to movement is so inspiring and nurturing.
7. Crazycurvy_yoga
Brittany Danielle makes fitness fun with images that remind us that movement can be a form of play. A true multi-tasker, she also posts awesome pics including her kids in her fitness practice.
8. Glitterandlazers
This girl is such a source of inspiration to me. Focusing on fitness, fashion, and travel (all with a major sense of humor), her account is a playful, positive breath of fresh air.
9. Diannebondyyoga
Activist and teacher Dianne Bondy not only inspires with her killer yoga moves, but with her value-centered commitment to equity, accessibility, and compassion. When my active routine needs a loving kick-in-the-pants, she's who I turn to.
10. Tattedyogi16
There is just so much to love about Amanda's posts, from hilarious yoga inspo, to adorable Rottweiler fur babies, to killer tattoos. She always reminds me that my body can do amazing things, no matter its size.
11. Trainer_louisegreen
Plus size trainer, triathlete, and body positive activist Louise Green is one of my major fitness inspirations. Her uncompromising efforts to break down fitness barriers for large bodies are matched only by her badass athleticism.
12. Amber_karnes
Amber is a yoga teacher who strives to make this practice accessible to bodies that have traditionally been excluded from health and fitness environments. Her account is an affirming melange of yoga, travel, nature, and daily life that is not to be missed.
13. Bambeiisaurus
When you need an extra dose of positivity in your day, Amber Smith's upbeat approach to yoga (and ridiculously cute cupcake pics) will have you looking on the bright side in no time. Check her out for an instant mood lift.
It can be hard to imagine possibilities for ourselves that we can't see; this is why representation matters so much, and why plus size athletes and fitness advocates who share their practices can be so life-changing. If you need some inspiration, education, or encouragement to take your active routine to the next level, these 13 fitness babes should rock your world.
Image: Courtesy Dianne Bondy Yoga