What's The NYX's Cosmic Metals Lip Cream Formula?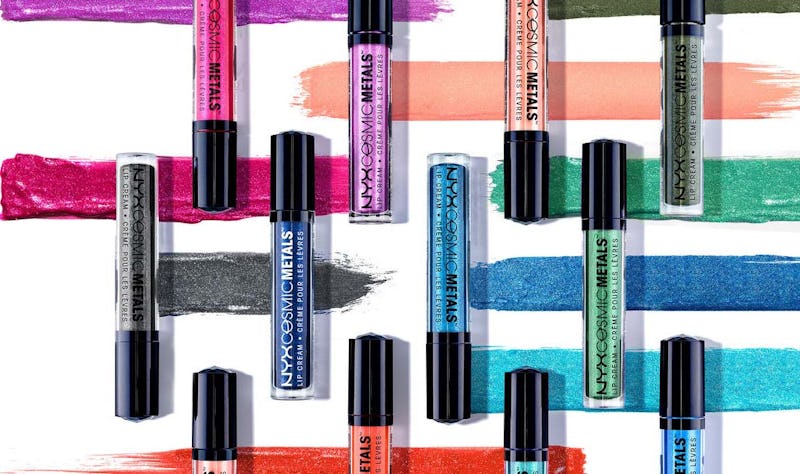 Another metal lip cream has hit the market, and I can't wait to get my hands on it. But if you're unsure what the formulation of NYX's latest offerings are like and are wondering if NYX's Cosmic Metals Lip Creams are gloss or matte, I've got the important details for you.
We're used to matte formulations by now. Everyone from Covergirl to Maybelline (and even NYX) to brands like Kat Von D, Too Faced, and Kylie Cosmetics have turned out matte lipstick lines one after the other. Now many are incorporating metals and glitters into their matte formulas, like Kylie Cosmetics and Maybelline. But that's what makes this product different and exciting — NYX's new Cosmic Metals Lip Creams are glosses!
Glosses are hydrating, comfortable, and have a dewy finish that's perfect for the summertime. Glosses are generally more wearable for everyday and easier to work with, too. No precise lip brushes or fancy contouring techniques needed!
The wet, glossy formula combined with the glitter and metal finish will create a super luminous look. NYX describes the gloss as an "intense, multidimensional color" with the "glistening effect of gloss" and a "creamy smooth, dazzling metallic finish." Yep, I'm sold.
The line has 11 colors that range from violet to electric blue, orange, silver, and fuschia pink and rose gold. Because it's a gloss, you can mix colors for a custom look.
The line is available online at nyxcosmetics.com now and in Ulta stores in July.
NYX Cosmetics Cosmic Metal Lip Cream, $7.50, nyxcosmetics.com
Image: Ourfa Zinali, NYX Cosmetics/Instagram