Kendall + Kylie Topshop Swimwear Is Super Popular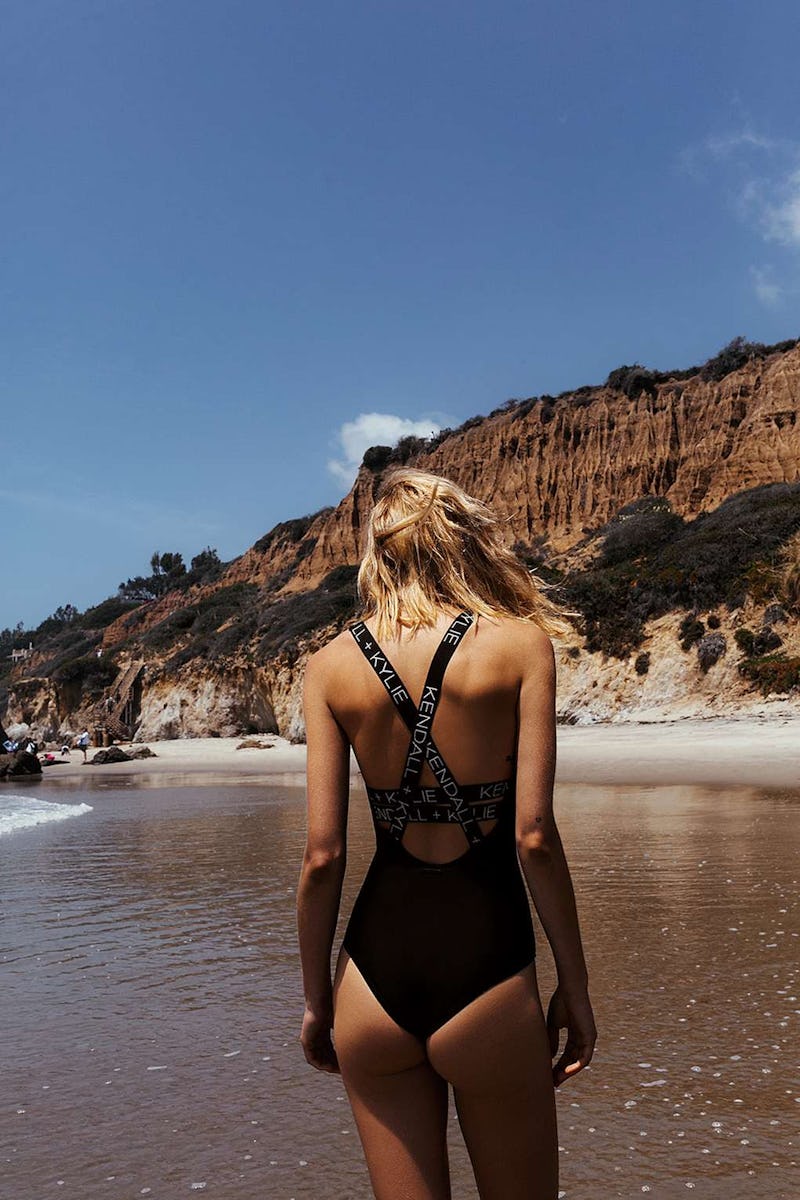 Summer is pretty much here, albeit unofficially, and with the scorching sun and warm air comes lots of new, cute beachwear. The Kendall + Kylie Topshop swimwear line has landed and it's full of styles, colors, and silhouettes that will allow you to engage in all sorts of hot weather and oceanside activities in style, just as the Jenner Sisters do. The Kendall + Kylie Topshop swimsuit range features one-pieces, bikinis, coverups, and fashion-foward swimsuits, like a metallic gold suit with cutouts, a classic, tank-style suit, a harness swimsuit, and branded bikinis, with their names on the waistbands. There are plenty of choices to suit whatever your personal beach style is. Given the heat that surrounds the Jenner sisters and their branded offerings —hi, Kylie Lip Kits!— you are wondering if the Kendall + Kylie Topshop Swim Collection is sold out online, right?
Well, I have good news with a catch. The good news is that the line is not totally sold out and stock of a lot of pieces looks plentiful and available. That said, some of the sizes are sold out, which suggests that the swimwear is moving quickly and could sell out soon. If you prefer to shop the pieces in person, the Kendall + Kylie Topshop Swim Collection is sold in select stores.
Harness Swimsuit, $75, Topshop
This sexy, strappy suit is still available in sizes 6, 8, and 10 as of press time.
Animal Print Cutout Swimsuit, $85, Topshop
This retro-inspired suit mixes cutouts and print in a super fun way. There are plenty of sizes to shop, so get on it.
Tape Detailed Swimsuit, $75, Topshop
Stock of this classic tank suit is still plentiful on the site.
Plunge Front Cut-Out Swimsuit, $75, Topshop
This liquid gold suit has a vintage inspo and it's going fast, for good reason — it's stunning.
Tape Detailed Bikini Top, $48, Topshop
This silver, branded bikini top, which has an athleisure vibe and could be paired with leggings, is also moving fast.
That's a snapshot of the avails of the Kendall + Kylie Topshop Swim Collection. There is also a maxi, plenty of bottoms in high-waisted cuts, and more.
As of press time, nothing is totally sold out yet. Topshop could replenish its online supply of pieces and sizes, but your best bet is to keep refreshing and checking the site. Don't delay on scooping up pieces you want now! These are too good to pass up.
Images: Courtesy of Topshop (6)