You Need To Shop Jourdan Dunn's New Tank Collab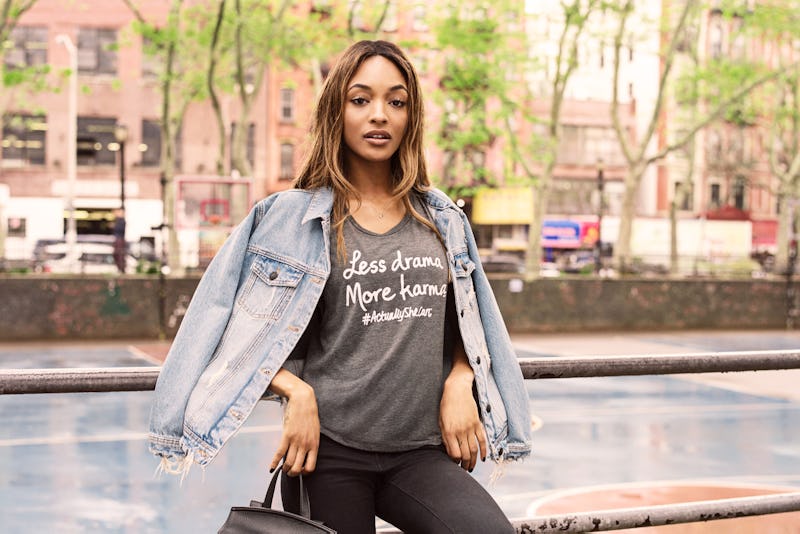 These days, we can never have enough female empowerment, and Jourdan Dunn's new collaboration brings it a big way. Jourdan Dunn teamed up with Le Motto for a line of tanks, and they are so inspiring, you're going to want to own them all.
The only thing hotter than athleisure right now is empowering women, so the two joining forces is a natural success. Throw in Jourdan Dunn and we're all sold. The model collaborated with Le Motto to be the face of a new tank collection, designed to further the #ActuallySheCan campaign, a campaign to empower women, by Allergan. And they're seriously so cute.
The tanks go with the whole slogan/athleisure top theme, but they take it a step further — instead of writing your basic punny slogans, these are all meant to encourage women, with slogans such as "Less Drama, More Karma." And that's a reminder I think we all need sometimes. "The #ActuallySheCan Tanks are the perfect way to inject some positivity into your life, with motivational slogans that encourage the best in all of us," Dunn said.
The tanks retail for $32 each, and are available on lemotto.com June 9th, so head on over and check them out before they're gone.
Adorable, right?
And they go to a seriously good cause, because the proceeds will be donated to AcademyWomen, a non-profit created for and by military women.
Less Regret, More Sweat Tank, $32, lemotto.com
Preach.
Images: Courtesy of Le Motto