14 Stylish & Comfy Swimsuit Hacks for Big Boobs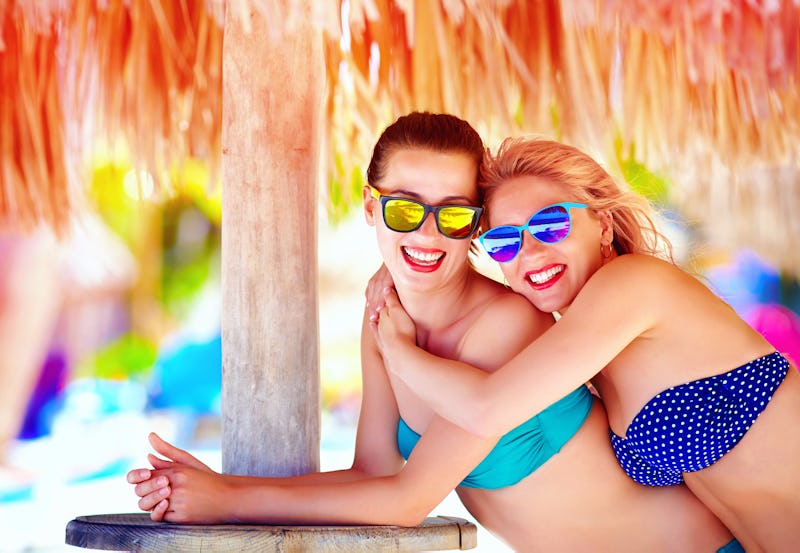 I love the beach. When I'm traveling, I always seek out a beach or island if I'm in a warmer country. Because of this, I spend a lot of the time wearing a swimsuit, which means that because I have a bigger bust, supportive and comfortable swimsuits are a real necessity for me. Knowing stylish swimsuit hacks for big boobs lets me get active while I'm at the beach, whether its paddle boarding, snorkeling, swimming, or playing catch with my friends.
Support and comfort are so important when finding a swimsuit, but sometimes I struggle to find one that can deliver both of those things and still be a cute and on-trend bathing suit for bigger busts. Swimsuit season can feel daunting, but have no fear, there is a suit out there for you. Nowadays, you can find everything from awesome bikinis that are designed for DD+ cup sizes, to one cute pieces for bigger boobs that don't sacrifice support for style. There are even strapless bathing suits that can offer the right support and make you feel comfortable while lounging poolside.
The options are endless, with so many swimsuits that don't skimp on the necessities to be considered stylish this season. Grab your towel, your sunblock, and hit the beach or the pool. You'll be feeling comfortable and cute this summer in a suit that's a great pick for you.
Hold, Lift, and Shape With Underwire & Sweetheart Neckline
Curvy Kate Women's Plan Sailing Bandeau Bikini (Sizes 30D-38G), $53 -$65, Amazon
A swimsuit that offers you a variety of ways to will always provide you with a bit more mileage. This suit with removable straps and underwire will lift your bust, while the ruched cups offer the coverage you need. Wear the bikini strapless, as a halter, with crossed straps, or in a bra-style, depending on the support you want. The swimsuit comes in cup sizes D-H and from 30-38.
Pull From Vintage Inspired Bandeau Design For Classic Style & Support
Anne Cole Plus Size Tropication Bandeau Tankini (Sizes 16 Plus-24 Plus), $78, Amazon
This bright striped tankini will keep you free of shoulder strap tan lines, while molded built-in cups keep everything in place, no matter how active your beach or pool day may be. Still, if you want a little extra support, there are removable straps you can attach if you want.
Floral Halter Creates Secure Fit With Band That Won't Dig In
Kenneth Cole Plus Size Darling Ditsy Bikini Top (Sizes 1X-3X Plus), $38-$62, Amazon
Underwires definitely offer support, but when that often comes hand-in-hand with an uncomfortable band that digs in, it can really dampen your beach day. Instead, this built-in underwire top features a flat hem beneath the cups that will distribute the pull, so you get a comfier fit that doesn't compromise on support.
Sporty Bandeau Style With Straps Lets You Move As Much As You Want
COCO RAVE Stardust Solids Blake Bralette Bikini Top (Sizes Small C Cup-Large DD Cup), $56, Amazon
Sometimes the best bikinis are the simple ones. This swimsuit offers you a sleek and supported look. It has soft foam cups that mold to your chest because of its neoprene-like material. It also features adjustable straps to give you the best fit imaginable. The solid black suit with its white outline is simple yet stylish, too.
Get More Support By Using Two-Way Criss-Crossing Straps
Body Glove Maka Solo Underwire Bikini Top (Sizes D-F Cup), $59-$62, Amazon
If you have a large chest and have trouble finding the support you need, check out this suit. It comes in sizes D,DD, E, and F and offers full coverage support. The two-way back allows you to adjust the suit to give you different options for the best support possible. It comes in a number of cute designs (including printed styles and solid colors), allowing you to keep up with the current trends.
Or Try Thicker Straps for A More Secure Fit
Profile Blush by Gottex Underwire Thick Strap Bra Bikini (Sizes Small D-Large F Cup), $84, Amazon
This bra-style bikini offers a ton of support. The thick, over-the-shoulder strap and underwire allows girls with bigger busts to have a better piece of mind when running around the beach. The all-over paisley print doesn't sacrifice great style for feeling supported. It comes in sizes D-F, but offers the option of a "small" or "large" of each cup size, which is particularly helpful when you need a more tailored fit.
Get Support From Halter Fit And Add Movement With Fringe
Papaya Wear Retro High Waist Braided Fringe Top (Sizes L-3XL) , $11-$17, Amazon
Fans of this suit are saying it fits great and is incredibly comfortable, in addition to the colors looking just as vibrant in person (you can snag the fringed suit in 13 different colors — including patterns) as they do on the screen. One pleased wearer even said, " I must say that I am impressed with the quality and time of delivery. The material is great and the quality is good for the price."
Adjustable Straps Help You Personalize How Much Coverage You Want
Captiva Sunset Hues Tropical Sea V-Neck Tankini (Sizes Small DD Cup-Large DD Cup), $47-$68, Amazon
Adjustable straps can make a huge difference for someone with a full bust. It means that you can customize the fit of your swimsuit, which is invaluable to someone who may need some extra reinforcement around their chest area. Having your straps in the correct place can change the whole fit of this classic but bold tankini.
Go Underwire-Free Without Losing Support In Sporty Crop Top
Jessica Simpson Venice Bech High-Neck Bikini Top (Sizes 0X Plus-2X Plus) , $48-$82, Amazon
If a pool day for you means you want the ultimate comfort, ditch the underwire and pull on this patterned cropped bikini top, which is definitely on trend with sporty mesh paneling on top and a stretchy band on the bottom. In the back, an S closure up top and hook closures at the bottom will give you confident support.
Wide Straps That Become Narrow in Front Offer Stylish Support
Jantzen Over The Shoulder Underwire Bikini Bra (Sizes 34D-38DD), $20-$70, Amazon
With wide adjustable straps, underwire, and full coverage, you won't be worried about running around with your friends at the beach in this suit. It's super cute, and one fan said, "It is full coverage but still has a nice V shape in front." She said the wide straps narrow in the front for an attractive look, which means you're not giving up a single element of style in order to get the support you want.
Go For A Comfy Fit In A One Piece With Breathable Side Panels
Anne Cole Mesh Insert Asymmetric Spliced One Piece (Sizes 16-24), $69-$120, Amazon
If you want the one-and-done fit of a one piece without being completely covered, this awesome suit meets you in the middle. Pretty mesh panels on the side look amazing (and simultaneously keep you cool), while the shallow V-neck lets you breathe without worrying about anything slipping out mid-dive.
Halters Offer Lift & Support (And Bright Loops On Straps Add Thoughtful Detailing)
Curvy Kate Women's Plain Sailing Halterneck (Sizes 30D-38G), $53-$75, Amazon
A bathing suit with a halter style tie will lift your breasts and allow you to get really great support. This particular style's underwire helps to keep your bust comfortable, while the sizes range (starting from 30D and to 34H with all the sizes in between) means finally finding a suit that fits the way you want it to. Add some bright white loop detailing to the straps, and you've got it made in the shade.
Thin Straps Can Support Bigger Chests When Paired With Bra-Style Coverage
La Blanca Island Goddess Over The Shoulder Underwire Top (34D-38E), $52-$75, Amazon
Achieve the same fit as your favorite bra with this bikini top. Your bra is usually the thing you rely on to give you support and comfort. Now, you can get the same thing from your favorite bikini top. This swimsuit has adjustable lingerie straps, just like your bra. It also has underwire and offers full coverage to women with busts sized 34D-38E.
Don't Only Tackle Good Support For Your Bust — Cool Graphics Add Edge, Too
Christina Still Sea V-Neck One Piece Swimsuit (Sizes 10/D Cup-8/D Cup), $29-$98, Amazon
A suit that takes care of support for your bust and features a cool graphic design down the front sounds too good to be true. Right? Well, it's not with this stylish one-piece. Its wide shoulder straps offer support and contour soft cups for comfort. So, next time you're on the beach, you can take your confidence to the next level and show off your suit.
Bustle may receive a portion of sales from products purchased from this article, which was created independently from Bustle's editorial and sales departments.
Images: Fotolia (1); Amazon (14)