'Night Stalker' Is Inspired By Terrifying Events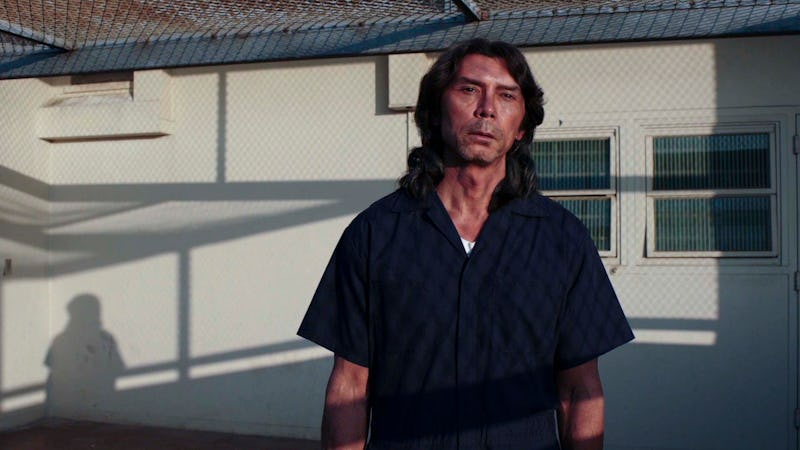 It feels like interest in true crime has never been higher — viewers have flocked to a variety of TV series in the genre, from Ryan Murphy's drama about the trial of 20th century, The People v. O.J. Simpson: American Crime Story, to the Netflix docuseries Making a Murderer, which spotlights a case that didn't previously receive public attention. So, is Lifetime's The Night Stalker based on a true story? Although "the Night Stalker" was unfortunately a very real serial killer who committed heinous crimes, the movie itself does not stay true to life. Rather, the filmmaker used his case as a starting point and then created fictional characters and events.
But, first things first. The real name of "the Night Stalker" is Richard Ramirez and he terrorized Californians during a brutal spree of violence through the spring and summer months of 1985, as reported by CNN. The outlet reports that Ramirez was convicted of 13 murders, five attempted murders, 11 sexual assaults and 14 burglaries. Although he was sentenced to death for his crimes, Ramirez died of natural causes in 2013.
The Lifetime synopsis notes that Ramirez "was always suspected of committing additional crimes" and the movie will focus on an attorney, Kit, who travels to Texas in an attempt to clear the name of a death row inmate who she believes was wrongfully convicted of murders committed by Ramirez. This is is where the movie diverges from reality — as director Megan Griffiths told Parallax View earlier this month, Kit is a purely fictional character and she's not aware of any lawyers who tried to clear individuals they believed had been wrongfully accused of Ramirez's crimes.
This is a significant change from the true story because Kit herself will take center stage in the movie. The Lifetime synopsis also notes that her character lived in Los Angeles during Ramirez's killing spree and dealing with the case will elicit "old and frightening memories of her own past." Furthermore, she'll be racing against the clock (as one does in movies) to clear the Texas inmate who she believes is about to be put to death for crimes committed by Ramirez. So, although the movie is named after and features a real person in Ramirez, it puts a significant focus on a lawyer and an inmate who didn't exist in real life.
However, Griffiths' inspiration for the plot stemmed from a very real possibility. As she told Parallax View:
"The detective who worked that case from beginning to end, Gil Carrillo, was a consultant on the movie and he said that after the conviction, Ramirez copped to additional crimes, 'You didn't get me for all of them' and those kinds of comments. And they knew that. [Carrillo] said that when they were forming these cases, they took the 13 cases that were the most airtight and that they knew they would the conviction on. Because that's plenty. 13 convictions for murder is going to get someone either the death penalty or put in prison forever. So they didn't really pursue some cases that they suspected might have been him as well. So there is a plausible case that there were other murders or other rapes and abductions that he was responsible for that were never pursued."
So, it is indeed possible that Ramirez was responsible for additional crimes — but there are no reports that an inmate in any state was wrongfully convicted, let alone sentenced to death, for a crime that was committed by Ramirez.
In an interview with The Seattle Times, Griffiths made very clear that the film is historical fiction and it shouldn't be described as "based on a true story." However, she told the outlet that one specific scene is very accurate to real life — the moment when Ramirez is finally captured by police as he runs through the streets. It was filmed on the very same block where Ramirez was captured 30 years ago, and two of the men chasing him in the movie were actually involved in the real life chase: "They still live across the street... Also, the Mustang that [Ramirez] tries to steal is literally the same Mustang. They still own it. They had to tow it to us; it wasn't functioning."
Although The Night Stalker is inspired by a real serial killer and has these truthful elements, most of what we see on our small screens will be fictional.
Images: Michael Clifford/Lifetime (2)