The Grey Yeezy Boost 750s Are Almost Here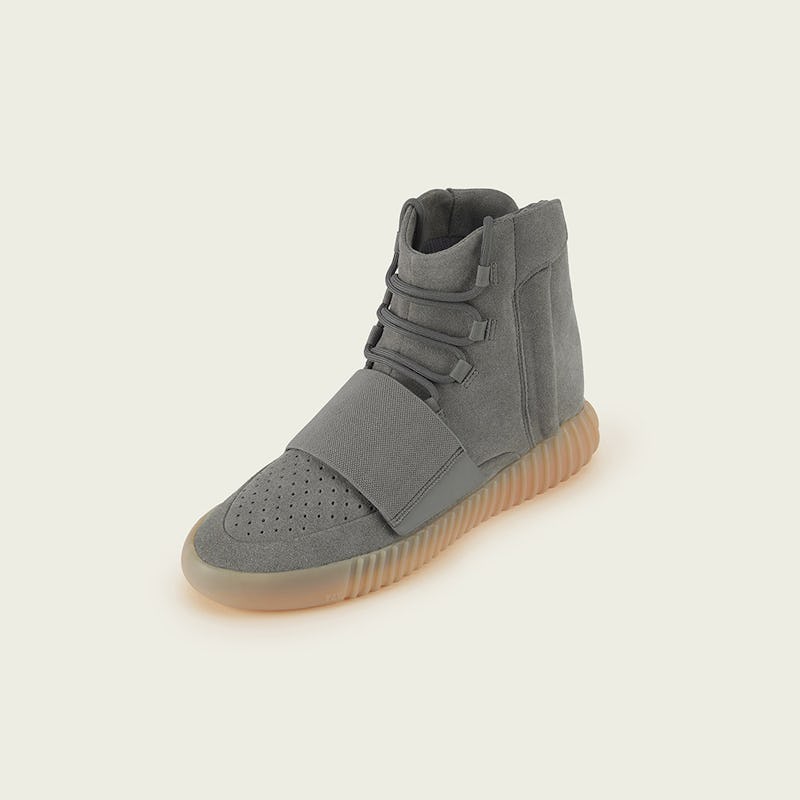 Calling all sneaker fans! New Kanye West's Yeezy Boost 750s —the grey suede version with the glow-in-the-dark gum sole— are set to arrive sooner than you think. West's wife Kim Kardashian teased theses new Boost 750s and ever since, the buzz has continued. The Yeezy Boost 750 also features a thick, front strap over the top of the foot; it also looks a bit like an urban-chic-bootie-meets-athletic-trainer to my eyes. The sneakers are incredibly sought-after and now that they have a fun, glow-in-the-dark sole, anticipation rages on. These grey Yeezy Boost 750s come with a $350 price tag, as well. So they're investment footwear. But when can you buy, or at least attempt to purchase, these kicks?
They are landing sooner than you think. The grey Yeezy Boost 750s with the gum sole are dropping Saturday, June 11. That's so soon. I'd like to take a moment to urge you to sign up for further updates about the on-sale of this shoe. You can do so via the Yeezy page on the Adidas site. It's easy and could be the difference between snagging a pair or being shut out.
Below is the screen grab confirming the June 11 on-sale date, along with a description of the sneaker.
The grey Yeezy Boost 750s with the glow-in-the-dark sole are versatile — you could wear them with leggings, skinny jeans, boyfriend jeans, or a dress.
They also look like a high-top sneaker and a bootie, further upping their versatility. You can style them in so many different ways.
If history is an indicator, these Yeezy Bosts will be hard to get. All the Yeezy Boost drops sell out with incredibly quickness.
They are super cool sneakers, that's for sure.
Once again, I totally recommend signing up updates about the status of the Yeezy Boost 750s and where/how to shop them. I so back that plan. It won't be easy to nab a pair, but you need the full benefit of information so that you can at least try.
Bustle also reached out to Adidas reps to confirm the $350 price of the 750s.
Images: Courtesy Adidas (5)