Get Excited In The Kitchen With These Cooking Tips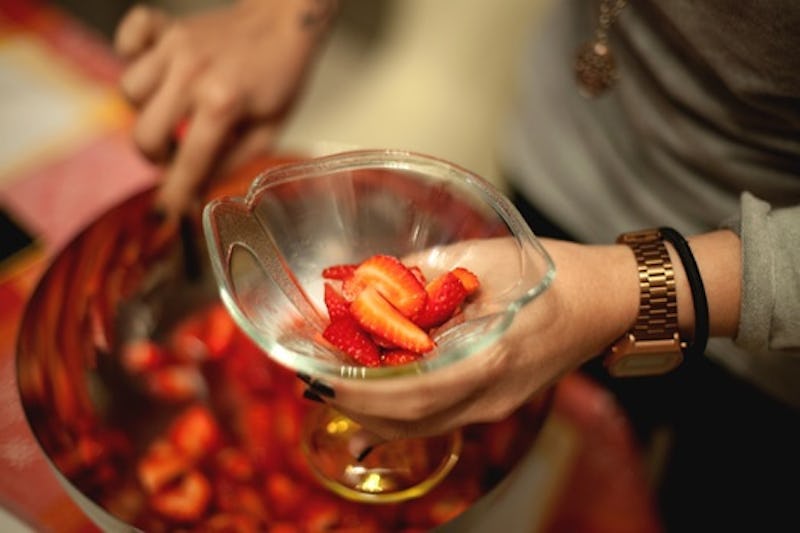 After a long day at the office, commutes, workouts, and social obligations, cooking a meal at home might be the furthest thing from our minds. Between grocery shopping, chopping vegetables, and the dreaded cleanup, cooking seems tedious, time-consuming and just not fun. Yet, with fast, simple recipes and a good attitude, we can get excited in the kitchen and start eating healthier and smarter.
As a certified health coach, I work with people on discovering new, easy and savory recipes that can excite their tastebuds and be time-efficient. Becoming familiar in the kitchen and open to experimentation is how the process becomes simpler and more fun, and so it won't seem like such a chore after a stressful day at work. Cooking at home is great for our health, as we can decide which foods and ingredients go into our bodies, and for our wallets, as the cost of groceries is cheaper than dining at a restaurant.
With a little bit of patience, curiosity, and positivity, cooking at home can be a wonderful way to end the day. Here are thirteen ways to motivate yourself to start cooking more. Trust me, you won't regret it, and everything will taste delicious.
1. Head To A Farmers Market
Farmers markets are so enjoyable. Besides the ability to sample fresh produce, dairy and meats, as well as the opportunity to interact with the local farmers and businesses, it's also the freshest, safest way to get your nutrients and boost your health. "Buy real food," says running coach and personal trainer Susie Lemmer over email with Bustle. "You'll be excited to use it! Maybe even try your hand at growing your own produce; tomatoes or lettuce or even just fresh herbs," she suggests.
2. Bring A Restaurant To Your Home
"Try to replicate your favorite restaurant meal," says certified holistic health coach and personal trainer, Jen Bruno, with J.B. Fitness and Nutrition, over email with Bustle. Think of one of your favorite recipes, and then re-make it at home, perhaps with a few healthier tweaks, such as no added sugars or salts and the addition of fresh herbs. You can even set a plate and light a candle to set the mood of a restaurant.
3. Cook A One-Pot Dish
Cooking one-pot recipes are fast and easy, and there's hardly any cleanup. "Try one-pot cooking (soups, stews, slow cooker/crockpot meals)," suggests Bruno, as the recipes are hearty, filling and great for leftovers. Experiment with different meats, vegetables, and legumes, and add seasonings and spices to shake things up.
4. Try New Foods & Vegetables
"At the grocery store, choose a veggie you aren't familiar with or some ingredients you've never used before and find a recipe online to incorporate them," advises Bruno. Not sure what a sunchoke is? Cook, and see for yourself! It's fun to try new things, so be a little adventurous in the kitchen and let the time fly by. So many veggies are unknown to us! "Cooking at home starts with having the proper ingredients on hand. We all know how important it is to work more vegetables into our diet but don't often have an abundance of fresh veggies available when we need them," says Chef Daniel Holzman of The Meatball Shop NYC with MorningStar Farms "The Veg Effect", over email with Bustle. He recommends always having veggies on hand to cut down on time and add nutrition and easy flavor.
5. Buy A New Gadget
Trying something new, such as a recipe that relies on a spiralizer, can be thrilling. "Buy a new kitchen gadget/utensil that gets you excited to use in your cooking adventures," says Bruno. However, sticking with inexpensive gadget purchases, especially if you are a novice chef, might be best, and once you become more savvy and consistent in the kitchen, you can shell out a few extra bucks.
6. Make It A Party
Setting the ambience can make a huge difference. "Create a fun environment with some music and your favorite beverage," says Bruno. Pour a glass of wine, turn on an upbeat playlist, and get ready to start chopping, slicing and stir-frying away. If you're in a good mood, cooking will seem easier and more enjoyable.
7. Find A Cooking Companion
Whether you live with a partner or roommate or have a friend or parent whom you'd like to invite over, find a buddy to attempt a new recipe with. Cooking with companions helps time pass and also offers more assistance in the kitchen regarding prep and cleanup, says Bruno. Plus, you both might be able to learn cooking hacks from each other!
8. Re-Make Recipes As Makeovers
What's better than eating a delicious, homemade recipe once? Eating it yet again! Either eat it as is, or re-make it into another dish. For instance, lemon chicken from dinner can be a lemon chicken salad with dill and cranberries sandwich for lunch. "Make extras to freeze for another meal or share with neighbors or co-workers," says Bruno. Cooking can be a great way to make friends!
9. Go Unconventional
"Cook breakfast for dinner," says Bruno. Instead of cooking a usual dinner recipe, try something fun and different, such as breakfast for dinner or DIY pizza night. Giving your tastebuds something out of the ordinary can be thrilling and can make us more motivated to hone our cooking skills.
10. Flaunt Your Creations
"Take pics and share on social media," says Bruno. People love seeing food images, and if you made a tasty dish that you are proud of, you should feel free to share it and embrace the "likes." Getting positive feedback can reinforce habits, so you'll be more likely to keep up the great work in the kitchen!
11. Make Cooking Nostalgic
Have a favorite family recipe? Perhaps grandma's "famous" turkey meatballs? Whip up a batch, and enjoy after a busy day. Or, think of the flavors and recipes that you used to eat growing up, and try your hand at some of those dishes in order to foster a connection to your plate and upbringing, recommends Bruno.
12. Be Spontaneous
Sometimes, you just have to try and make things work. "If you don't want to grocery shop, be creative by using whatever you have on hand in the fridge or cupboards," says Bruno. It can't be that bad, and you'll be able to learn from your mistakes and get a better sense of which flavors and ingredients work well together and should be avoided.
13. Keep Your Counters Clean
If your counters are clean, you'll appreciate your kitchen more and and feel inclined to start cooking. Set out some fruit in a bowl, put a spice rack on the counter, leave out a few sharp knives or a cutting board all in a clean fashion to remind yourself how much of a "chef" you can really be. If your kitchen looks pretty, you'll want to use it!
Whatever recipes you want to try or however you'd like to set the ambience, let your personality shine through in your cooking and have some fun with the process! Also, remember that you won't become an expert over night. With a bit of patience and time-saving tricks, you'll get progressively better and start enjoying meal-prep sooner than you'd expect!
Images: Pexels (14)