11 At-Home Tricks For Soothing Neck & Back Pains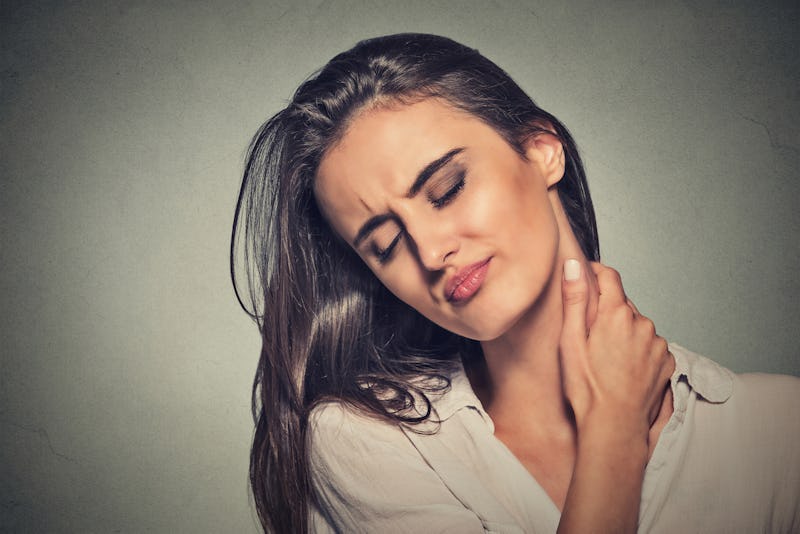 I never needed to know how to soothe neck and back pain at home until someone rear-ended my car while I was headed home from college over Thanksgiving break. I started seeing a chiropractor regularly, and while it really did help, expenses started to add up, and I found myself looking for at-home remedies for neck and back pain to supplement between appointments.
Lo and behold, I found a whole bunch of tools and tricks for soothing neck and back pain that really worked for me, and my trips to the chiropractor became less and less frequent until I stopped going altogether. It's been about a year now, and I'm back to feeling the way I did before the accident. Oftentimes, neck and back pain can be a really temperamental thing. It can show up weeks or even months after a seemingly minor injury (like it did for me), or it can stick around for years after a relatively major one.
Either way, it makes sleeping with back pain or exercising a living nightmare. If it's something you're really struggling with, speaking to a licensed medical professional is always a good idea. However, you do have options for at-home neck and back relief, too, and a few of them might actually surprise you.
Knead Out Knots With This Powerful Massage Pillow
Shiatsu Deep Kneading Massage Pillow, $30, Amazon
No matter where you are, if you've got knots to work out, this shiatsu deep kneading massage pillow mimics actual massage therapists' hands. It's small, durable, and can be plugged into the wall or into your car's DC port, but its rotating 3D design penetrates deep into muscles to work out any pain or pressure. It's also got a stretchable strap to fasten it to any chair or pillow (and the glowing red lights are pretty cool, too).
Target Painful Spots With A Mini Massager
Personal Mini Body Massager, $30, Amazon
For targeted relief, this personal mini body massager is hand-held and extremely powerful. It has 15,000 vibration frequencies per minute, so that it can feel great on your shoulders, back, neck, feet, arms — wherever. Best of all, it's completely rechargeable, and it has up to three hours of battery life. It's relatively quiet, and it helps to put you into a relaxed, pain-free state of mind within seconds, wherever you happen to be.
Try An Acupressure Mat For Noticeable Relief
Dynamis Acupressure Mat, $30, Amazon
I just got myself one of these, and I have to say: I'm in love. The Dynamis acupressure mat has tons of little spikes that that press into your neck and back to relieve pain by stimulating all of your pressure points, but no worries — it's nowhere near as painful as it sounds. It stimulates circulation, as well as your parasympathetic nervous system, which is responsible for stress-relief and relaxation. A mat like this helps your body to release endorphins, prompting pain relief, as well as better sleep and increased metabolism. (It's also got a zipper, which makes it easy to remove and wash.)
Improve Your Posture While Sitting Or Driving
ComfiLife Orthopedic Memory Foam Seat Cushion, $25, Amazon
Your favorite computer chair might feel extra comfy, but that doesn't mean it's helping with your posture. The ComfiLife orthopedic memory foam seat cushion has all the right cutouts and grooves in all the right places to assure that your tailbone is relieved of pressure, your hips stay even, and your spine stays straight. It's made of durable and comfortable memory foam, and it has a handle for easy transport, as well as a velour slip-off cover that's entirely machine washable.
Nourish Your Muscles With The Right Minerals
Muscle & Joint Relief Pure Dead Sea Bath Salts, $25, Amazon
To relieve inflammation, stiffness, and pain, try your hand at an effective mixture of pain-relieving Dead Sea salts. Your body absorbs tons of all-natural minerals from the Dead Sea while you bathe, soothing tired tissues and improving circulation, and this mix is also infused with relaxing essential oils, like eucalyptus and peppermint. Reviewers say they're in love with this stuff, as the aches and pains are gone, and they even feel significantly "less toxic" after a good long mineral bath.
Keep Your Neck Elevated To Align Your Whole Back
Premium Therapeutic Grade Neck Support Cushion, $24, Amazon
The premium therapeutic grade neck support cushion is a great shape and size to keep your shoulders, neck, and spine more aligned. While it's got a strap on the back to attach to your car or computer seat, some reviewers are even saying they use it as their main sleeping pillow. It's made from a relaxing memory foam, and it has a zip-off cover that can be washed in the machine.
Stretch Your Lower Back To Reduce Tension
Magic Back Support Lumbar Stretcher, $35, Amazon
If your pain is specific to the lower lumbar area, I think this lumbar stretcher is an awesome way to relieve pain, stretch muscles, increase mobility, and improve posture. It can be used on three different settings for any person or flexibility level, and it can be used on the ground or attached with the included strap to car seats to fix posture while you drive. This set also comes with a DVD to show you how to use it, and reviewers say they can't believe how much it's helped.
Heat Or Cool Your Way To Better Relaxation
All Natural Microwavable Aromatherapy Heating & Cooling Pads, $35, Amazon
These all-natural microwavable aromatherapy heating and cooling pads are made from completely organic materials. The outside is entirely cotton, and the inside is made from a mix of organic herbs and seeds which retain heat (or lack thereof) exceptionally well. Pop it in the microwave or keep it in the fridge to deliver hot or cold therapy to any area of your body that's aching, and do so with the calming scent of lavender, eucalyptus, and lemon.
Hang Out Upside Down To Stretch Your Spinal Discs
Xtreme Monkey Platinum Inversion Boots, $60, Amazon
An inversion table is amazing because it helps you to hang upside down, stretching and lengthening your spine to relieve pain, but they can go for upwards of a couple hundred dollars. These Xtreme Monkey platinum inversion boots do the exact same thing, except they're way more affordable and save a lot of space. You wear these heavy-duty durable pads around your ankles and attach them to any straight pull-up bar. Then you hang out for a few minutes to spread compressed disks, stretch your muscles, and ease fatigue.
Use Magnesium Oil To Balance pH Levels
Art Naturals Magnesium Oil, $15, Amazon
Magnesium is a great natural remedy for back pain, as it binds to certain compounds to create an alkaline pH for your muscles. Art Naturals magnesium oil contains no fillers, chemicals, or toxins — just natural magnesium oil, which can be spread on your back, shoulders, or neck before bed to promote relaxation, great sleep, and pain relief. It comes with a convenient spray top for easy and even application, and the consistency is smooth and absorbs into skin within seconds.
Try A Foam Roller For An Instant & Stimulating Massage
TriggerPoint Solid Foam Roller, $30, Amazon
A high-quality roller like the TriggerPoint solid foam roller can be a great way to stretch out your back, improve flexibility, massage tired muscles, and reduce pain. This one has multiple different textures to stimulate your back, neck, and shoulders, as well as a durable build that's much stronger than your typical roller. You can also use it as a tool for yoga or Pilates, or as a stretching aid after workouts or first thing in the morning.
Bustle may receive a portion of sales from products purchased from this article, which was created independently from Bustle's editorial and sales departments.
Images: Priscilla Westra /Unsplash; Amazon (11)